The Best Beef in Japan?
By KF Seetoh - Thursday, Feb 23, 2012
One bite into that devilishly sinful, supremely gorgeously, heady and melt-in-your-mouth beef and I anticipated that I have to seek your forgiveness for all those clichés. Trying too hard to describe the sensation may be seen as a snobbish attempt at intellectualising a simple pleasure.
The invite to the event said, "Hida Beef promotion…twice winner of Japan's National Wagyu Cattle Competition. " somewhere in the first paragraph. They had me at "winner" and I did not notice, till much later, that it's the specialty of the Gifu Prefecture, along with strawberries, mushrooms and buckwheat noodles. I have also never been to Japan (that's another unexplained mystery of my life) let alone Gifu. So there I went , to the Hida Beef Fair at Marina Square last week. It's an attempt to draw Singaporean tourists to the "very centre of Japan", where the " unforgettable World Heritage Site of Shirikawa-go, where thatched roofing is still done by the townsfolk just as it was several centuries ago."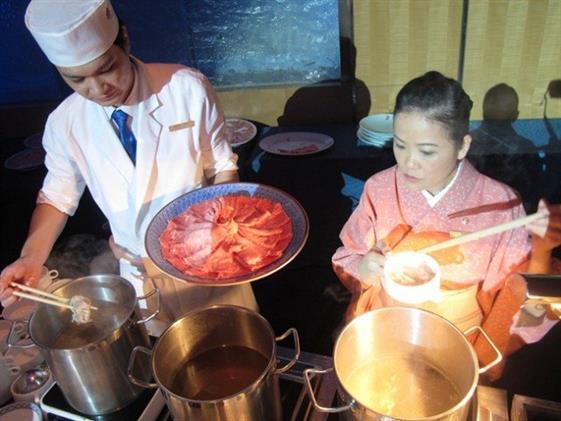 "The best way to lure Singaporeans over is to promote the food…in this case, the best beef in Japan," says organiser Ms Keiko Soeda . After some glorifying speech by the various related association representatives and a lot of honest appreciative bows, I bowed out of the conversations with Keilko and headed for the grilled beef line. Grill, slap, dash…four cut pieces of Hida beef was on my plate along with a grilled giant Gifu tomato and shitake mushrooms. The expertly seared beefy slivers smelled like it did not need a splash of the dashi-soy sauce. No sir, it definitely did not. They boast about the rich mineral spring water and the "secret" feed used to raise the cattle. To avoid clichés, I probably have to use un-delicious words like effusion of oleaginous unsaturated fats and gratified marbling- knowing that the cow was pampered for its earthly purpose. The marbling gently detonated in the mouth and left in its wake a soft beefy tissue used to hold all that goodness together. Slurp, repeat and slurp, then I headed for the shab shabu section. A feather thin slice was quick blanched in hot water, strained and plonked into my bowl, which I drenched with ponzu sauce and chopped scallions with a dab of wasabi. Oh my…I inhaled it, it was so easy to let it in.
If you are the rare few Singaporeans who don't track down food queues when you travel , then the gracious Gifu folks would be happy to lure you with visits to the Shirakawa-go World Heritage Site, a peaceful retreat to their famous mountain-view Onsens (hot springs) or visit the arts and crafts villages and streets. For the slow moving and life loving slugs, you can head to a slew of places here from now till the 18th March, for a series of activities that promotes their culture, sake and food.
For starters, HIda beef is available at Kuriya Penthouse Restaurant (12-02, Orchard Central), Shabu Shabu Gen (12-13 Shaw Centre) and Aoki Restaurant (02-07, Shaw Centre). And if you must know how much Hida beef is, a prime beef supplier whispered to me "upwards of $300 per kilo, supplier's rate".
For more information , visit www.pref.gifu.lg.jp