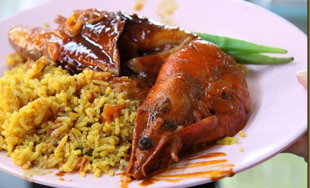 The Best Nasi Kandar In Malaysia?
By CK Lam - Tuesday, Jun 05, 2012
"Bustling, crowded and jammed packed with the best food that Penang has to offer."
This would be a great sentence to describe Penang Road, a little street smack in the heart of Georgetown, Penang. It is probably the state's most famous street and houses its best culinary delights.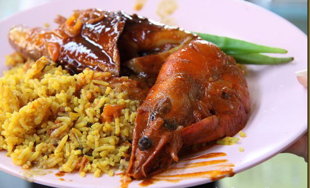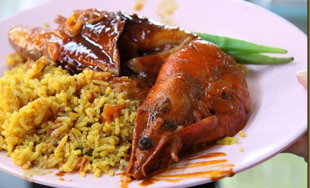 One in particular, is Line Clear Nasi Kandar, which has been around for about 50 years. Popular with tourists and locals alike, Line Clear is located in a narrow alley off Penang Road.
Line Clear is synonymous with the best nasi kandar (rice with dishes) in Penang and is arguably the best in Malaysia.
When you arrive at Line Clear, be mentally prepared to line up and wait. It is a common sight to see people lining up for their plate of nasi kandar, no matter the time of day and the queue often stretches out to the main road.
The waiting time is long and those lining up at the end will have to stand under the hot sun. However, it is somewhat a minor blessing because those lining at the end of the queue can see the full view of the kitchen. The aroma of the pungent curries wafting through the air can really get one's appetite going.
Whether a nasi kandar stall succeeds or fails is really down to how good their currys are and the curry gravys at Line Clear are very well balanced. They are neither too spicy nor over powering, and have just the right amount of tang to get those saliva glands going.
Just as good are their curry prawns, fried chicken, fish, squid ink and beef.
Prices are charged according to your selection and they are written down on the board, so do take note of what has been ordered. If you'd like a larger portion of a particular dish, the stall will serve that dish on a separate plate for you.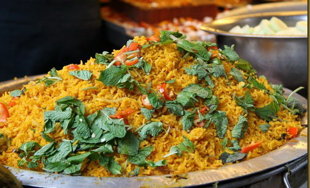 Also good is Line Clear's signature nasi biryani (flavoured rice with meat). The rice is prepared in the morning and they start serving it after 11 in the morning. Be quick as the dish is so popular that it is usually sold out within an hour or two!
A plethora of spices is used to cook the fragrant long-grain basmati rice and their use of saffron is generous because you can smell the powerful aroma of the spice. The chicken in the briyani is well marinated, with every bit of the meat filled with spice flavour and the meat is still tender and juicy.
There are also a number of other dishes that they serve like roti canai (fried pancake) and mee goring (fried noodles). Like most nasi kandar eateries, the beverage ranges from the cooling sirap limau (sweet lime drink) to the good old teh tarik! (pulled tea)
This historical and culinary gem of Penang, closes on a Tuesday every fortnight and from 1pm till 2pm on Friday for prayers.
Line Clear Nasi Kandar
Behind 177 Penang Road 10000 Penang
Tel: 04 2614440