The Best Online Makan Hosts
By KF Seetoh - Monday, Sep 23, 2013
It's not only non-profit, they also do their best to get the haggle the price for all the members, and we're not talking about some co-operative organisation and their thrift shops. These two tireless makan heroes had been organising a monthly "Makan Meeting" (dinner gathering) for the last 12 years. That's well over 140 official makan meetings, minus the smaller get-togethers they put together on an impromptu basis.
"It started almost 12 years ago," Dr ES Lim reminds me, "when the makan forum community was very ardent and new" on our Makansutra website in 2001. He asked if I could organise a little food tour for these "die hard" foodies in our forum. So I readily put an eastern sector makan safari, from Geylang to Katong and the Old Airport Road hawker centre. Among that group was financial planner and former restaurateur, Mr Andrew Wong. They felt this could be a monthly thing, acted on it, and now , 12 years on, they are still at it. Each one takes a turn to organise one each month. "Our criteria is that the eateries create a special menu, best if it's off menu stuff and not charge us corkage" says Andrew, as quite a few members are wine lovers, "plus give us a really good deal". Typically, a nine course meal comes to about $35-$55 per person, a bit higher if at fine western establishments. And the dishes are no run of the mill stuff as you can't pull wool over these sharp foodies' eyes.
Lest you think I have anything to do with this – I'll happily tell you now this is purely organic, democratic and powered by the folks on the site. I am only glad they are part of our Makansutra community. It is the oldest online makan club in Singapore. Some of the eateries this group has visited include Spice Junction (Kerala Cuisine), Kam Boat Chinese Cuisine, Buono Italian and even defunct spots like Shatin and Rama Charcoal Seafood at Balestier. A typical monthly session usually sees around 120 folks (open to all) signing up and a big chunk has to be turned down as seating capacity is limited.
Such dinners are loud, friendly lots of new friendship forged and are attended by popular food bloggers, retirees, civil servants, students, expatriates and PMETs. To join them, check the Makan Meeting page on the Makansutra website.
The Best Makan Meeting Ever
When I was told a special "makan meeting" session was to be organised at the Red Star Restaurant, I paid particular attention to it. How could I not, when the menu was personally created by two of the remaining Four Heavenly Kings of food in Singapore, Mr Sin Leong and Mr Hooi Kok Wai. They are both way past retirement age and still set out to create this lost Classic Cantonese Wonders meal. Every dish was a treasure and even some of the older senior members like Mr TD Quek noted, "I had never eaten some of these before". Over 200 signed up for the event and the 9 dishes created are all off menu but Mr Hooi Kok Wai says, "just give us advance notice and we'll do it." Here are some of the delightful highlights…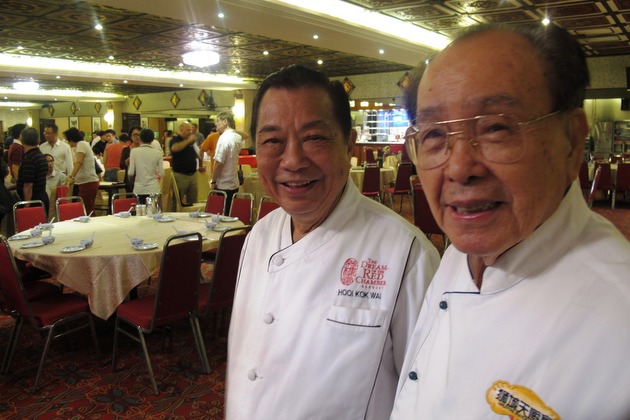 1. Cold Dish Platter Quartet – among the four items, I adored the Golden Coin Chicken which is a little sandwich of roasted char siew coin, a piece of fat and ham pressed together. Their Drunken Chicken was par excellence, I felt I could get a drink driving citation if I ate too much. The minced venison on rice cracker was so old school and pleasurable. The fried liver, crab meat ball with salted egg yolk was wrapped in pig's caul, totally sinful and unfortunately, moreish.
2. Double Boiled Chicken with Ginseng and snow fungus – so comforting and it reminded me of why I just could not clap aloud for these hawker pre-made versions these days. The herb was strong enough and balanced well with the intensely done umami laden broth.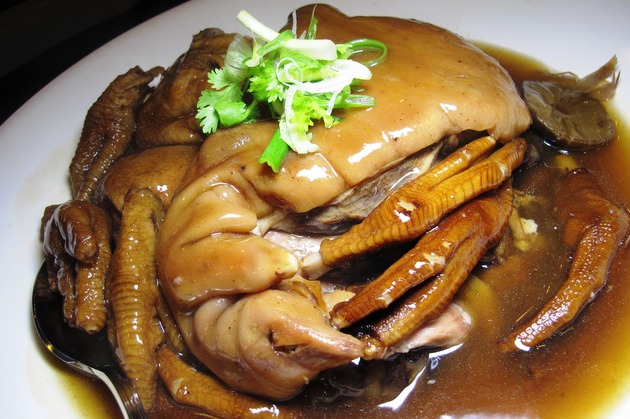 3. Three Legged Duck – actually stewed herbal soy sauce duck done with three "legs"- duck webs, chicken feet and pig trotters. Uber soft and smooth. A clear winner that night.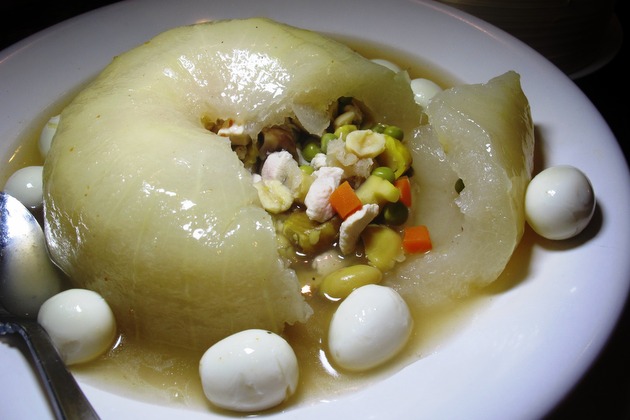 4. Jade Bowl Treasures – a halved and de-skinned and de-seeded winter melon is steamed till soft, and stuffed with chicken, gingko nuts and greens. It is served inverted sitting in superior stock with quail's eggs. This one gets a standing ovation, for purity of idea and clarity of flavours.
5. Celebration Braised Rice – it's like wui or mui fan (stewed rice) done like no other. Prawns, crab meat, chicken and greens in a thick smooth and clear sauce over a layer of softly al dente rice in a claypot. A raw egg sits atop and smoothen things when you stir it up. The added dash of tomato paste in the sauce sharpens it a bit and lifts up the yum quotient.
6. Kong Bak Pao – stewed fatty pork, Cantonese style (less redolent of heavy soy sauce accents) is done with soft slices of yam. This yam part, was one trick I didn't know could do so much to the "appeal section" when clamped between the bun.
We should be so glad that these legendary masters are still in our midst. Think about their craft the next time you chomp on a sad hamburger.
For those who missed it, here's a recap of the Makan Meeting at Red Star: http://www.youtube.com/watch?v=GjXj2QVmdBs