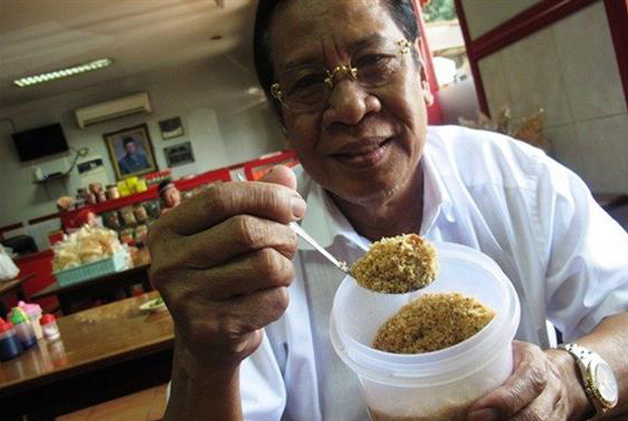 The Best Street Food Master in the World
By KF Seetoh - Friday, Aug 02, 2013
The secret to his stunningly moreish Soto (spiced soup) can easily be attributed to the spices he uses. Any expert on this dish can figure out almost all the ingredients and spices used, even google can tell you at least half of it. The real magic here, however, is not the spices, but two (or at least two) very important tricks he had employed since the early 1970s. One, he fries up some fresh milkfish, blends them into a seafood umami paste and introduces it into his Soto equation. Two, he further and confidently reveals the real reason, and what he knows is the success behind his Soto – voted the best of Top 20 Street Food Masters 2013 by the World Street Congress (WSFC) recently – "it's the Koya I use."
Soto Ayam Ambengan Pak Sadi Asli came in at number one spot as the world's Top 20 Street Food Masters decided by a committee behind the WSFC. Devour a set of this Soto in Jakarta and you'll realise why. Although some of the best food minds in Indonesia readily agree on his standards, it is not just about food quality. It's the value he brought to the nation's food culture and the jobs he had created.
With 15 outlets, owned by his family and franchise clients, Pak Sadi, 70 "but my ID says I'm 68 although I counted two more years" looks a good 10 years younger. This fascinating gentleman, nary educated, former farmer and untrained cook, winged it with gumption and logic. He created jobs, a culinary reputation for his country and opportunities for humble start up entrepreneurs. His shops and stalls (with his portrait as a logo), come in many forms – from kaki limas (push cart street stalls), cafes and food shops. He serves as an inspiration to a new breed of street food professionals and hawkers.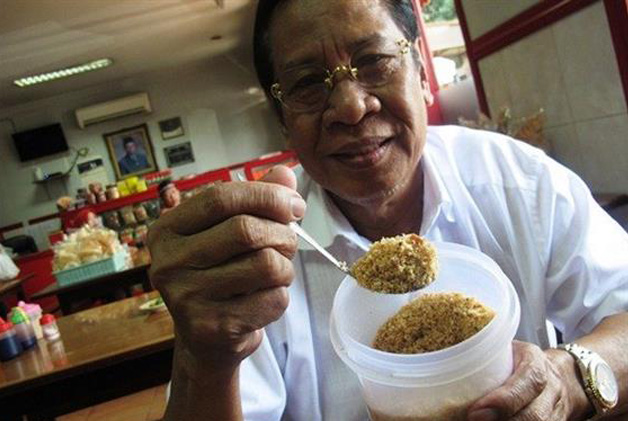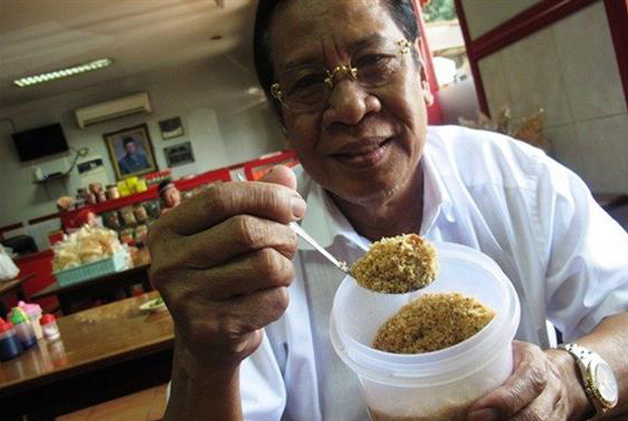 Back to his "Koya" magic, it is a topping, looking like crushed roasted nuts, but is made of fried fragrant chopped garlic and crushed prawn crackers. That little humble and unassuming spoon of it sits atop the Soto and it transforms – lends a very comforting sensation which is heightened when you squeeze that wedge of lime in. Plus, it's freeflow- you scoop as much of the Koya as you want, and they clear 10 kilos of this garlic cracker powder each day. You would feel like to pour all the Soto into the mouth after one spoonful.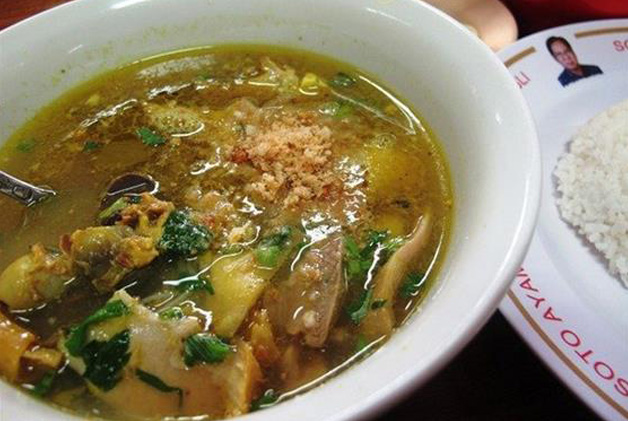 Pak Sadi began in his late teens as a hawker assistant in his hometown, Surabaya. With some guts and money saved, he opened a tofu rojak kaki lima stall, which failed miserably. That's when he developed this Soto recipe with the Koya topping, an idea he borrowed from his hawker brother, and hawked it on the streets. It failed miserably too and the area was demolished and set for redevelopment. But a fan came in the form of a senior government official, who let him relocate to outside his house. It caught on with the masses. Today, Pak Sadi readily admitted that luck played a big role in his success. I think stubbornness, ingenuity and gumption also played key supporting roles.
I've had the pleasure of happily demolishing his "Soto Komplit" or complete Soto set on many occasions. It comes with chicken, gizzards, tripe, egg and glass noodles. The steamed rice with bits of fried shallots atop completes this "komplit" meal. It is not much of a decision to make if I were asked to go there again on my next visit to Jakarta. His café also offers a huge range of logically paired side dishes like Rujak Cingur (bull nose rojak) and Tahu Petis (fried tofu with spicy sweet prawn paste and chillis). Order them all!
Congratulations Pak Sadi, and keep inspiring us.
Soto Ambengan Pak Sadi Asli (main branch)
Jalan Wolter Monginsidi No. 28,
Kebayoran Baru, South Jakarta.
Tel: +62 21 72793057
Hours: 9am – 11pm