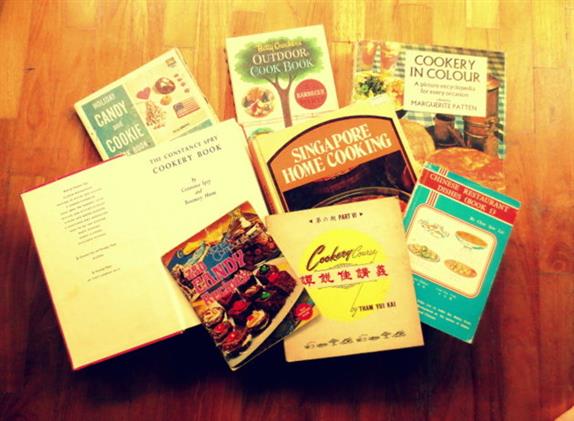 The Charm of Old Cookbooks
By Sim Ee Waun - Thursday, Mar 07, 2013
Did you notice? There has been a return to things retro –a hankering for nostalgia, a yearning for things gone by from a more innocent, leisurely age. You'll see this in clothes, accessories, movies, songs, and books. In fact, some niche bookstores have taken to selling old books as collectibles, often with a hefty price tag.
But long before this trend became fashionable, I have always loved old cookbooks. Despite a library of wonderful new cookbooks that promise hours of reading and afternoons of culinary experimentations – all of which are very appealing – my prized possessions are still the old, well-thumbed cookbooks that have found their way into my collection. One of my most precious tomes is a secondary four domestic science textbook, 'Let's Learn to Cook', which is actually a cookbook, with hundreds of recipes, now out of print by a Singaporean lady long forgotten – Christina MC Fones. Hunt as I might, I have not been able to locate another copy of this book.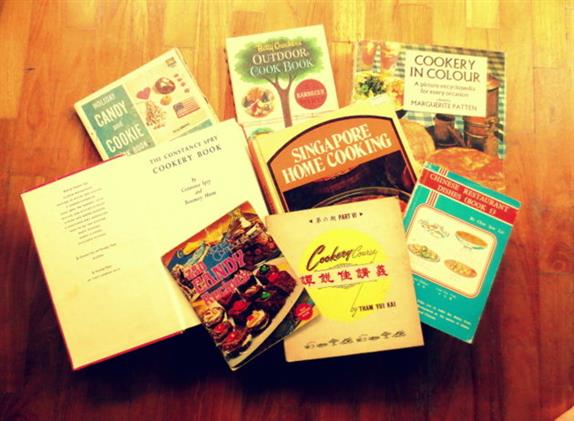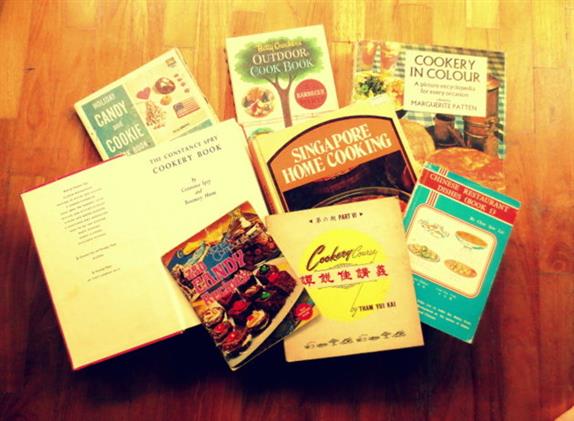 Christina's recipes reflected the social milieu of Singapore in her time – recently independent but with the colonial legacy still very much evident. Her recipes are a mixture of local dishes, including old favourites long gone – such as ham sui kok (deep-fried dumpling)etc – as well as British nursery fare which your child may just read about in Enid Blyton – the likes of blancmange, rice pudding, date crumble, stewed prunes, etc.
Then there's the Constance Spry Cookery Book, a thick hard bound copy which I bought for no more than S$5 at a junk store at Stillbaie, South Africa; a copy of a baking magazine dating back to the 1950s and a little book on Chinese restaurant cooking from the 1960s which I had picked up from a jumble sale at a recent school funfair, and even a cookbook by 1970s cookbook of Chez Panisse recipes complete with original signature of legendary chef Alice Waters, picked up at a charity sale. And there's more – all of which cost me no more than S$5 each. You don't have to pay a premium if you look hard enough.
More than just instructional, the charm of these old books is that they tell a tale from a long ago, and gives you a close-up, even hands-on, peek at a time gone by. How did women cook then? What did they do? What brands of flour, salt, seasoning did they use? What were their priorities in cooking? How did they measure things? It's always a hoot to see instructions telling you to add two teacups of flour, a thumb-sized piece of ginger, even several 'katis' of onion.
Did you think frothy cocktails are a new invention? Or that macarons and homemade marshmallows are a thing of the swanky modern bakeries? Shepherd's pie is the new comfort food? Think again. The ladies of the 1960s – local cookbook pioneers like Mrs Leong Yee Soo, Ellice Handy, Christina Fones, etc – were whipping them up without fanfare in their kitchens long before anyone heard of the term 'celebrity chefs' and 'mixologists'.
An old cookbook literally helps you recreate the flavours of the past, and lets you benefit from the wisdom of a cook from a previous time. Dig hard enough, and you'll find an old wife's instructions on how to clean pig's stomach, make lye water from scratch, prepare a sea cucumber, squeeze coconut milk, make durian sambal and jackfruit curry. Follow their instructions and you'll be recreating a flavour which they once prepared and fed their family with.
What's more, old cookbooks capture a slice of a cultural heritage, be it ours – if a Singapore cookbook – or someone else's. If you want history to come alive, this is the way to go. It's a treasure trove of old practical knowhow that is in danger of being lost in the current age of modern kitchen technology, and convenience foods that side step traditional preparations. It captures for us and future generations the wisdom of cooks from the past, and records a humble yet more intimate history that falls outside the historian's reach.
So even if the styling is crude and rough, the colours garish, and the titles no longer fashionable, it's worth hunting out these tomes and keeping them for posterity. For reading an old cookbook is like time travel through gastronomy, and there's something almost magical about it. And you'll be surprised how much of the 'new trends' fashionable foodies rave about these days are really not that new after all. Old cookbooks keep you grounded and may teach some a spot of much-needed humility.
Tips on finding old cookbooks: 1. Hunt through your mother's, grandmother's and aunt's cookbook library. 2. Dig through second hand bookstores and junk shops at home and overseas when you're travelling. 3. If you see a thrift shop or charity jumble sale, make a beeline for the book section. (I have found many old but pristine cookbooks at these sales, clearly gifts a long time ago which still carry a handwritten note of well wishes to its unappreciative recipient.) 4. Dig around the furthest reaches of old libraries, and even the reference section of our local central library. (You can still photocopy the recipes.) 5. Don't overlook old women's magazines in second hand bookstores like those in Bras Basah Complex. It's a treasure trove if you have the patience!