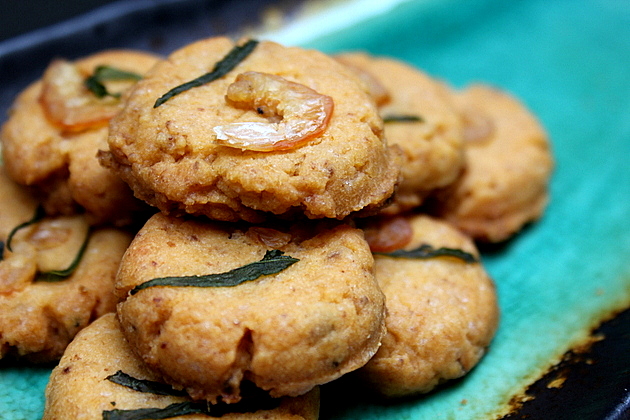 The Cookie That Kicks
By Stefanie Chao - Wednesday, Sep 04, 2013
Dessert infused with spices is not new – think ginger biscuits and chilli chocolate. But all these have become a little too mainstream, and are one dimensional at most for those who are looking for an explosion of flavours. There are spicy local style cookies sold in some stalls and they do brisk business, so why not do this at home, and kick up the wow factor a few notches up. Inspired by what a friend, Ms Gina Choong, started to create years ago, we decided to add another weight to the scale – why not bring local spice pastes to the party?
Many local spice pastes, such as laksa, curry or even nasi lemak sambal, have a plethora of flavours elevated with the special blend of spices and aromatics like onion, ginger and garlic. Moreover, the cooking process has left all the spices to amalgamate nicely, the result being a savoury, yet sweet essence that can make or break the dish itself.
So with the base of this cookie down pat, get creative and substitute the paste with what your spicy heart-felt desires. Today, it's going to be Laksa Cookies, topped with fresh laksa leaves and hae bee (dried shrimp). But for tomorrow, why not Nasi Lemak Cookies, with the sambal incorporated into the dough and topped with ikan bilis and peanut? The possibilities are endless and before you know it, your kitchen will be truly spiced up with glee.
Laksa Cookies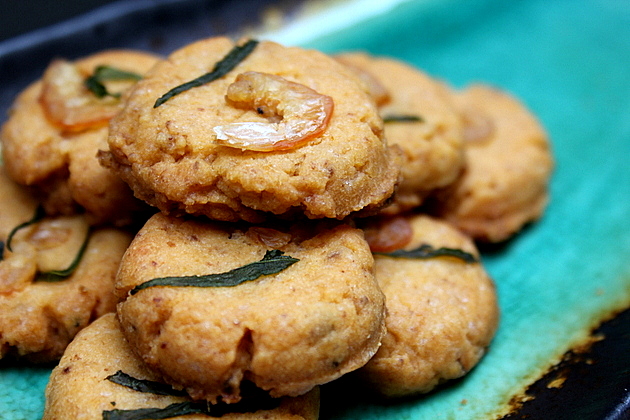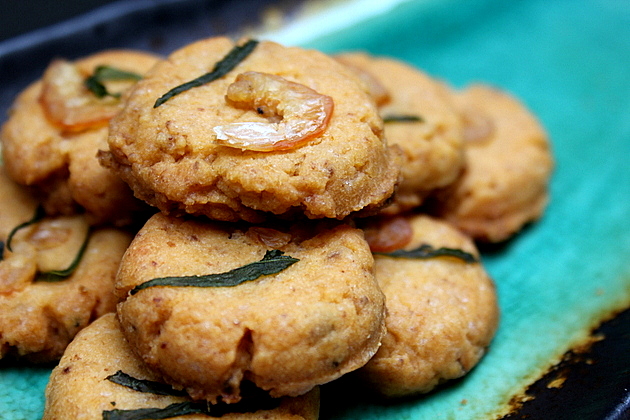 Ingredients:
70g butter, softened
50g peanut oil
50g icing sugar
200g top flour (extra fine ground flour, for smoother texture)
2 to 3 tbsp laksa paste, home-made or store bought.
½ rice bowl small dried prawns (hae bee), soaked in water for 15 minutes and drained well.
Fresh laksa leaves, shredded finely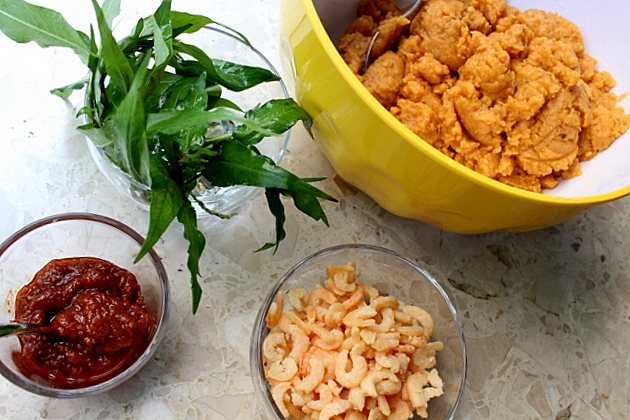 Methods:
1) Cream butter and icing sugar together, add in oil and laksa paste to mix till smooth.
2) Fold in flour to yield a soft dough.
3) Preheat oven to 180C.
4) Scoop out a teaspoon of dough onto a baking sheet and top each cookie with some shredded laksa leaves and one shrimp.
5) Bake for 18 to 20 minutes till crisp, and let it cool completely before storing in airtight jars.