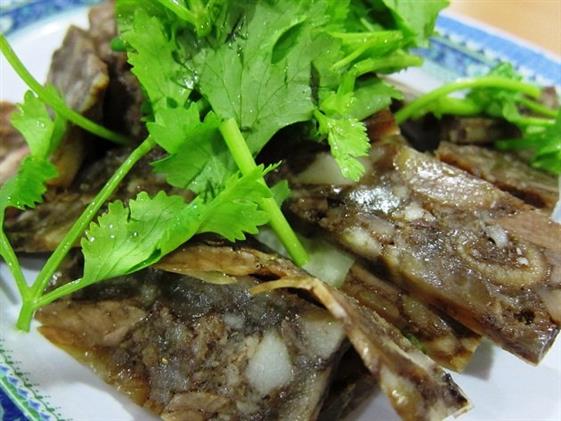 The Coolest Chinese Food In Singapore
By Sheere Ng - Thursday, Jun 14, 2012
No, we're not talking about "being hip" neither are we referring to Traditional Chinese medicine's concept of yin and yang. We literally mean cool as in low chilled temperatures. The Chinese may prefer their food piping hot but that doesn't mean they don't enjoy a toothsome cold dish once in a while. Cold Chinese dishes are also not just side show appetisers because you can find them as main dishes as well. Just in time for the coming hot and humid summer months, Makansutra lists down some of these chilled Chinese foods and where best to find them.
Pig's Head Terrine (De Tao Chang)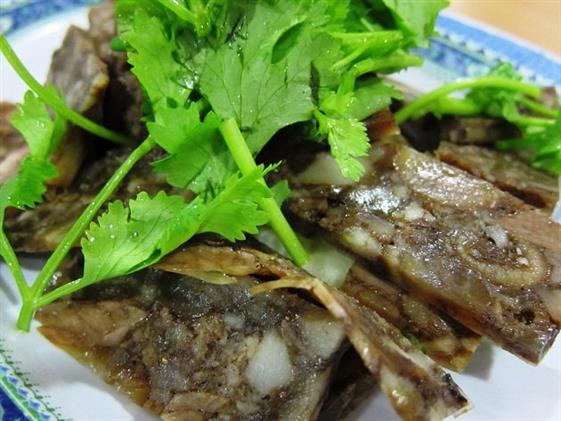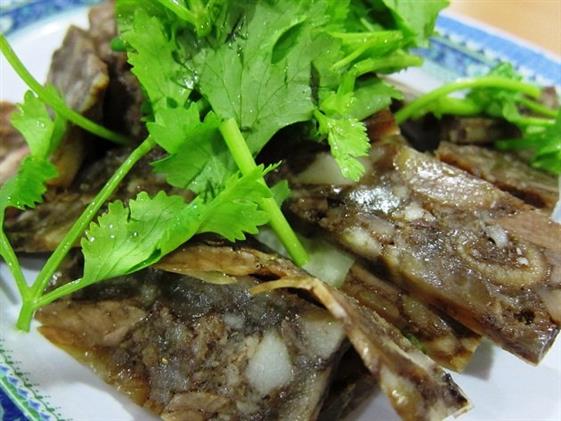 Lee Kui (Ah Hoi) Restaurant
8-10 Mosque Street
Older generations of Teochews loathed to waste food so not even the pig's head is spared. They would chop it up, mix it with aromatic spices like star anise, cinnamon and cloves, and compact it with gelatin made from the pig's skin before chilling it. It is thinly sliced and is drier and tougher than the other cold Teochew dish, the pork knuckle aspic (Ter Ka Dang).
According to one of the owners of Ah Hoi, a Teochew family restaurant with a heritage of 44 years, the supply of pig's head is not as abundant as before, so pork meat is also added.
This terrine is usually served with a tangy garlic and chilli dip and can be eaten as a breakfast with porridge, or paired with beer or tea.
Pork Belly with Garlic Sauce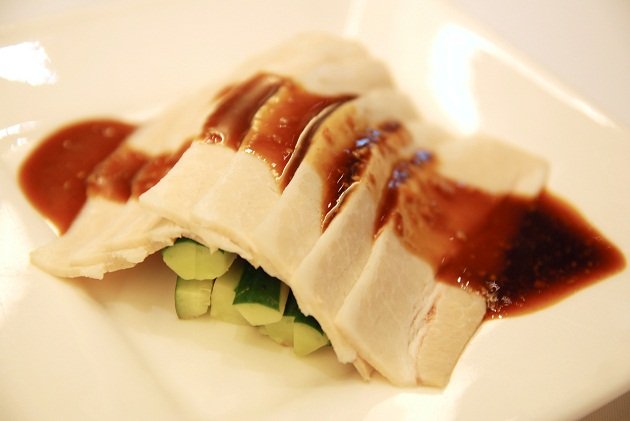 Dragon Phoenix
Level 6 Novotel Hotel, 177A River Valley Road
The Sichuans have a delicious recipe for pork belly. They blanch the meat, slice it thin and serve it with sliced cucumber but not before a final drizzle of strong flavoured spicy garlic sauce. The soft meat is fat but never oily and the vegetable brings freshness and crunch to the dish.
Raw Blood Cockles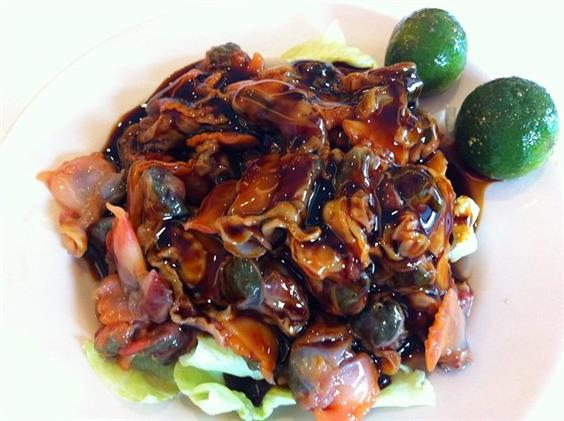 Spring Leaf Taiwan Porridge
18 Jalan Leban
The dish may be creepy to look at but one taste of it will change your mind. The saltiness of the raw cockles mixes well with the wine marinade while the added chopped garlic and chillies more than adequately mask the fishiness, if there's any at all. There is also an excellent version of it at Spring Leaf Taiwan Porridge where they use oyster sauce instead.
Yusheng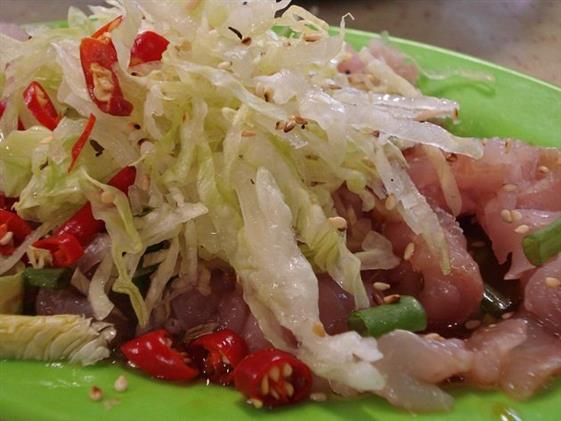 Tian Ji Zhou Ping
#01-13 Maxwell Food Centre
Our Teochew forefathers came from the southern coastal tip of China, so many of them were fishermen and fish plays a big part in their cuisine. They came up with many ways to eat fish but one recipe in particular serves fish raw with shredded lettuce, ginger, salt and vinegar. Only when Teochews arrived in Southeast Asia did they add shredded red chilli and lime as well. This dish is commonly eaten with porridge.
Smoked Fish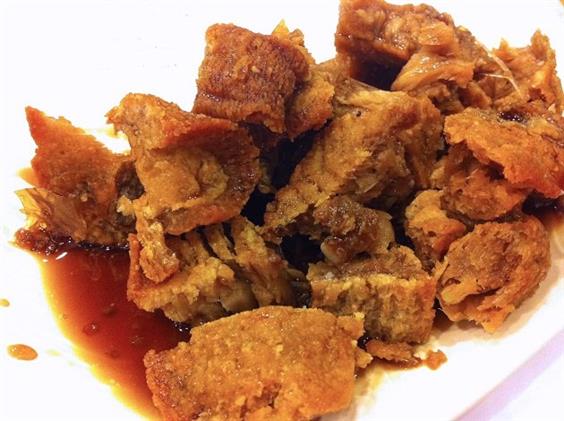 Pu Dong Kitchen
#B1-02 Balmoral Plaza, 271 Bukit Timah Road
This dish is a staple of Shanghainese restaurants. The name is misleading because the fish, usually grass carp, is not actually smoked but deep fried. Wine, soy sauce, five spice powder, lots of sugar, cinnamon, star anise, ginger and spring onion are then added and the whole dish is chilled overnight. The resulting meat smells fragrant and has a pleasant savoury sweet taste.
Cold Crab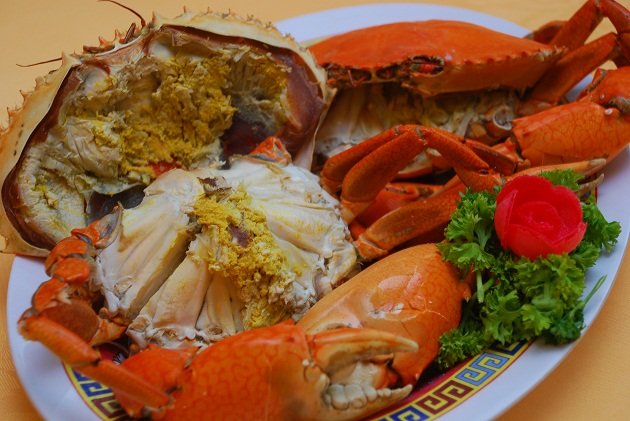 Singapura Seafood Restaurant
#01-31 Selegie House, Blk 9 Selegie Road
Sri Lankan crabs are plainly steamed, then put in the chiller and served cold. The flavours have that characteristic delicate Teochew style and are highly dependent on the freshness of the crab. The accompanying sweet orange oil and lemon sauce (tit yew) compliments the natural seafood sweetness of the crab meat and the creamy crab roe, the highlight of the dish.
Iced Bitter Gourd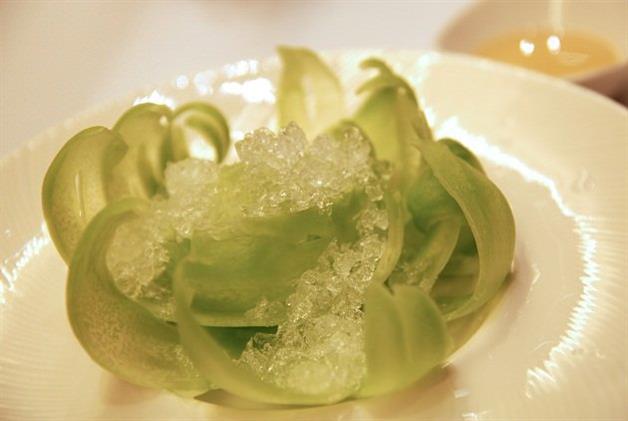 Pu Tien Restaurant
127-129 Kitchener Road
This is a Heng Hwa (an ethnic group in China) specialty which is found in many restaurants in the Pu Tien prefecture of China.
Bitter gourd – cut into thin translucent slices – are kept chilled with crushed ice to retain its crunch. The resulting slices are crispy and juicy in the mouth. Honey is provided on the side and helps to offset the bitterness of the vegetable. That being said, even without the honey dip, the bitterness is never overwhelming.
Shanghainese Drunken Chicken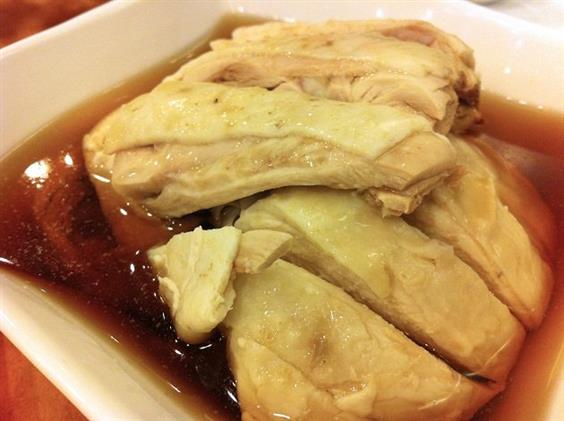 Pu Dong Kitchen
#B1-02 Balmoral Plaza, 271 Bukit Timah Road
Drunken chicken is one of the better known Shanghainese dishes and a common way to make this famous dish is to poach the chicken, chop it up, marinate it with a chicken stock and rice wine mixture. The whole dish is then chilled in the fridge overnight.
It is easy to understand the attraction of the dish when you eat it the next day. The chicken skin is shiny and smooth, with a thin layer of gelatin underneath, and the meat is infused with the flavour of rice wine.
Pork Knuckle Aspic (De Kar Dang)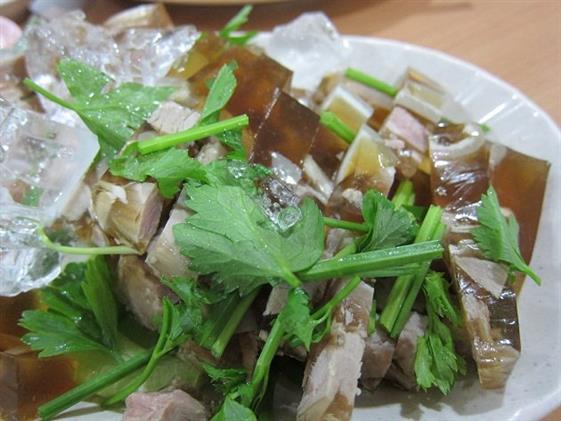 Shi Chen Traditional Cold Dish & Wanton Mee
#01-267 Kim San Leng Eating House, Blk 46 Owen Road
The method of preparation is similar to making De Tao Chang. But instead of using a pig's head, shredded pig's trotters are used. A higher proportion of pig's skin gelatin is also used resulting in a more jelly-like aspic. The way it is prepared also helps the meat to last longer, important in the past when there was no refrigeration to store food. The dish is also sweeter and more savoury due to the sugar and fish sauce used.