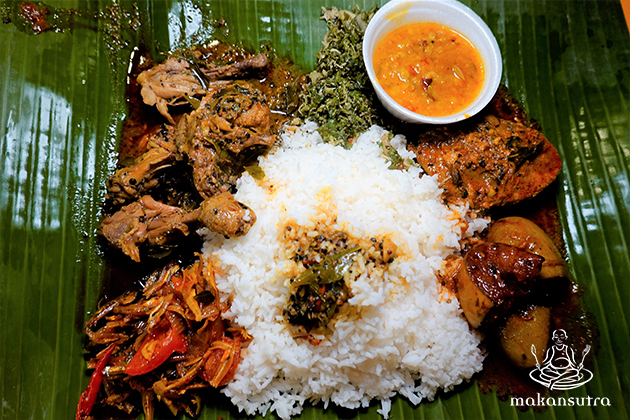 The Difference with Sri Lanka Curries
By KF Seetoh - Thursday, Jun 25, 2020
When you saunter about Tekka hawker centre, it's hard to tell the various Indian rice stalls apart. They all look stunning and is either red, orange or brown, or all of it. Whether it's Chettinadu or Kerala snacks, it assail your senses if, like me, you are not a Class A expert on such cuisines. But if you look long enough, ogle or stare at the curries, meats or vegetables, you'll note some differences. And if you use your nose, you can sense they are regions apart.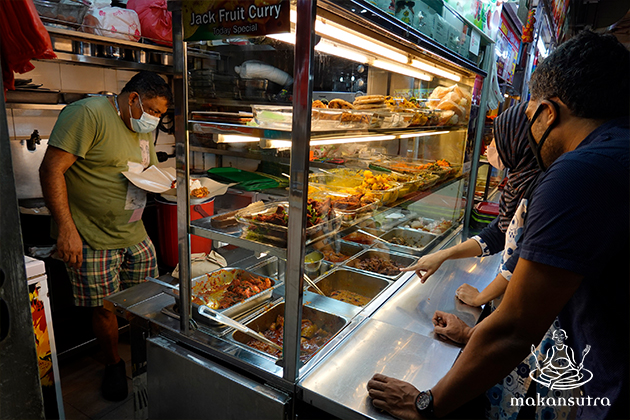 Mr Kodi hails from Sri Lanka
Mr Kodi has been hawking Sri Lanka fare here for almost 10 years and I admit, at a glance on my first trip there, I could not tell it apart from the fare stall next door. But I had been told much about his food so I shuffled up to him and asked "Can you tell me what I must order that says 100% Sri Lanka?" as his signboard proudly shouts Sri Lanka Food. My only other brush with real Sri Lanka fare was then Chef Publis Silva, a national culinary legend of sorts there, held a Sri Lanka food festival at a local hotel earlier this year. I noted the difference from the usual south Indian flavours.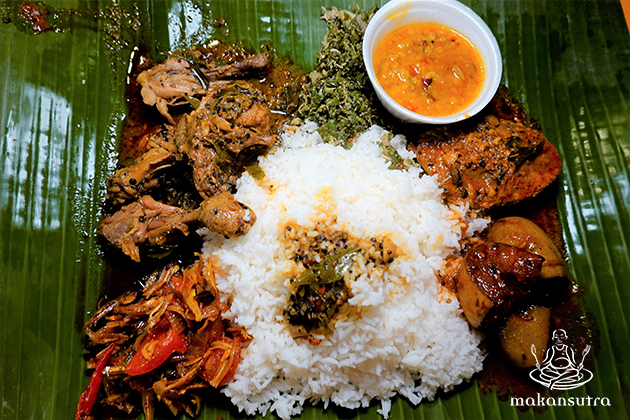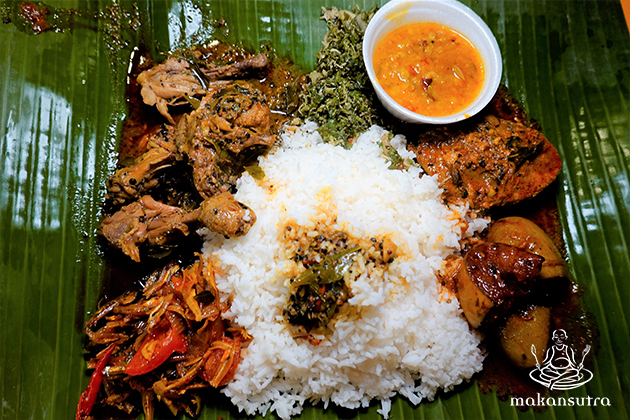 The whole true blue Sri Lanka curry set meal
Mr Kodi plonked some soft steamed rice and placed 5 items on the banana leaf around it. I could see it was different. And when I sat down to devour, it indeed was. First notes the palate detected was – it's not so heavy with masala, easier on coconut milk, and the saltiness and spice quotient was made to balance with the rice. It was redolent with chili and pepper, something very refreshing on such banana leaf meals here.
The refreshing Mango Curry
I realised each items was a Sri Lankan icon of sorts. The Pepper Chicken was sitting in a seemingly diluted curry but it was in-your-face, and the black pepper commanded the situation. The meat was soft and had enough bite and when you slather that peppery curry over the rice with their dahl or parippu. It was a parade in the mouth. Then I took a bite off that mango curry- soft sweet, sour and spicy yet savoury. It demanded my unconditional attention as it calmed all the spiciness and created an unusual taste sensation. The closest I had was having mango chutney with my fish head curry meal. Same-same, but different, said the tee shirt message.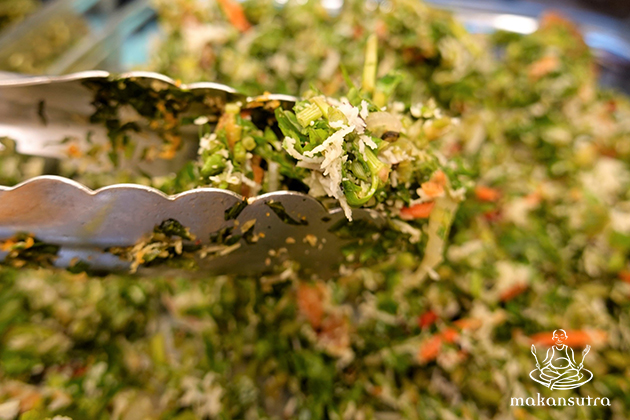 The raw and alluring Kale Mallung salad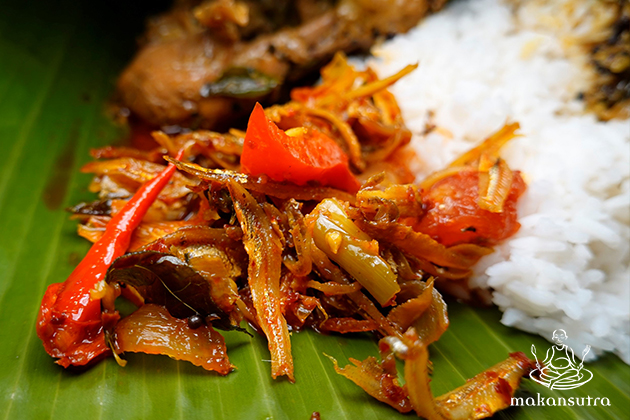 The Ikan bilis in Sri Lanka sambol
The salad of shredded kale and coconut- Kale Mallung, was like a truce amidst the assault of the spices. It was raw and so attractive to the bite. Blend it into the rice and you'll have a Sri Lankan nasi kerabu. Just add the fish curry which he made with fried mackerel and simmered in a black pepper laden masala curry. The sambal or sambol (as they call it) ikan bilis laden with caramelised onions and tomato was befitting of the meal. The spicy sweetness and the texture of the fried little fishes went so well with a spoon of rice and the curries.
I saw a whole lot of other items just beckoning and I will be back for more, especially the pepper mutton curry. It was teasing me. I may just slather that over the string hoppers or his Sri Lanka style Prata Pol Roti, which he sells largely for breakfast.
Sri Lanka Food (Raja Raja Bojun)
01-280, Tekka Hawker Centre, Serangoon Road
8am-8pm , closed on Monday.
Tel: 9105 0475