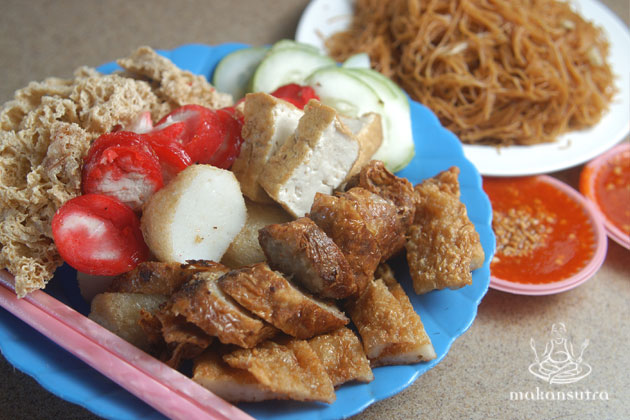 The Eat-Everything CNY Diet
By KF Seetoh - Sunday, Jan 31, 2016
So the feasting frenzy called Chinese New Year is aweigh and heading your way soon. I know it will be a nightmare for the Weight Watchers and Biggest-Loser club members and fans. It's almost rude to decline food offered this festive season. And you'll get the same old stuff- with Yu Sheng topping the list. But think bak kwa, that whole nine course dinner without the noodles and rice (ok, cheat with a bite of longevity noodles in the name of culture and deliciousness, it's alright), the nuts that sits on all the coffee table at your friend's and family's place. And those sour pickles (the less sugared ones) are great for the tummy.
So what's the plan, brown cow? Be like one- eat grass and greens and lay off starch? Or do the no or low carb, Atkins diet. The only problem with this famous diet plan which has helped many before with proven results is – how to eat comfortably, as in eat stuff that's part of our daily food culture and heritage with no compromise, and I don't mean tackling all the chap chye, kali png, kway chap or fish ball , nasi padang without the noodle and rice. Don't even think of buah keluak sans the nasi, nor coming up with too creative a Michelin award stuff that you'll probably eat once every election year.
Fret not, there's a silver lining shining in our makan culture that Robert C Atkins (the diet's inventor) can only hope to take credit for. So, up ahead this feasting season, eat well, be well and cheat a bit.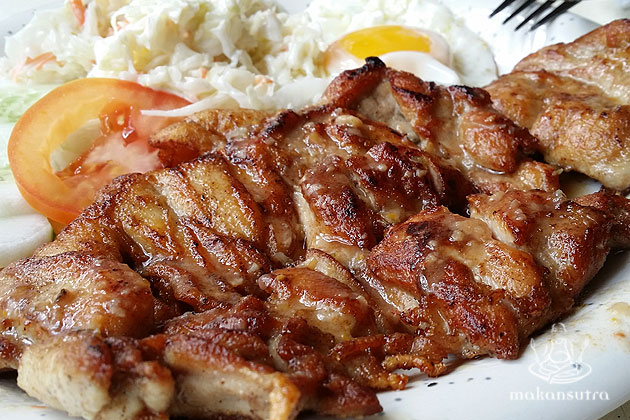 1/ Hainanese Western Fare…
we are talking chicken, pork chops or cutlet but palm off the fries and the fried rice plus the buns. Stick to eggs, coleslaw and cucumbers. Wash it down with teh-o light (less sugar)
Where to eat: Lucky Western Food
462 Crawford Lane, Stall 6, Wiseng Food Place
noon-9pm, closed on Sunday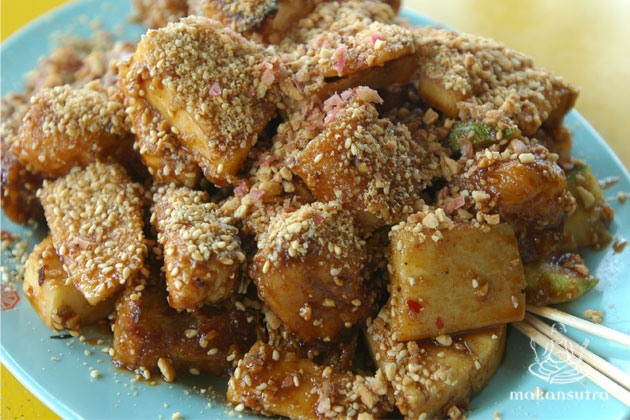 2/ Chinese Rojak…
yes, all those greens, tubers and fruits will do you good in this no card diet, but leave the yu cha kway out.
Where to eat: Toa Payoh Rojak
Blk 51 Old Aiport Road, #01-108, Old Airport Rd Food Ctr
noon-8pm, closed on Sunday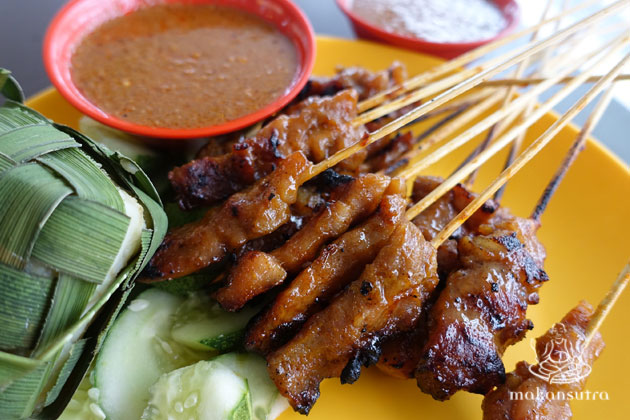 3/ Satay and cool cucumbers…
of course, no ketupat please. Just add the-c, sugar cane or beer
Where to eat: Chai Ho Satay & Dried Pork
448 Clementi Ave 3, #01-10, Clementi 448 Mkt & Food Ctr
3-9pm, closed on Monday and Tuesday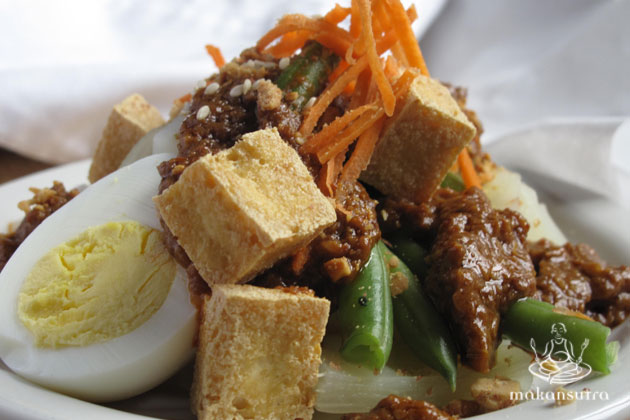 4/Gado gado…
go ahead and slather away with more of the peanut sauce, but again steer clear of the ketupat (which isn't an original part of the dish to begin with)
Where to eat: Rosraihanna Soto and Satay
505 Beach Rd, #B1-19, Golden Mile Food Centre
noon-10pm, closed on Sunday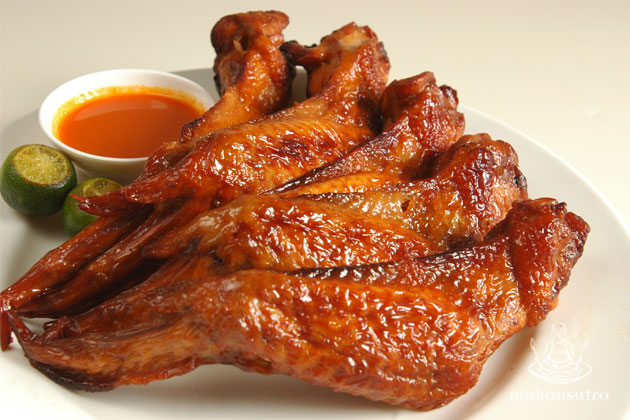 5/ BBQ chicken wings …
or the whole spring chicken for that matter. Dunk this deep and long in the sharp tangy chili lime sauce (which kind of aids digestion and helps the weight loss movement)
Where to eat: Chong Pang Huat
Blk 51 Old Aiport Road, #01-90, Old Airport Rd Food Ctr
4-9pm, daily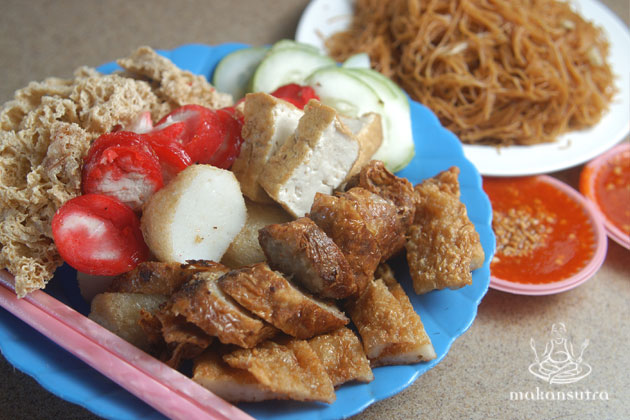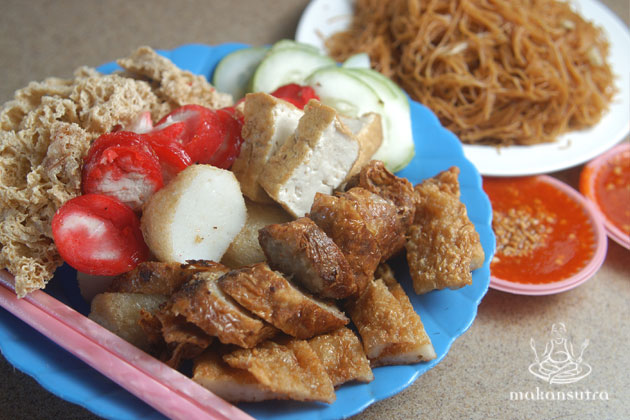 6/ Ngoh Hiang…
whether the Teochew or the Hokkien versions (the Hokkiens do not use yam in their stuffings) but lay off the fired doughy items like prawn fritters (a good cheat-diet item) and the beehoon.
Where to eat: Five Spice Prawn Fritter
Blk 1 Tanjong Pagar Plaza, #02-04/05
noon-2pm, daily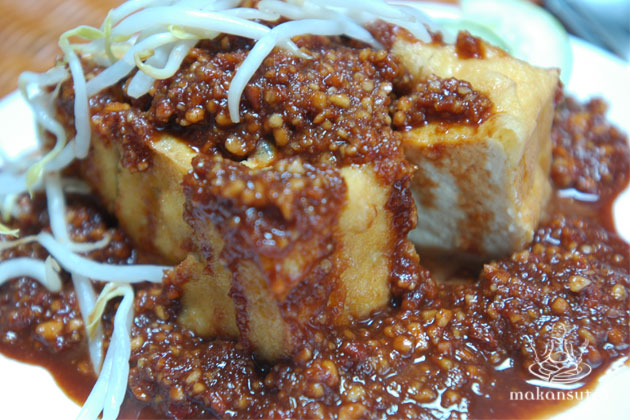 7/ Tauhu Goreng…
hard to go wrong with this protein packer. Slather more peanut and kicap sauce and tell them to pile on the shredded vegetables in the middle.
Where to eat: Hajjah Hanifah Satay
1220 East Coast Parkway, stall 50, East Coast Lagoon Food Village
9am-midnight, closed on Tuesday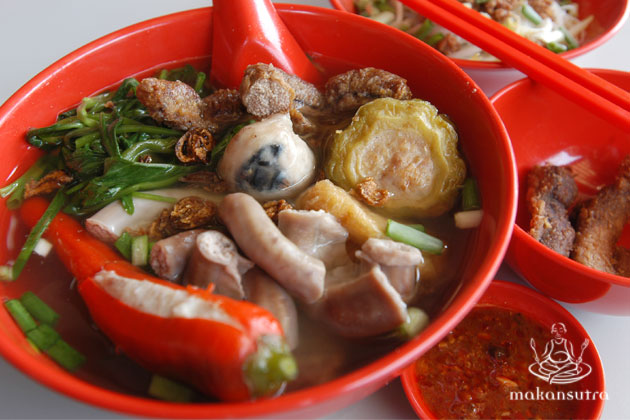 8/ Yong Tau Foo…
no rice or noodles of course.
Where to eat: Golden Mile Special Yong Tau Foo
505 Beach Rd, #B1-44, Golden Mile Food Ctr
10am-3pm, closed on Sunday
So here's just eight items for a huat-huat new year, sans a huat-huat waistline. There's more- just keep a lookout for them. (think, soto ayam bean sprouts with no lontong and bagedil).