The Fatal Attraction of this Indian Rojak
By Tris Marlis - Friday, Oct 11, 2013
"We did not know what happened," was the words from Deen, son of Mr Sheik Allaudin Mohideen, the man who was involved in the most infamous food poisoning case in 2009 (with two fatalities and over forty hospitalised). All Deen and his brother, Yasin, could remember was the whole year of darkness that followed after the incident, "we could not work, we could not go anywhere, it was very tough," he said. But four years later today, a beeline would form again at the new Deen and Yasin's Rojak and Mee Siam stall at Geylang Serai from the minute they open until they sell out.
Mr Mohideen was given the maximum fine and banned from operating another business in the hawker centre. After the case was closed, his wife and two sons made a comeback and set up Rojak and Mee Siam. "It was God's grace that got us this stall, so we decided to continue," Deen said. Although fearful and worried upon their opening, they were given a warm welcome by regular customers and other hawkers in the food centre.
Patiently in their daily queues, are moms and pops with their kids and grandchildren who have been patronising their stall for generations. Other hawkers, such as Mdm Catherine Han who runs a coffee stall next to them, are supportive. "It was not their fault, it was an accident," said Mdm Han. After the incident, National Environment Agency (NEA), who is in charge of monitoring food hygiene and safety standard among all retail food operators, had tightened the hygiene regulations and has been conducting spring cleaning eve more frequently. For Deen and Yasin, it's gloves on all the way now, even when not necessary.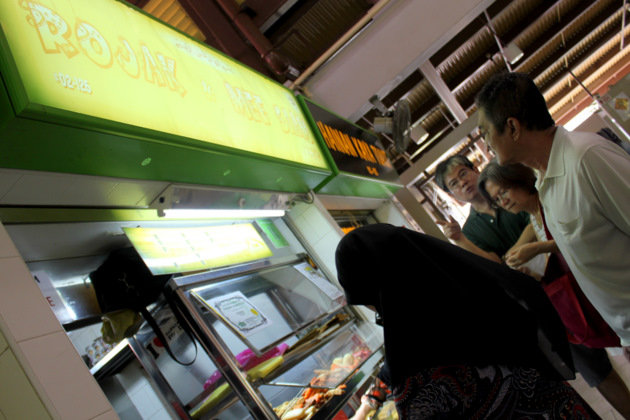 Even though their father no longer helms the stall, the brothers are confident that their rojak has been executed to maintain their father's standard. Talk to any Indian rojak seller, and they will tell you the secret is in the gravy, and quality is still the same. Deen believes it's the gravy that still pulls the crowds in. The brothers would start preparing the gravy from 3am each day, just to ensure there is enough gravy for the day. Customers may ask for as much gravy as they like, without any extra charges.
The secret of the gravy, Deen revealed, is the use of sweet potato. Their gravy comes with a coarser texture with itsy bits of sweet potatoes – a sign of handmade work. It has a subtle kick from chilli, tamed with a light tangy accent plus a host of other secret-recipe ingredients which they, naturally, fiercely guard.
However, as much as we are agreeable with their gravy, we feel the fritters could use more spices. The classics like flour balls, veggie fritters, coconut fritters and even potato were much more robust when they were Makansutra rated them "Die Die Must Try", many years ago. They do have some moreish offerings, such as the braised spleen and fried beef lungs, which are rare at such Indian rojak stalls. It comes with a bold savouriness that complements the sweet and spicy gravy.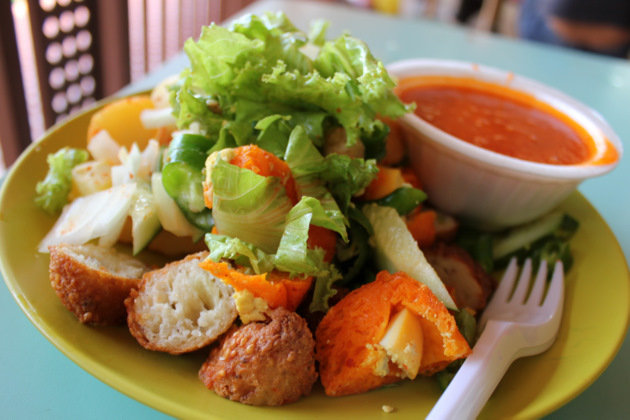 "Gravy is the key, and their gravy is the best," says Mdm Fatimah as she picked up another bowl of gravy. If you are a lover of the bold coral tinged gravy, then this stall gives you just that – an ample amount, almost buffet style, of gravy. For the brothers, this generosity is the only way to express their gratitude for the supportive and loyal customers all these years.
Rojak & Mee Siam #02-126, Geylang Serai Market and Food Centre, 1 Geylang Serai Hours: 9am – 4pm (Closed on Mondays)