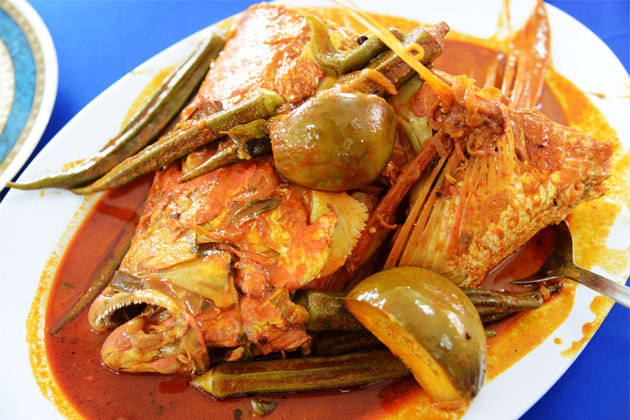 The First Negeri Sembilan Food Tour
By KF Seetoh - Monday, Nov 18, 2013
We know our Malaysian makan
It is no secret that one of the key reasons why many individual and independent travellers here head up north to Malaysia, is for makan. While we can get mountains, lakes, oceans and rivers in many neighbouring and regional countries, there are elements of a land that make them stand out – like her food and culture. And Malaysia has both. Their culture is comfortably familiar and their culinary offerings are simply alluring.
Singaporeans only know too well about what and where to eat in Malaysia. Ironically, Singapore's top food blogger this year, is also awarded as Malaysia's best – Johor Kaki, written by a Singaporean. We head to Johor for her seafood and the Teochew street food fare. That scene is changing. Increasingly, because of the potentials of the burgeoning Iskandar township project, more from all over Malaysia are heading down south to offer their cuisines. Mr Zaidi Bin Kassim, the Negeri Sembilan Director of Tourism knows the Singaporean travel habit, "they know what they want, often things Malaysians don't even know themselves, and they go straight for it. They have no culture and language problems here."
In Malacca, it's all about Peranakan and Nonya food. This city, after all, is the birthplace of the Peranakan culture. It is also Unesco World Heritage City city and that is a huge draw on its own. Up in Kuala Lumpur, the country's capital, it is a buffet of flavours from all over Malaysia. Their nasi lemak is peerless, with a kind of sambal that is distinctly more robust than the cloying sweet versions we have here.
Ipoh, once a bustling tin mining town, is now more famous for a few items, curry noodles, Ipoh hor fun and white coffee, of which a famous coffee chain was founded upon. And in the most famous food city of Malaysia, the range is immense, of a very high standard in general, and still very affordable.
Penang still pleases with her iconic char kway teow, assam laksa, nasi kandar and so on. Georgetown is also a Unesco World Heritage City award winner. Two major attractions are enough to pull the crowds up from Singapore each weekend.
The Negeri Sembilan Food Tour.
Food…Negeri Sembilan. My train of thought runs into a thick and high wall. Other than the one online post I did about some assam pedas joint in Port Dickson about two months back, I have no idea what this State, just north of Malacca, taste like. I know places by their tastes. Then imagine my surprise and pleasure when the good folks at the Malaysian Tourism office sent me an invite – something I accepted in a heartbeat – for a first ever media Food Trail of Negeri Sembilan. I know next to zero about food there. I was looking forward to having the best beef rendang, a Minangkabau specialty, as they were the earliest settlers in the State.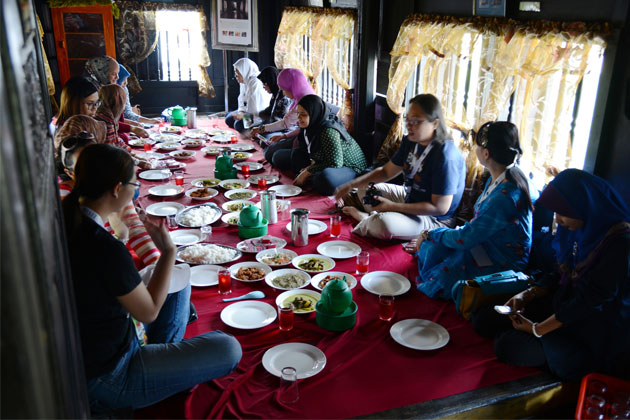 For a first time effort by a State that is late in building their makan brand, this is very promising. But they have quite a way to go. The two and a half day of feasting ironically included visits to the Army Museum and a talk on leatherback turtle conservation. Nice, but turtle soup and army rations should not be anyone's specialty. Our first chomp was a traditional meal, laid out on the floor of, ironically, their State Museum (along Jln Sungai Ujong, Seremban) and you ate sitting down, cross legged and makan tangan (eating with hands) style. Two traditional dishes stood out – the Ikan Keli (a sort of fish rendang) and Masak Lemak Cili Api, much like a very complex lontong with bird eye chilli, vegetables and meat.
We were later shepherd to Popia Kuala Kangsar (stall 11, at Gerai Stadium Tuanku Abdul Rahman, Seremban, tel +6012 6775930), a street stall and the only reason why the crowds came each day, was that this Malay style fried popiah was perfectly fried. Airy, light and very crispy…but, the fillings came short and the sauce, all sweet chilli with tangy accents, was nice but not memorable.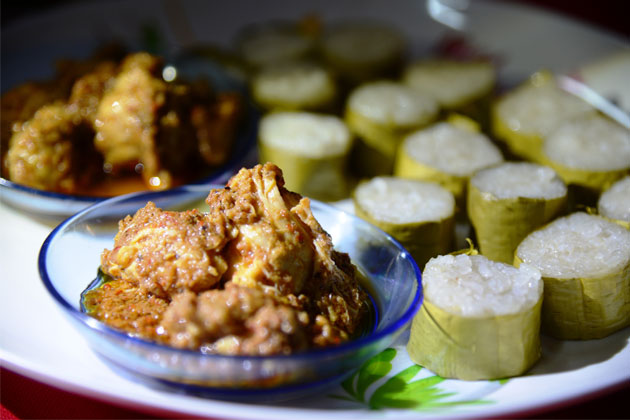 I wondered why they later took us to a food court in Port Dickson that same evening, I found out later: a lemang (wood fired bamboo rice cakes) topped with chicken rendang (Poly Food Court,Lot 1183, Batu 9 , Jalan Pantai, Port Dickson). I would much rather have tried that assam pedas stall down the road. I was pleasantly surprised by a breakfast spot, Sukand's Food (62, Jalan Bandar, Port Dickson). The glorifying item was their (not so unique) nasi lemak, the rice was Malaysian style soft, and the sambal was exceptional. It was spicy, savoury with hints of sweetness and has ikan bilis hidden within. But what woke me up was the softly steamed slices of tapioca…get this, dipped in sambal. I totally loved it and washed down with coffee. Why doesn't anyone here offer this?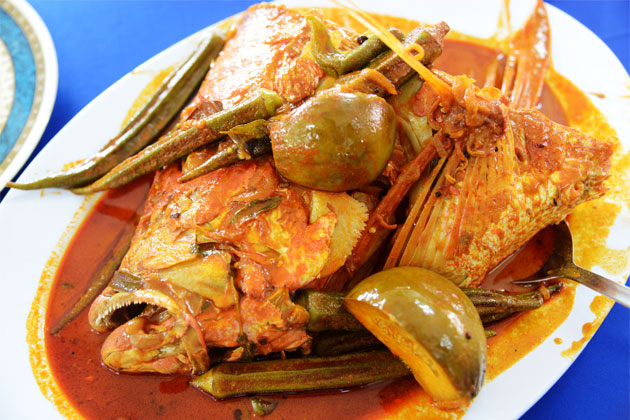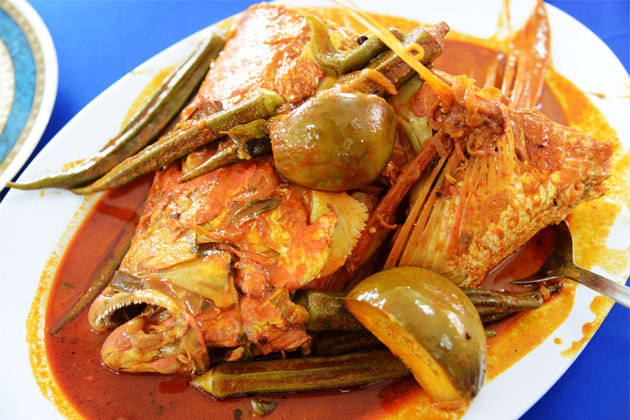 The most popular among the media and delegates was definitely the fish head curry meal at Deen Berjaya Fish Head Curry (lot 1208, Jalan Lama, Port Dickson, tel +6019 662 6225). The red snapper head came big, like nothing I've seen in Singapore and it is fresh. The curry was rich but not overly tangy, just pleasantly so. The accompanying side dishes like curry battered sotong and fried chicken, was delectable.
Still, there was not Minangkabau style rendang in sight, sigh. I look forward to this food tour verion 2.1 as there are many undiscovered makan gems in Negeri Sembilan.