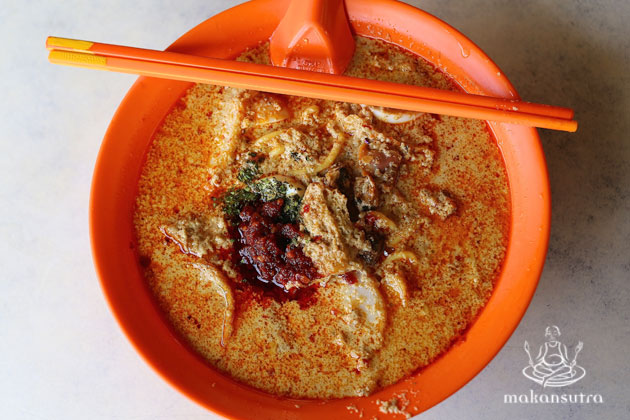 THE FORGOTTEN WOODLANDS CENTRE ROAD FOOD CENTRE
By Cecilia Joven Ong - Wednesday, Jan 20, 2016
WOODLANDS CENTRE ROAD FOOD CENTRE
4A Woodlands Centre Road Woodlands Centre Road Food Centre Singapore 731004
Should that ridiculous 'world's busiest border crossing' (CNA) Causeway jam, bear down on you when you want to just drive into Johor Baru to chill and makan, well, hang right before the checkpoint. This decades-old 'far flung' old Woodlands Town Centre is (sort of) a holding area for people passing through to Malaysia or to Singapore. Though it may have lost its appeal after the relocation of Woodlands Bus Interchange in 1996, the sleepy Woodlands Centre Road Food Centre still serves as a pit stop for travellers on both sides of the Causeway, who yearns for a good value meal.
It is time to rediscover this once bustling Woodlands Centre Road Food Centre as there are still some hidden gems waiting to be uncovered.
YAN JI SEAFOOD SOUP (#02-11) 
Operating Hours: 11.00 am to 8.30 pm (Closed on Mondays)
This stall is undoubtedly the most popular and with the longest waiting time in this food centre. The wait is usually 45 minutes or longer if you come during lunch or weekends. A basic bowl of seafood soup is priced from $6 to $10 and it consists of chunky pieces of hand-shaped meatballs that are made with minced pork, mushroom and dried sole fish, slices of dory fish and prawns. Other options include the addition of fish maw or crayfish for $10, and a bigger portion for $12. Their strongly flavored broth derived its flavor from the main ingredients, sun-dried Hokkaido scallops, and dried sole fish bones. The down side, they have to control portions and volume by serving only half a bowl of soup with each order and no refill is allowed. Their Braised Pork Trotter ($7, $8) is a rather popular side dish.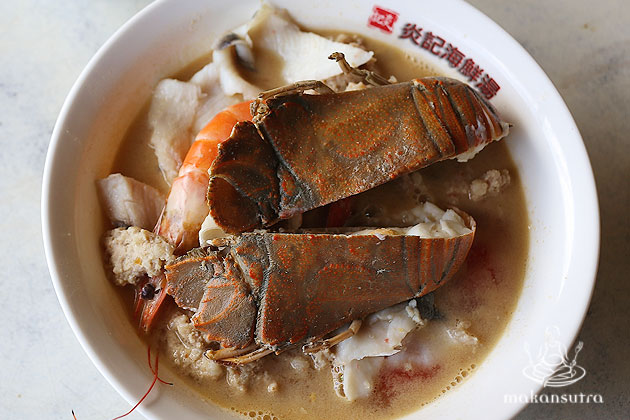 XIA MEN HERBAL SOUP (#02-26)
Operating Hours: 11.00 am to 9.00 pm (Closed on Alternate Fridays)
For just $5, their Herbal Duck is one of their popular items on the menu. It consists of a duck drumstick served in a big bowl of intensely flavoured herbal soup that has a distinctive taste of Chinese Angelica Root also known as Dang Gui. It must have been boiled for many hours for that intensive flavor to render that desired softness. It was really tender and not oily. This is definitely a healthier alternative to the usual hawker fare. Their Braised Pork Trotter ($4.50) is equally popular and sells out fast too.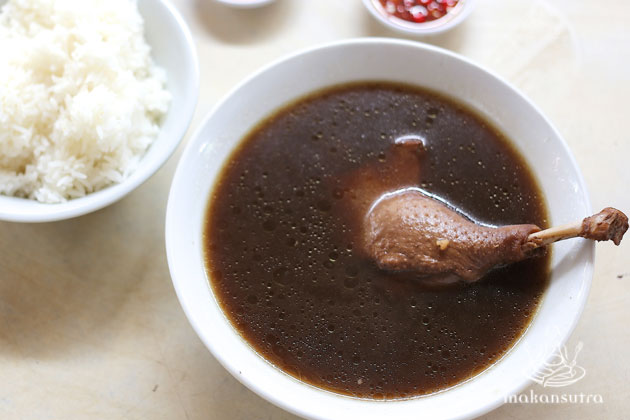 MEI HANDMADE HAKKA YONG TAU FOO (#02-29) 
Operating Hours: 3.00 am to 8.30 pm (Daily)
It is not difficult to tell that those odd and uneven shaped Yong Tau Foo items are handmade, and the elderly owner confirmed it. He runs the stall with his wife, who helps him with the making of the ingredients to ensure their freshness, but they could only do it in small quantities. The fried and steamed meatballs are the most popular, followed by the stuffed tau pok as well as tau kwa with fish paste, their fried beancurd rolls are good and all tasted really fresh. The Laksa version is strongly recommended.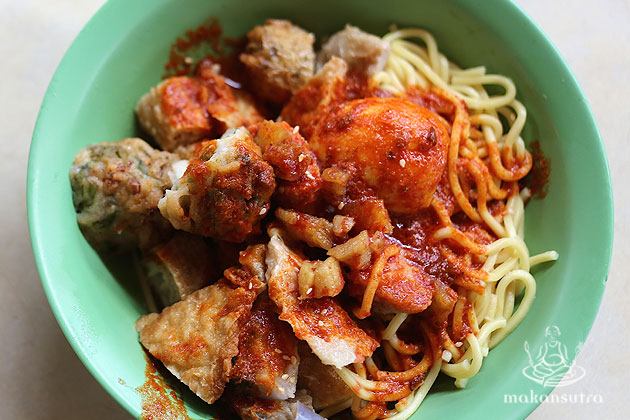 HUA LI FRIED CARROT CAKE (#02-34)
Operating Hours: 9.00 am to 7.00 pm (Closed on Tuesedays)
This stall serves old-fashioned tasting fried carrot cake at $2.50 and $3. The black carrot cake is their popular choice; it has just the right amount of sweetness to balance with the flavour of the carrot cake itself together with the egg. I have tried the white carrot cake but I prefer the black one a little more. Fried oyster omelet is available too at $4, $6 and $8.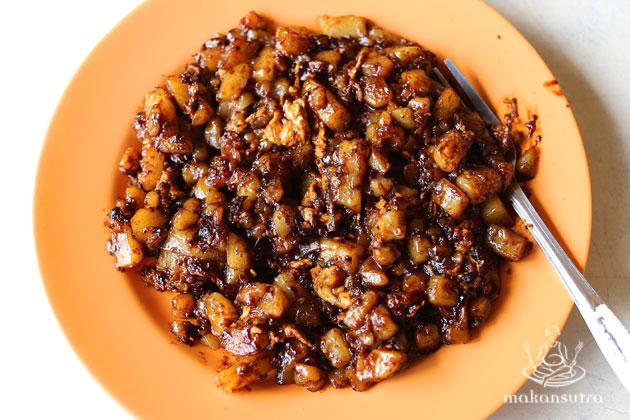 YE LAI XIANG LAKSA (#02-36)
Operating Hours: 3.00 am to 3.00 pm (Closed on Thursdays)
As suggested by their stall name, Laksa for $3 and $3.50 is the most popular among the other choices like Lor Mee, Prawn Mee and Fish Ball Mee are priced from $2.50 to $3.50. The Laksa is served in rich and thick gravy that has an intense creaminess from the coconut milk, which is further enhanced by the dried shrimps in it. Their thick bee hoon is slightly thinner as compared to the others and is better in absorbing the flavour. It might be a simple dish but it is addictive and satisfying.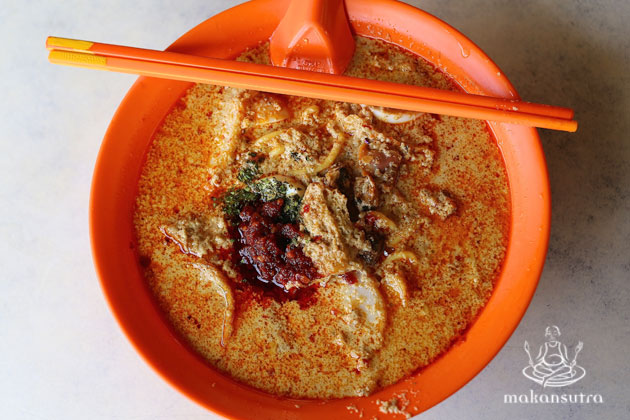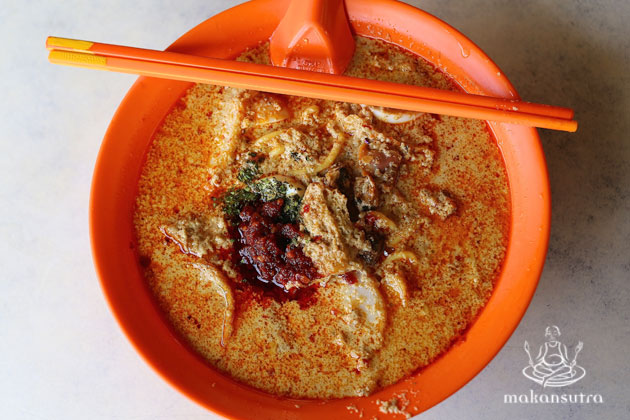 AHSIA FOOD STALL (#02-76)
Operating Hours: 4.00 am to 10.00 am (Daily)
This 40 year-old stall is usually sold out around 10am and much earlier on weekends. The queue is always long but it moves rather quickly. The dough for their prata is still handmade, which isn't very common as most stalls use factory-made dough. Other than the usual curry gravy, they serve their prata with sardine gravy that has a small chunk of sardine in it; the gravy was a little spicy and slightly sweet. A plain prata costs $0.90, and with the addition of $0.60 for the sardine gravy.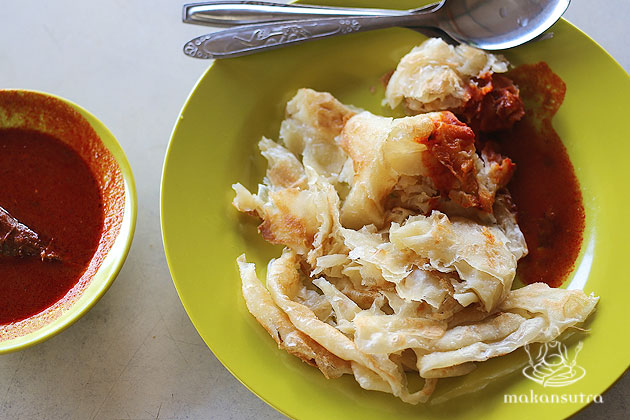 FU YUAN SUGARCANE DRINK (#02-37)
Operating Hours: 12.00 pm to 7.00 pm (Closed on Thursdays)
A must-order is their Roselle Drink at just $1, which is known to have certain health benefits. This is a refreshing thirst quencher and also a healthier alternative as compared to the canned drinks. They also serve Logan Drink, Barley Drink, Lime Juice, Sugarcane Juice and also Cheng Tng served in a disposable tall plastic cup with all the usual ingredients like sweet potato, barley, sago balls, dried longan and ginkgo seeds.