The Good Gudeg of Java
By Marchellinus Hanjaya - Wednesday, May 14, 2014
This is a fine example of the Slow Food Movement, street style. There's no way to "fast food" this slow number. Literally, Gudeg is a slow food. Just thinking about the process of making this traditional jackfruit stew, can be tiring and tedious. Almost every part of the process in making it, is done…slowly. And it's normal that a few hours are needed to perfect that pot Gudeg.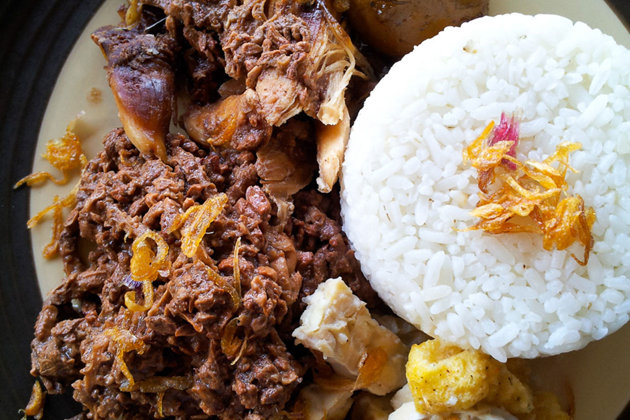 Most regular visitors to Jogja (or Yogyakarta) should have at least, for once, heard about this dish – regarded as the makan icon of this town. Some cities in Central Java may have their own style of Gudeg as well, but Jogja is where it originated. It is actually a young unripe jackfruit stew. Gudeg is rarely served on it's own and there are a list of side dishes that are often associated with a Gudeg meal. This sweetish, rich, fruity and gently spicy stew is rarely found outside Indonesia.
Generally, Jogja offers 2 types of Gudeg, which is served on two time belts. The Dry version is commonly served in the daytime, and wet style for dinner. It is rare to have dry Gudeg for dinner, but that's just in Jogja, and this rule is broken elsewhere in Indonesia.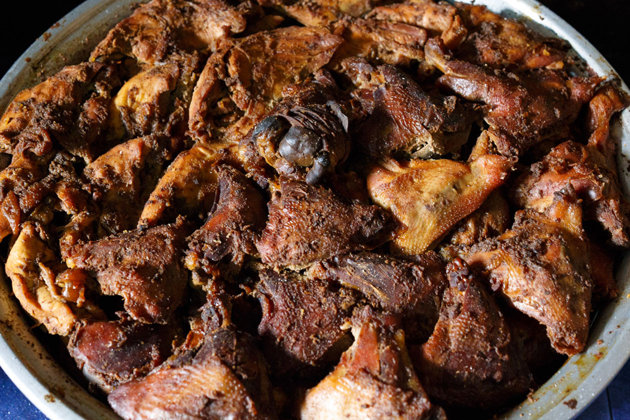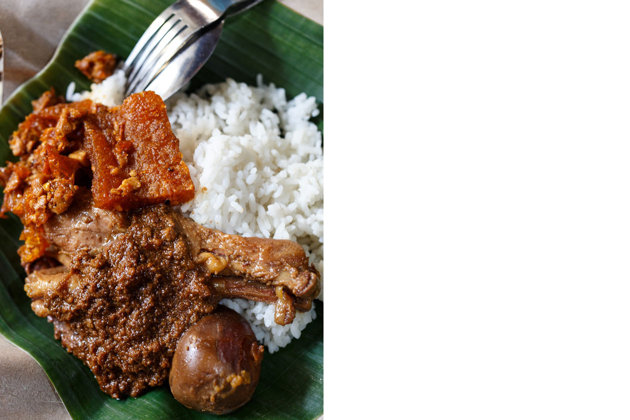 The dry version has a deep brownish colour to every ingredient in the dish, from the jackfruit, egg, chicken, and the thick sauce that's made from coconut milk. It is rich, intense, vibrant, and silky smooth. While the wet version comes looking lighter in a soup, it still packs enough oomph to blow your dietary concerns to oblivion. The chicken and tofu comes in a light grey coloured and thick soup. But this sauce is what makes or breaks the dish. Made from thickened coconut milk and chicken broth with a rich umami taste and aroma and taste, it can transform a bed of plain rice when spooned over.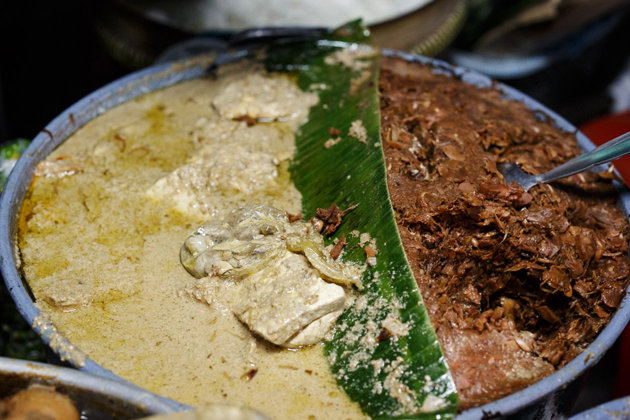 The other more exotic toppings include stewed cow skin crackers with sambal. It may sound secondary to the meal but it is also a must have. A Gudeg meal set won't look right without this cracker. There are several styles to this cow skin cracker – sometimes it has a chewy texture, and some are done with a very soft melt-in-your -mouth sensation. And also, don't forget the stewed duck egg, the locals calls it Telur Pindang. It completes the meal.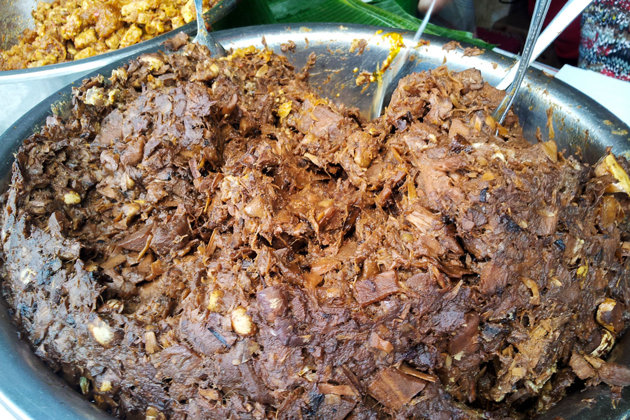 The good news is, you can now bring Gudeg back to your country because some manufacturers have begun to pack them in a can (sans rice).
If you are ever in Jakarta or Jogja, here are four places to try out Gudeg.
Gudeg Wijilan Bu Lies (dry)
1/ Jl. Wijilan No. 5, Jogja
2/ Mal Kelapa Gading 1, Lt. Dasar, The Food Sensation, Unit IC #12, Jl. Bulevar Kelapa Gading, Kelapa Gading, Jakarta
Gudeg Bu Tjitro (wet)
1/ Jl Janti No 330, Banguntapan, Bantul, Yogyakarta
2/ Jl Kalilio 11, Senen, Jakarta