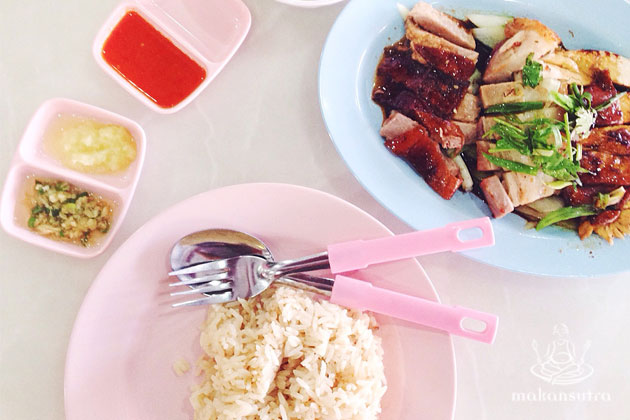 The Hai Kee Soy Sauce Chicken Rice: No Chicken Feet Inheritance
By Adeline Ang - Wednesday, Apr 22, 2015
Cuts, bruises and donning a food stained shirt, this was how Joseph Wang first caught my attention. As Singaporeans, I'm sure many are familiar with Chicken Rice. But when it comes to Soy Sauce Chicken Rice, several will raise their eyebrows. And if I say 24 year-old Joseph is currently the owner of Hai Kee Soy Sauce Chicken Rice, even more will eyebrows will be raised. An eatery that dates back to 1959, Hai Kee was first opened by his grandfather Mr. Wong Si Han at Upper Cross Street. But instead of holding an office day job, why is Joseph slogging guts out every day at the newest stall located at East Coast Road?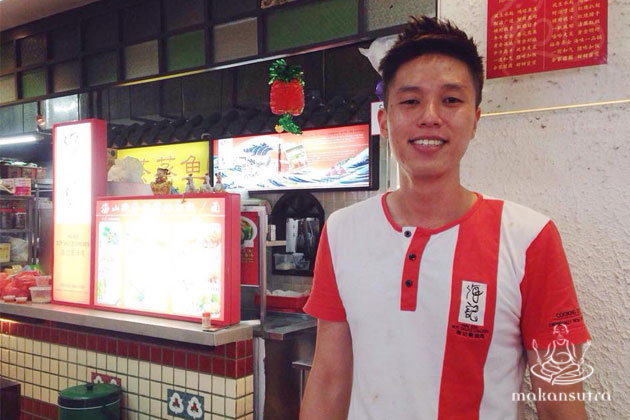 "If I'm solely in this business for its profits, I think I would have given up long ago," explains the serious owner of Hai Kee. So what does it take for a 24 year-old to work in the industry that most his age would shun? "By taking over the family business, I'd hope to strengthen family ties." As it turns out, Joseph had taken over Hai Kee from his father, Mr. Wang Kia Jeck, at the age of 21. "I'd just completed my NS and it was after my grandmother's funeral that I thought of taking over the business. So I thought I could eventually rope my close friends ones into the business."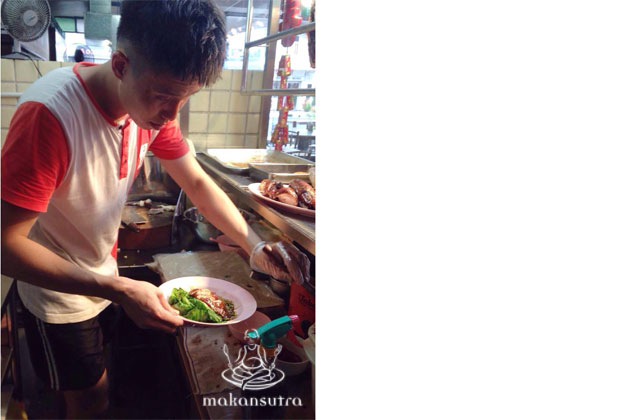 Hai Kee was relocated from Upper Cross Street to Katong in 2000 with Mr. Wang Kia Jeck manning the stall. Business expanded and it wasn't long before there were a total of 8 Hai Kee stalls islandwide. But business declined sharply during the bird flu epidemic before it ended altogether. It was only till 2010 did Hai Kee reopen its doors at Eunos Crescent. Joseph took over shortly after and began its expansion by opening a stall in Changi in 2013 and another at East Coast Road opened just 3 months ago. Joseph also has plans to take Hai Kee to Jakarta, Indonesia.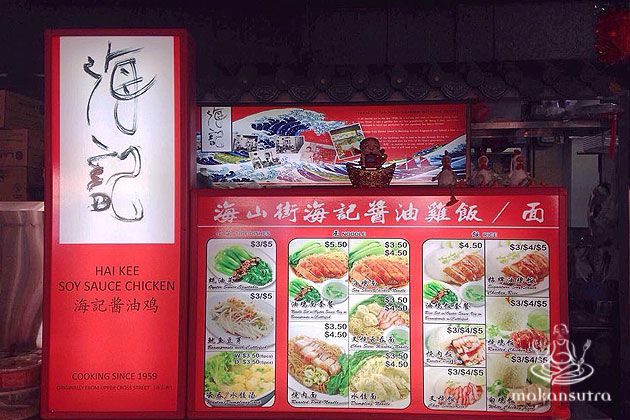 Joseph explains that he'd only helped out occasionally during after school hours and the holidays by helping out with the washing of dishes. At the same time, there was no pressure for Joseph to take over the family business. But completing his National Service and a part time diploma in business, Joseph decided to then spent 3 years mastering the art of chicken braising and the recipes for the various accompanying sauces before officially taking over the kitchen. No changes are made to the recipe nor the unique homemade ginger and chili sauces thus far.
The soy sauce chicken was well marinated where you can taste the light but not overly salty fragrance of the soy sauce. The tender chicken meat was also well accompanied by the equally fragrant albeit slightly firm and oily rice. Besides retaining the traditional recipe, Joseph has also taken steps to broaden Hai Kee's menu. By mastering the art of roasting from a hired Ipoh chef, Joseph is hoping to increase the versatility of Hai Kee. Here's a little secret to Hai Kee's roasted pork belly that remained surprisingly crispy and fragrant throughout our 1 hour long chat: instead of using pork imported from Indonesia, Brazilian pork is used. "The Brazilian pork is fattier and will become crispier upon roasting."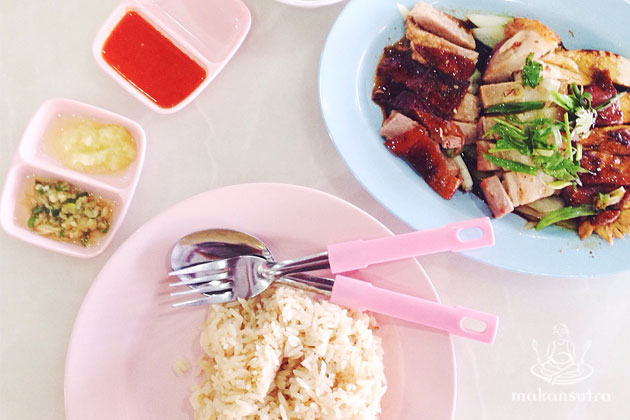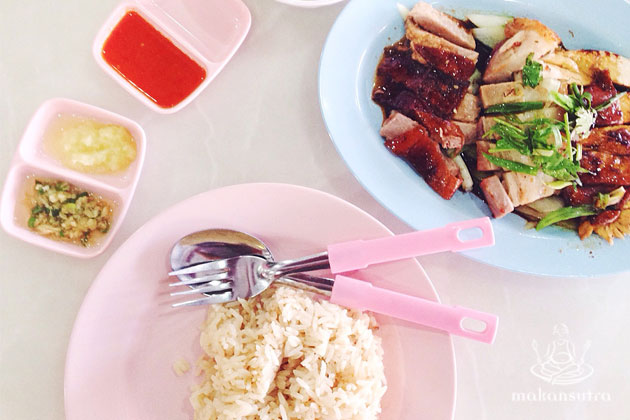 Being a hawker is tough, but it is tougher when you're seemingly inexperienced. "My father is of course the face of Hai Kee, so there are times when customers would question and compare my culinary skills to my father's."  Manpower shortage is also one of the many problems Joseph faces. "It's really tough to hire especially Singaporeans because this line of business entails very hard work. Right now workers, including me, only get a day off in 2 weeks so it can get a straining sometimes." The biggest challenge for Joseph however, ironically comes from within the family. "Sometimes the older generation will resist more innovative ideas, and this is when conflicts arise."
After which, Joseph excitedly shares the meaning behind Hai Kee (Hai Ji) where hai translates to sea and ji  (kee in dialect)to adventure/remembrance. "My grandfather was from Hainan China and had travelled to Melaka before finally arriving in Singapore. So the stall was essentially named in commemoration of his sea travels, something that played a huge role in determining his life. But now, I'd like my customers to see Hai Ji as remembering (ji) the sea (hai) of opportunities that will always be ahead of us,." Also, for those who are wondering, Joseph's surname is spelt differently from his forefathers. "My father simply said it was due to a different kind of literacy system back then! But our chinese surname (王) remains the same."
Bearing that in mind, do also note that although Hai Kee's opening hours are till 6.30pm/7.30pm, it is usually sold out one or two hours earlier. So if you intend to dine at Hai Kee, be early.
Hai Kee Soy Sauce Chicken
Eunos Crescent Block 1A #01-1461
Tel: 90274508
Opening Hours: 9.30am-6.30pm daily
324T Changi Road
Tel: 98329732
Opening Hours: 9.30am-7.30pm daily
396 East Coast Road
Tel: 9832 9732
Opening Hours: 9.30am-7.30pm daily