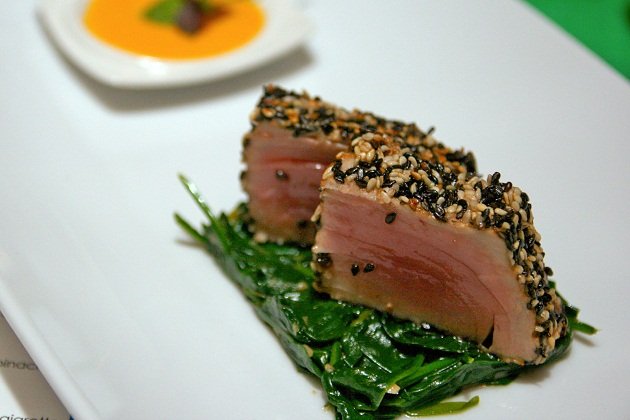 The Halia Talks Food Transparency
By Catherine Ling - Friday, Sep 14, 2012
Do you know where your food comes from? Do you know if it's been obtained from a replenishable source or if it will deplete Mother Earth of one more species? But more importantly, is your restaurant able to tell you not only its dishes' ingredients, but where and how they have been procured and processed?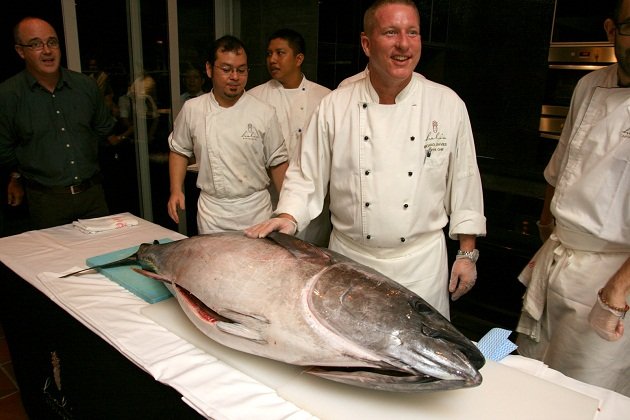 The Halia Restaurant feels strongly enough about food transparency that it launched a series of educational food dinners called "Food Prints" to encourage more disclosure from farm to fork. The six part dinners will feature particular ingredients, responsible suppliers and discussions to spark interest and awareness in this area.
At the first dinner, it was Australian Southern Bluefin Tuna and biodynamic organic wines from Sicily. They brought in a 65kg tuna for a live cutting or "loining" demonstration, and the supplier also explained how they raised the tuna on special farms in Australia. After which, a nine-course meal featuring different tuna preparations were served.
"By creating a gateway for open discussions on the food we eat, we hope to give our diners the opportunity to make informed and responsible choices when they order," shares Esther Wee, Managing Director of The Halia restaurant.
However, food transparency has not reached mainstream awareness in Singapore, and not that many restaurants are advocates yet. There are notable obstacles – the higher cost of ingredients frequently being one of them.
"Food transparency is most apparent in the fine-dining restaurants and especially when the establishment is chef-driven. There is a real price to pay for a farm to fork way of dining, and it requires passion and knowledge of the chef to ensure that his ingredients are responsibly sourced. The combination of price and professional talent naturally translates to higher cost, and perhaps it is why you tend to get more transparency in the higher priced restaurants," said Esther.
But she is still determined to push this as she feels strongly about leaving a continuous supply of food ingredients for future generations.
"Many years ago, I read an article about how some people had never seen a live animal and how their relation to food starts at the supermarket. That struck me as a serious disconnect – that our urban society has this notion at the back of our heads that the food chain starts from the market!" she said.
And the issue wasn't just with consumers. Further conversations with service staff rang alarm bells. Some did not give a thought to the origins of the food they ate and served and some were even reluctant or fearful to come up close with a live animal or a plant!
That was when Esther decided to embark on a 'back to basics' way of addressing what they serve.
Halia sent its staff to Australia for annual trips, exposing them to farms, vineyards, farmers' markets where each vendor was passionate about explaining their produce. The staff plucked berries at fruit farms and witnessed fish market auctions and slaughtering. Last year, they visited the Blackmore farm to acquaint themselves with wagyu cattle.
"Moving up the chain, we brought them to restaurants who have management and staff that are truly passionate about their craft. These restaurants include Caprice and Amber in Hong Kong; Quay, Tetsuya and Vue de Monde in Australia; and Gunther's, Waku Ghin and Andre in Singapore. Each experience created a growing respect for the need to be true professionals of our craft, to be advocates for greater transparency," said Esther.
"Transparency is not just telling our customers about where the food they eat came from. It starts with the people serving the food – they must know and respect that everything brought to the table consists of a long chain of production, process and execution. With that knowledge then can we make informed decisions and operate responsibly."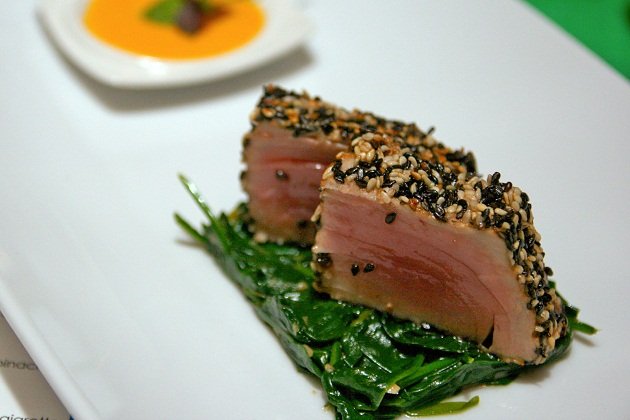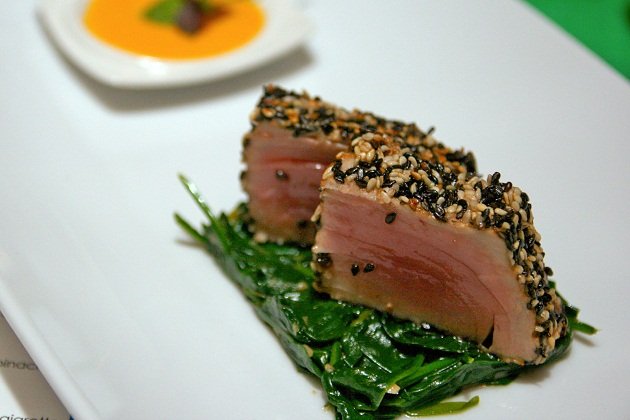 The movement has greater awareness in the West, and there are more sustainable food options there, but some countries are leading the way in this region, such as Japan, South Korea, Australia and New Zealand. Singapore too, with strict regulations from the AVA and NEA, is a country that endeavours to be responsible in farming methods.
Much more can be done about food transparency, according to Esther. The education and training of service and culinary professionals. Requiring suppliers to clearly state source and provide greater detail on processes. Granting subsidies to companies that want to bring in or serve sustainably sourced products, to lower the cost and therefore to encourage more restaurants to support this move.
Ultimately, it will be the planet's benefit when we can all choose to eat wisely and responsibly. Or we may well run out of some things to eat before we know it.
Halia's next dinner will be on 22 November 2012, featuring Blackmore wagyu beef and Miguel Torres fair trade wines.