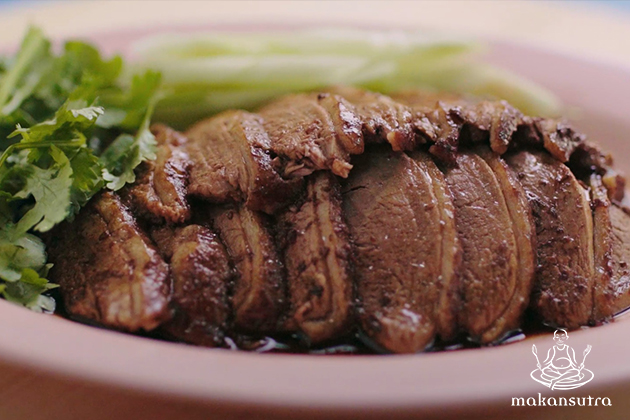 The Hawker's Knife
By KF Seetoh - Monday, Feb 25, 2019
You may marvel at how top Japanese sushi masters revere their knives and honour it with dedication and respect it with a mind bending handling skill honed over years of practice. But take a closer look at our humble hawkers, they practice and revere it too. From the way they dissect that one fowl into ten portions of chicken rice, slice a mackeral so gingerly against the grain for texture so it gently curls up in fish soup to butterflying squid so it cooks more evenly and quickly with a nice texture to boot. I have to hand it to them and bow in respect to the lengths they go through to please us with a humble and very affordable platter of hawker food, and such skills isn't always the domain of the older generation of cooks.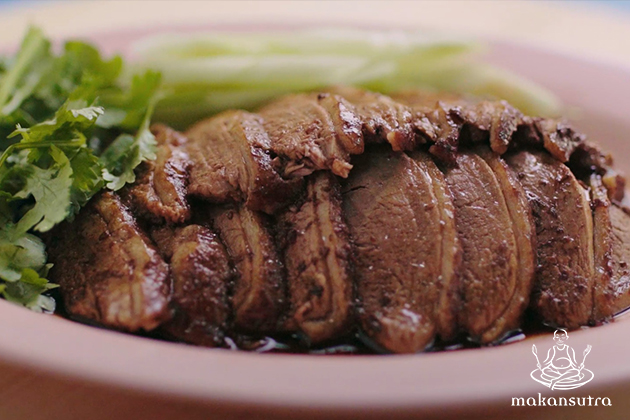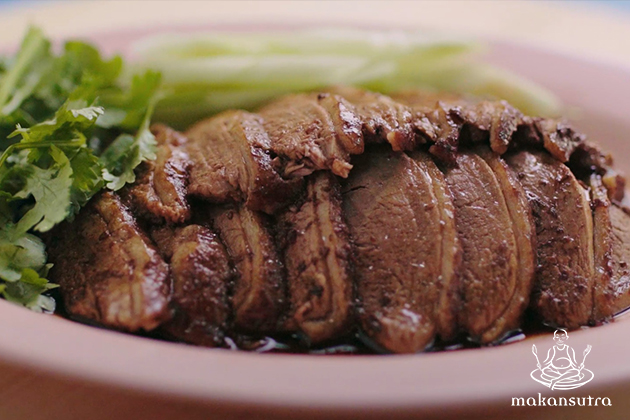 Braised duck from Ah Xiao Teochew Braised Duck
Mr Peh Rui Hai of Ah Xiao Braised Duck at Golden Mile Food Centre is a millennial and took on the mantle of continuing his family's braised duck business. Their edge is the patient art of deliberately slicing the gamey duck breast into consistently thin slices. It tames the pungency of the meat and yet gives it a nice texture that does not overwhelm the palate. "The trick is, firstly having a good and well sharpened knife. Then you have to understand the structure of the duck and slice it against the grain to it does not get stuck between teeth when you chew in". Not many braised duck cooks nor hawkers practice this but that's how it's done with them and it's how it will always be because "customers expect it from us". What many don't see is the hours of prep work- from cleaning the spices and herbs to making the braise sauce, knife sharpening (twice a day affair), cleansing of the ducks, laying out the stall and displaying the food etc. The life of a hawker is tough but certainly meaningful and rewarding if done right.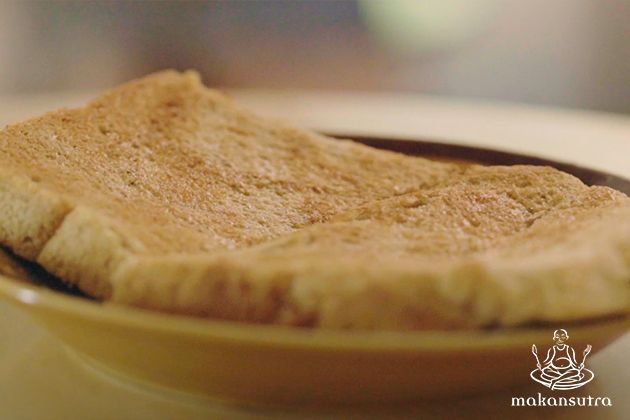 Ah Seng (Hai Nam) Coffee
We take our thin sliced roti kaya for granted. This method of halving an already thin slice of store bought bread after toasting it is also another humble knife skill and idea our hawkers came up with moons ago. Ah Seng (Hai Nam) Coffee roti kaya stall had been in business since the original Ah Kun (Yakun) days back when Lau Pa Sat was a public hawker centre. Someone started the trend of slicing the bread thinly and everyone else (there were a few stall offering it) jumped in on the bandwagon. The intent was "to maximise the crispy bread texture without the heaviness and have the kaya ooze through easily yet feel the texture of the cold piece of salted butter.", says octogenarian owner Mr Wong Lock Teng. In his quest to learn and perfect the gently art of slicing thin roasted toast, he had cut himself many times and the trick is "to be firm, steady and not rush it". Their coffee and roti kaya stall has a long line of white collared regulars and is sort of an icon in this CBD hawker centre.
So, do spend a moment and applaud our hawkers for the refined and unheralded skills they often quietly introduce in their kitchen and food, just to please us. Pledge your support for our hawker culture at www.oursgheritage.sg, they so deserve UNESCO's recognition.