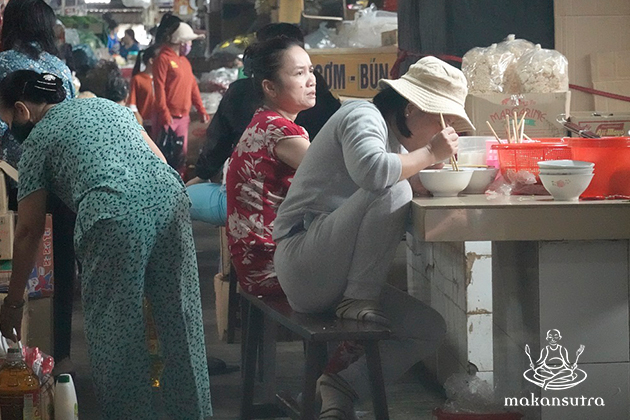 The Hue to Go..
By KF Seetoh - Thursday, Mar 19, 2020
Finally, I made it to Hue (read: Hway), the northern, former ancient capital of Vietnam. I've always known it would stand head over shoulders above the other usual suspect cities there, by way of experiences. Hue is the food capital of Vietnam and I often wondered why. More noodles, rice cakes, wraps and grills. Well, yes and way more. To feel the heartbeat of a city's food culture, you have to dive into the Face (people that power the food), the Place (what the land provides for them) and of course the Taste (how they ingeniously bring it together onto a platter).
An evening sight to behold- by the Truong Tien Bridge over the Perfume River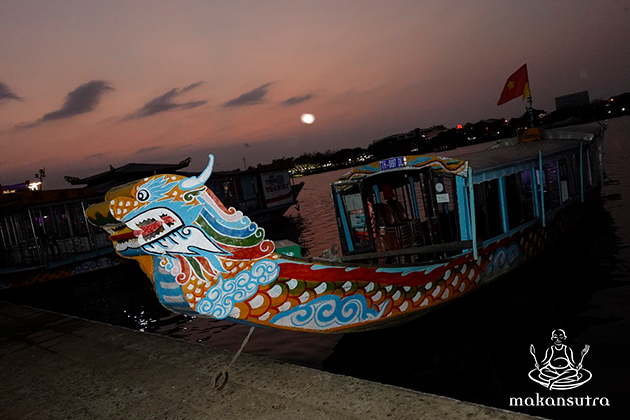 Fancy a Dragon Boat ride along the Perfume River, just holler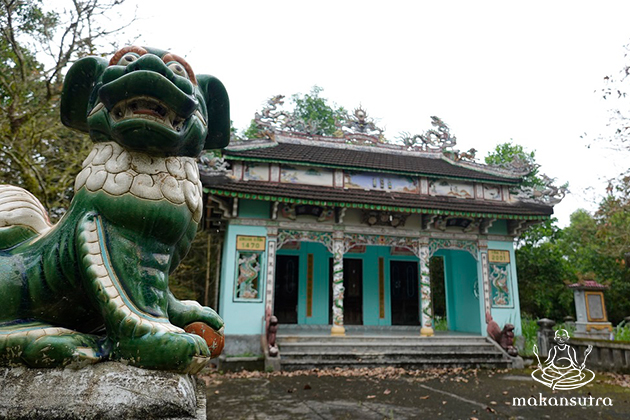 Not a house or Air BnB friendly, but ancient tomb houses dedicated to the dead at the old Phuoc Tich Village.
I had a wonderful week there before the virus pandemic was declared by WHO (World Health Organisation) and led by the good folks at #travelconnect in Hue. Sure, you have reasons to lock yourself down, avoid travel and close contact with others. But you also have reasons to plan ahead for when this crisis blows over.. or revenge travel, wanderlust and make-up mastication. Mark this one down. One downside to going Hue currently is- no direct flights from Singapore. You go via Ho Chi Minh or Hanoi take a two hour bus or train ride via Danang- very scenic, especially that uphill ride with a breath-taking view of the bay. But that is set to change by next year, when plans are afoot to internationalise Hue airport. The other plus, and I hope they make it a rule or even law- we did not see any fast food joints or mega logos with a pizza, burger or fried chicken menus. This can be a brand reputation for this foodie city.
The evening we arrived I asked for a street food tour, just to check if they are cleaning up the streets of vendors or cleaning up their act to preserve the aromatic street charms of old cities like theirs. And Mr Nguyen An (the agency's head honcho) delivered, albeit with a cheesy touristy trishaw food tour ride around the delicious streets and avenues of Hue. The bites and bits, was one of the highlights of the trip, and on Day One, to boot. I will take you on a moreish ride through our one-week mastication journey that made this first trip our mine there, so memorable.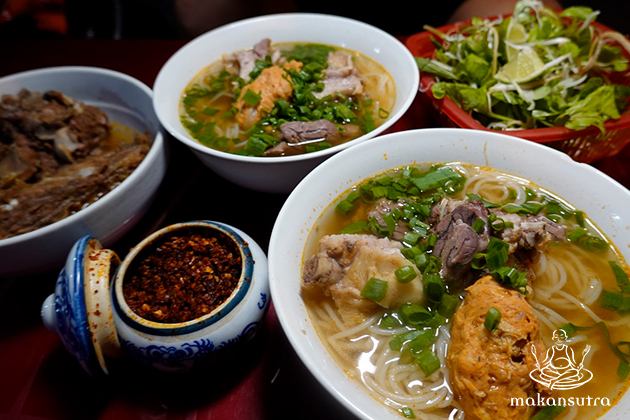 This street side Bun Bo Ba Bot- pork, beef and crab ball noodle was one of on my bucket list I have to do again
First night and we (a gang of us including the fearless foodie Johor Kaki and photographer Wilson Wong, Clarence Choa, Penang foodie Peter Yeoh, retired wanderluster George Tay) found a few memorable flavours. The Bun Bo Ba Bot a crab ball, pork and beef noodle from a nameless street vendor was a class act. The all-important broth was forever simmering in that pot the boss-cook lorded over. When it was topped over the glutinous rice noodle, the umami heaven beamed down and boomed "Welcome to my World". Everything was soft, slurpy with a crunchy crab ball and was supremely moreish. The fried pancakes at Ba Do Quan, stuffed with ham, prawns, greens and what not (too good to be analytical about it) and it was an all-local affair, no tourist, and we felt so comfortably out of place, the wanderer's wanderlust high.
Then there was a visit to another dimension of food glory, a ride out to visit Boi Tran Garden House to meet Madam Boi Tran herself, a living legend of an artist and chef. The place, the green, manicured and curated garden and yards with French and local Hue touches plus the food, served like how the Royals once ate (well almost, except we were too noisy and gushed at her platters.. check the video, coming soon). My late buddy Anthony Bourdain visited and featured it before, but I had to take the mickey out of his very staid visit " Yes, hahahahaha, that's how he was, you are on point", said a very warm and endearing Mdm Boi Tran recalling his visit. Bless you Tony, you paved the way here.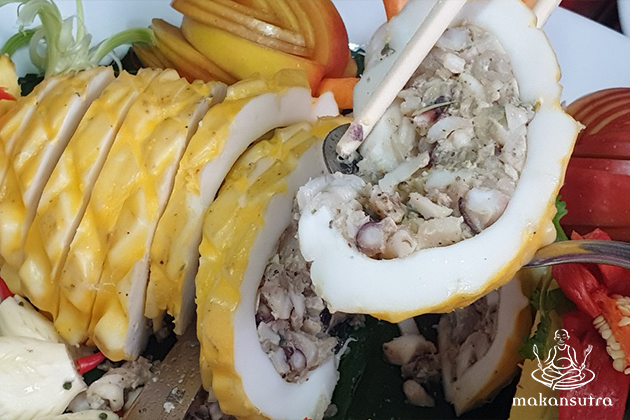 The Royal stuffed squid "pineapple" at Tinh Gia Vien Royal Restaurant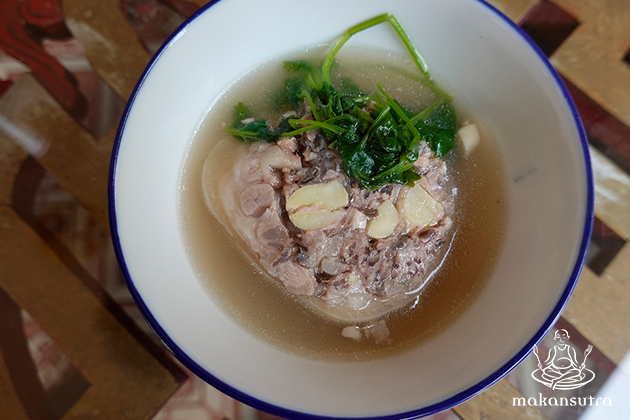 3 hours to make, but a minute to love and devour this Royal Gio Lon Ninh stuffed trotter creation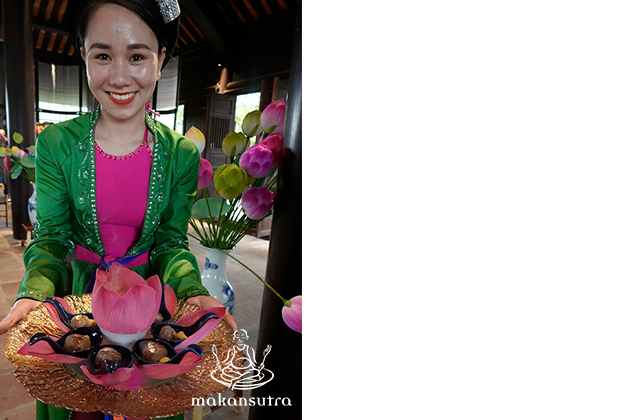 The Imperial Tea Ceremony at their ancient Imperial Palace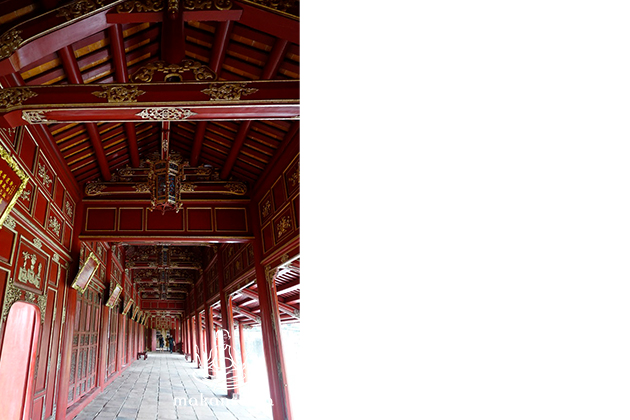 A walk through the corridors of the Hue Imperial Palace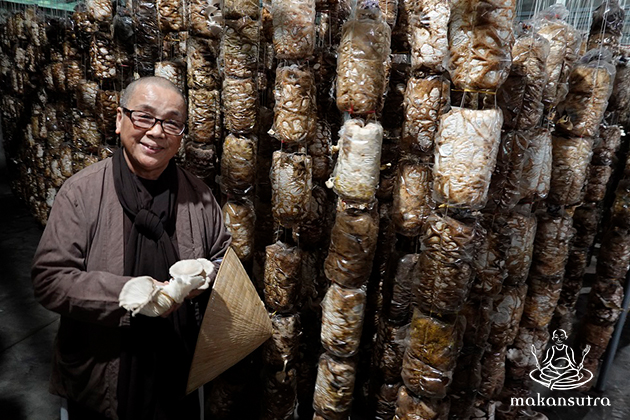 The humble nun who runs an 150 kids orphanage and who has her own mushroom farm..
On another cool day, An wheeled us to Tinh Gia Vien Restaurant, set in the home of Mdm Ton Nu Thi Ha, a descendant of the former Royal family, now maintaining her pride as the protector of Hue Royal Cuisine in her well-appointed two-level house off a quiet street. Just for us, she put on her best and demonstrated three dishes fit for Royalty, lost in today's menus. She did three dishes by hand and from scratch- took all of almost nine hours, as she did not want us to skip a beat. A whole trotter, was hand-carved till a skin bag was left. The remaining meat was minced, marinated with an own-made fish sauce, with pounded shrimps and soft boiled lotus seed. Then, steamed through before it was laid out and sliced then placed over the broth. So complicated to make and describe, yet this Gio Lon Ninh was so easy to devour. Then came a minced pork, lard and pounded shrimp ball, coated with egg yolk (Cha Tom Tren Canh Quat) to look like a kum quat and stuck to.. well a kumquat plant. You pluck and eat it like a "fruit". The third was a stuffed large stuffed squid with minced pork, chopped squid with shallots and egg, get this, made to look like a pineapple (Muc Hap Hinh Thom), just so it pleased and entertained the Royals back in the day. It pleased us to no end too, except for the nine hours we watch her and her team put it together. To make sure we weren't drowned in food (which we will not complain anyway) An made side visits to observe a mod rendition of traditional Hue Tea Ceremony, using tea leaves from ancient trees in the north of the country- and set aptly in a rest house inside the ancient Hue Imperial Palace. Plus, we met a nun who runs the Pagoda Vegetable Garden and an orphanage. Forty years ago, she gave it all up and decided to take in orphans, educate and feed them. She has a vegetable and a mushroom farm that feeds the 150 orphans (from infants to young adults). She sells what is left over for revenue to fund the sprawling and spartan establishment. Bless her too. We could only pass out the hat but could not lend much of a helping hand then, as we had more eating to do!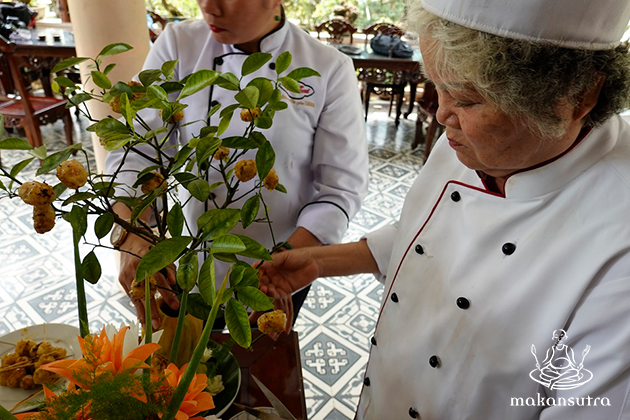 So much work to "plant" and cook this Royal Kumquat Prawn Ball plant at Tinh Gia Vien Royal Restaurant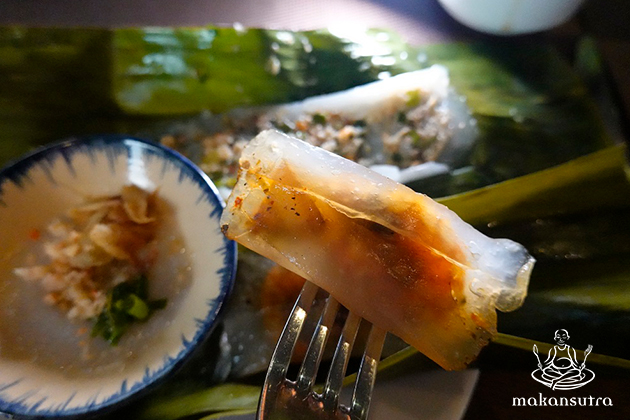 Steamed rice cakes with dried shrimps, a part of the breakfast spread at Alba Spa Hotel, totally local and absolutely marvelous.
I also asked for and An sent us to a truly local eatery, much like an ulu cze cha spot in Singapore. The roads got darker and narrower but the place, Bo Ao Restaurant, had no tourist nor English words, just English alphabets that the colonial French once turned into their current written language. I fell head and heels over for the.. erm, Fried Rice or Com Chien. I kid you not, best I've had. Never had I tore into one that was fried till many grains were crispy and had so much wok hei in them. I observed how one singular millennial chef rocked the wok at full speed all night and wondered if we could hire him and put him up on the pedestal or even invite to our World Street Food Congress (www.wsfcongess.com ). I asked for seconds even on the next day and till the day we left. I realised why their simple Roast Chicken was so juicy and flavourful- it was live. You order, they go. Bless the chicken. The Snake Head Fish Hotpot with bamboo sprouts was a comforting end to the meal.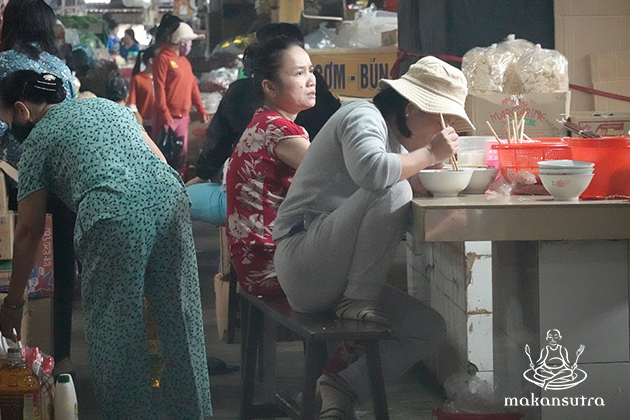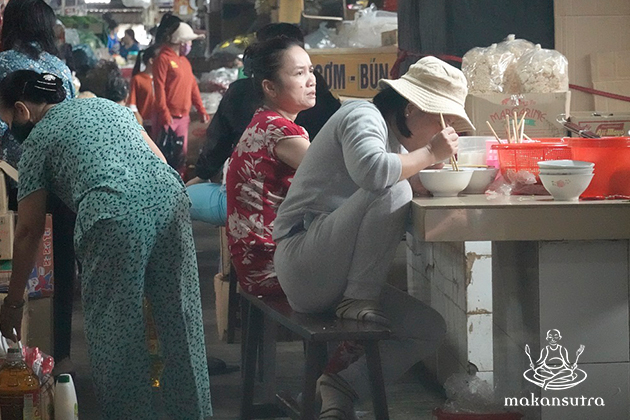 I absolutely love the atmosphere of local markets, where people are at their natural best, without apologies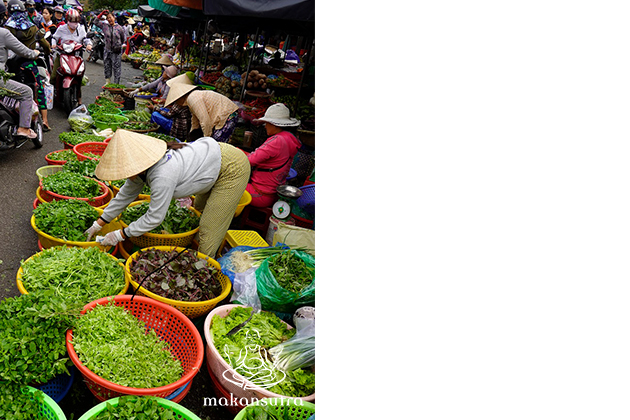 Ridiculously fresh market greens by the outdoor vendors at Dong Ba market.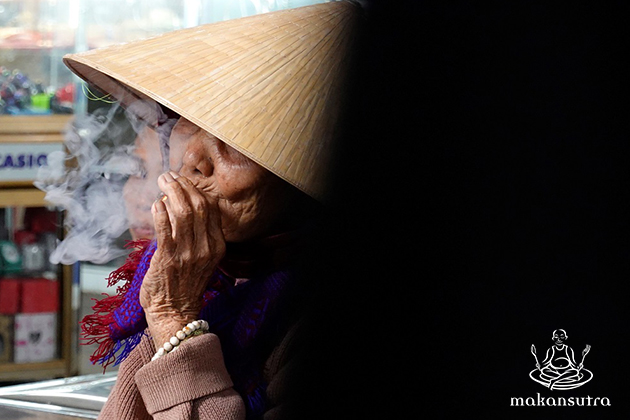 Smoking-good market scene in Dong Ba Market
I had been dreaming of this Bah Khoai (seafood and pork crispy pancake), for a very long time. The meeting was perfect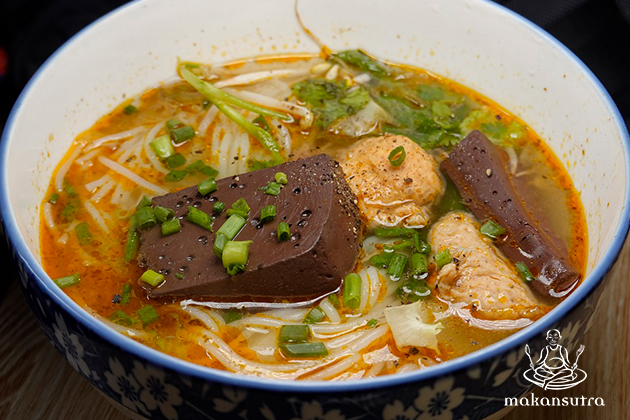 Bun Rieu Cua at the Ba Do market- noodles with crab balls and a special topping of pig blood cakes. I will be back for this also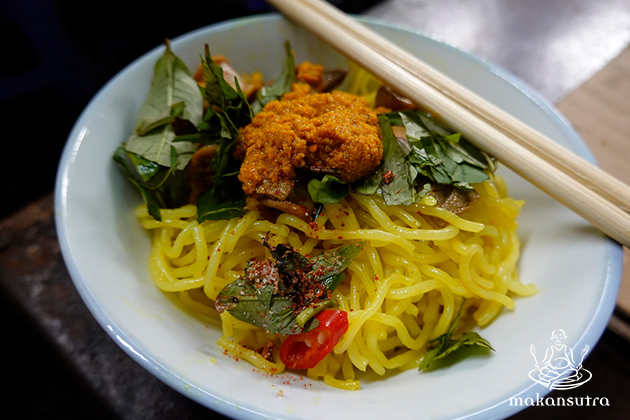 Totally humble and absolutely flavourful- the turmeric noodle or Bunh Nghe.
They knew I love visiting local markets, I feel so at home seeing normal folks in their everyday chores and task devouring what they love to devour to get by a day. It says raw "gastro travel" to me. It was at the Cho Lang Chuon market that I discovered a dish I adored via an image I saw on Bourdain's old social media post. He forgot where it was and I found it staring at me at this market. Banh Khoai is a little crispy savoury rice pancake with translucent burnt edges done upon order. You top it with whatever you like, provided you buy them separately from the wet market just beside. Ours was slathered and pan baked with baby squid, prawns, fish and pork. I absolutely will be back for this one. But Bourdain's image was done with soft-shelled baby crabs (not in season that day we were there). At the Ba Do Market, a simple and humble little food stall served up some of the best bowls of noodles that make the average Pho felt so "McDonalds". The Bun Rieu Cua- crab ball noodle broth with chunks of pig blood cakes was like a karma, something I loved in a past life and our paths crossed again here (as was a few other dishes I had in Hue). The closest I saw they had of our curry noodles, was Bunh Nghe – yellow noodles with local green, chilli powder and a fat dollop of turmeric paste, like a turmeric sambal. Toss them all up and I knew I will be back for this one too.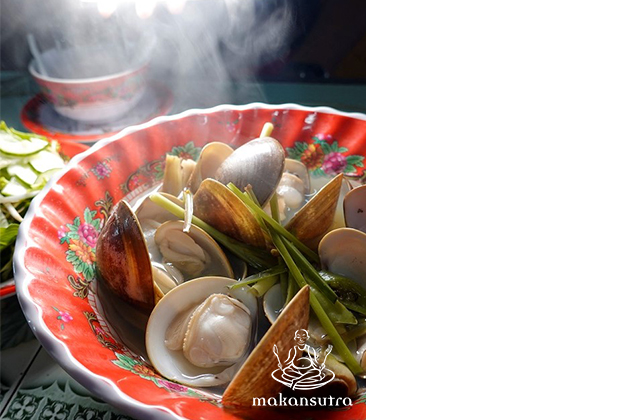 Fresh steamed clams with a magical own made fish sauce at Quan Hai San Tuan Phuc restaurant by the Chon Lagoon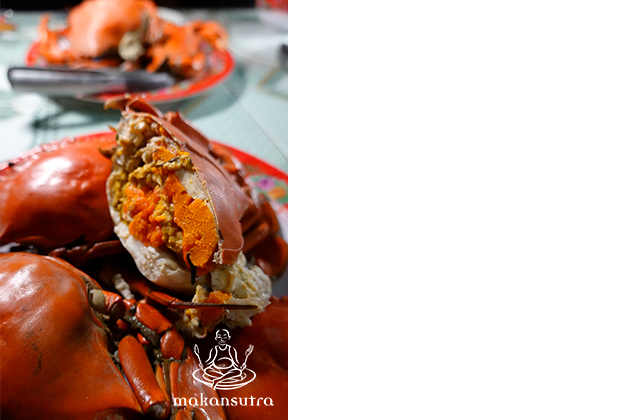 The Double Deck Roe crabs at Quan hai San Tuan Phuc seafood restaurant..made me skip a few heartbeats!
Our finale, save the best for last, meal was by the Chon Lagoon at Quan Hai San Tuan Phuc seafood restaurant, a 45 minute ride out of town by the water in a seafood restaurant which feels like you are eating in your Malaysian friend's house in Pulau Ketam. First they did was show us the kitchen and the pails of fresh catches, before they turned it into our dinner. The "double decker" roe crabs (like the Teochew and Hakka cold crabs we get here), just steamed and dunked in their own-made fish sauce was fabulous. I am reminded of how, if ingredients are fresh, you need not very much of a flavour to layer it with. The steamed a whole garoupa, then taught us how to tear a soft juicy piece and place it in a rice paper crepe, load it with greens, dunk in the spicy fish sauce and devour. It was love at first chomp.
I do adore the quiet charms of Hue, it's unlike and fast moving Ho Chi Minh and if I hadn't given you any hints, I will be back. I am missing the fried rice and the banh Khoai already, among others.
---
Staying and Going to Hue
We had two wonder stays at the decadent Hue Imperial Hotel which has a little casino and a temple at it's roof, for calm contemplation and dinner at the roof terrace, has a commanding view of the city and the beautiful lit Truong Tien Bridge over the Perfume River. The Alba Hotel and Spa, has one of the best local breakfast in town, on buffet mode and a well-appointed spa.. You can start the day on character or with some ham and eggs if you so desire. Contact Mr Nguyen An of Connect Travel at nnan85@gmail.com or at whatsapp +84 905599656, if you want a slice or chunk this tour and nomming action and more.