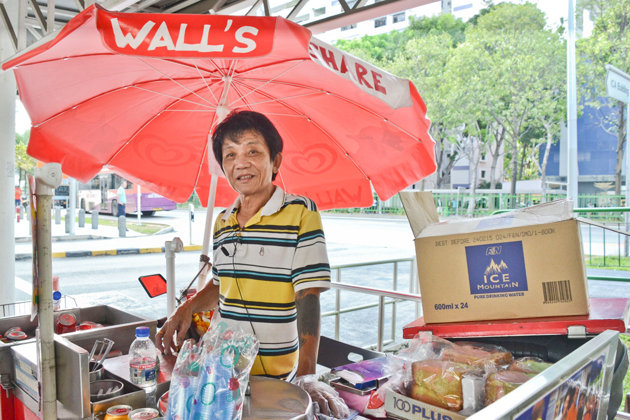 The Ice Cream Uncle
By Jade Hu - Thursday, Mar 27, 2014
There are days when the weather gets so hot we could feel our scalps melting. And then, "Ling-ling-ling!" The saviour arrives, on an ice cream cart mounted on a motorcycle under a large parasol. Instantly, our minds conjure up ice cream cones, and sandwiches – rectangular blocks of ice cream clamped between sliced pink and green bread, or crispy yellow wafer biscuits. "One ice cream sandwich, uncle. Sweet corn flavour." The lady first in line called him uncle and so did the little boy behind.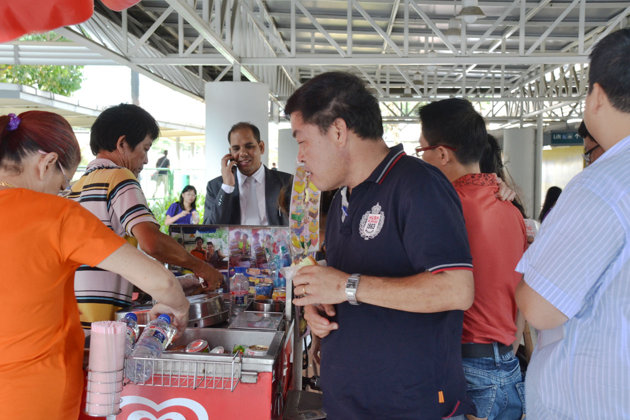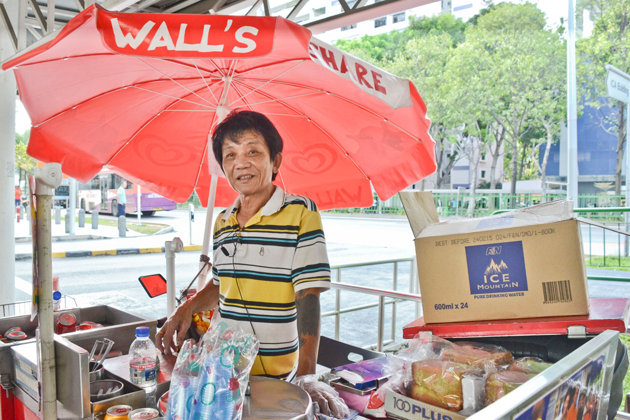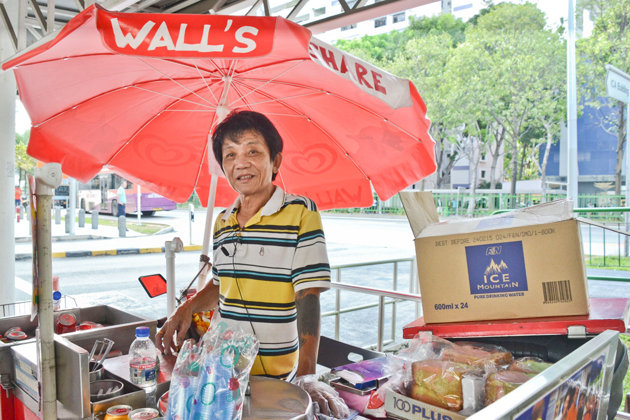 Uncle Jimmy, 68, is one of these ice cream uncles. Before starting to sell ice cream in 2003, he was a char kway teow hawker at Sungei Road, sold vinyl records, and zipped people around Singapore in a taxi. Nowadays, he parks his trusty ice cream cart near the entrance to Lavender MRT station and the Immigration & Checkpoints Authority (ICA) Building. On a typical afternoon, a constant stream of people is making a beeline for ice creams.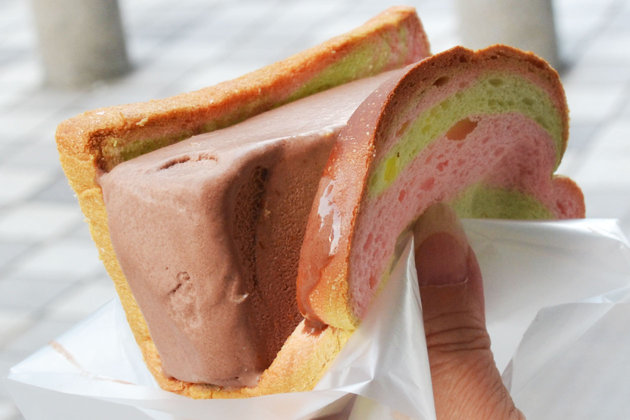 His customers, from all walks of life, pop by to get an instant milky sugar rush from this basic ice cream sandwich. It costs just S$1 – a little piece of haven in this 'world's most expensive city'. He offers a range of flavours, from durian, red bean, jagung (corn), mango etc… besides the usual chocolate, vanilla, mocha etc. The attap chee (palm fruit) flavour is on the menu but he doesn't offer it anymore – as cost has gone unreasonably north lately. He hardly smiles… unless someone cracks a joke or strikes a conversation with him. So go let a funny one on him and share a laugh.
Selling ice cream on his feet for up five to six hours a day is strenuous, for someone his age, but he claims it's to while the time away and serve up cold parcels of joy to the masses. Does he realize that his seemingly mundane job is more meaningful than he'd ever imagined? Uncle Jimmy dismissed, "No lah, I just do what I do… Anyway I won't be doing this for long." He waited for the line to fade and belted out an impromptu Elvis Presley number – In The Ghetto. But we rather he stuck to selling ice cream.
The 'ice cream uncle' is somewhat of a leftover makan icon from our not-so-distant past. Fann Tan, a supplier of DIY food products, said, "The 'uncle' is always doing ring-ring-ring downstairs of the HDB block. He reminds me of and makes me relive my childhood days!" While she's still a loyal supporter of this classic snack, she lamented that there used to be real corn bits in the sweet corn ice cream but not anymore, a complaint she gamely took up with Uncle Jimmy.
Mervin Ng, an engineering student at NTU, said, "I always buy whenever I go to town or when I walk past. I feel the need to support because they are usually elderly and I respect them." To him, it's "old school ice cream", reminiscent of "eating on the roadside". Kum Leong Kay, a civil servant, recalled childhood days of hearing the bell and running down for an ice cream cone and it's something to help cool off for the day. To others, it's a slice of our "cold culture". Sophie Leibundgut, a Swiss long-term traveller, found that buying from the ice cream vendor is a good way to get in touch with the local culture, "I want to support and buy from locals, plus it reminds me of a street food scene that I like."
So enjoy this ice cream icon while you can, as many of these vendors are already in their sunset years and no one is taking over…