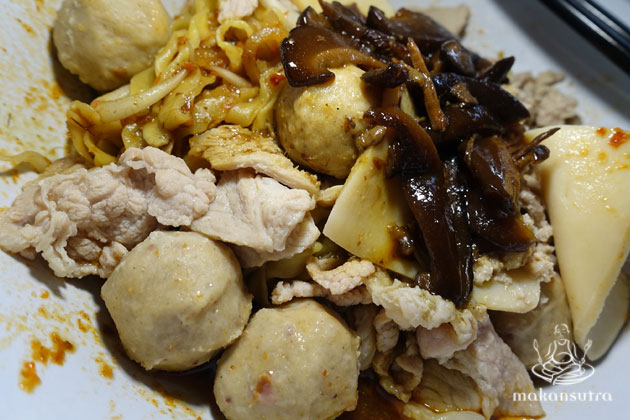 The Japanese Mee Poh Tah and his Sifu
By KF Seetoh - Monday, Feb 08, 2016
For sure, there is a complex and entertaining movie plot and script buried in here. First there was the quest to find and learn the definitive ramen in Tampopo the movie, and even Jiro's Dream about the perfection of sushi. Now, with that Japanese element still intact, we have our very own street food Mee Pok Chronicles. There is the Grandmaster hawker, the sifu and the ardent Japanese disciple who pierced this iconic Singapore dish with a slices of his skills from the land of the rising sun.
So, the plot in short- Eric Chia learnt mee pok tah from the grandmaster, Ah Lam (of Lam's Noodles) in the 90s, then moved on to set up Ah Hoe Mee Pok and Guan's Mee Pok. He had a curious and dedicated Japanese devotee of his noodles, who sold bento meals next door, that was so enamoured he asked to apprentice at Ah Hoe's. So Mr Naoji Kuribara closed and forgo his bento dreams and learnt that mee pok art for six months. He did so well that Eric offered him a partnership. Now there are two Japanese style Ah Hoe mee pok tah stalls in the West and Eric still operate his Guan's Mee Pok stalls in Singapore.
Cut to the chase, let's move on to the final chapter and take it from scene 38, right after Ah Lam exits the storyline. The big kahuna question- who does it better and what's the difference between Ah Hoe (the Japanese run verison) and his sifu at Guan's Mee Pok (owned by Eric.)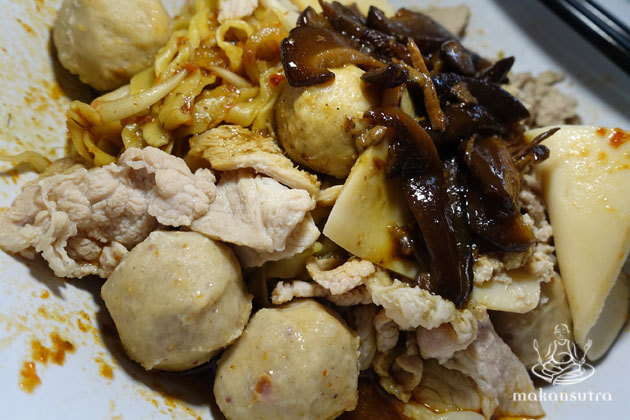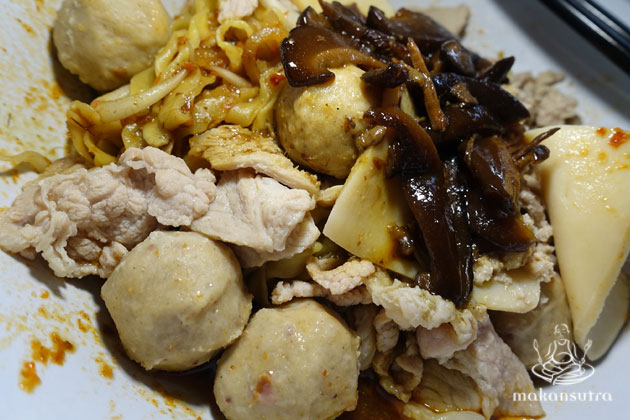 Ah Hoe Mee Pok (father Naoji san and daughter)
Blk 710, Clementi West Street 2, Weng Kwang Coffeeshop
Opening hours: 6am-3pm, close on Sunday
There's always a curious and informed queue at this stall. I took away all novel factors about this stall (that he only take orders only in English and preferably Japanese, although the bulk of this customers are locals) and sized it for what it was. Verdict- the sambal is rich but not overly spicy with hints of sweetness and a weak dash of black vinegar (you can ask for more). They use the Hakka type mee kia (like the yong tau foo stalls), if you choose so, and it has an appealing al dente texture and holds the sambal well with each scoop. They use slices of locos, a abalone like shellfish that tastes very similar and the lean meat, pork balls and minced meat are all diligently done. The soup version came with a properly rendered broth- very close to how ramen is done.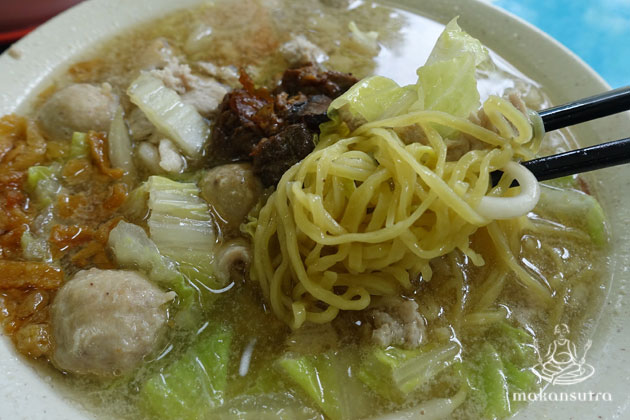 Ah Hoe Mee Pok (mother Mrs Naoji and son)
Blk 713, Clementi West Street 2, Kim Soon Coffeeshop
Opening hours: 11.30am-2.30pm, 6-9pm, Mon-Fri 8am-4.30pm, Sun closed
I don't know if this was deliberate, but I detected a world of difference. The sambal felt more "economical" with a more generous addition of black vinegar. The noodles came same in texture to her husband's version but the soup was at least three points (of a total of ten) shy of the other branch. This is very nice, if you don't compare with the other stall or Guan's all in one day, that is. Perhaps it was because we order the first bowl of the day and flavours had not settled in the pot properly yet, but it should not be this far off the family recipe.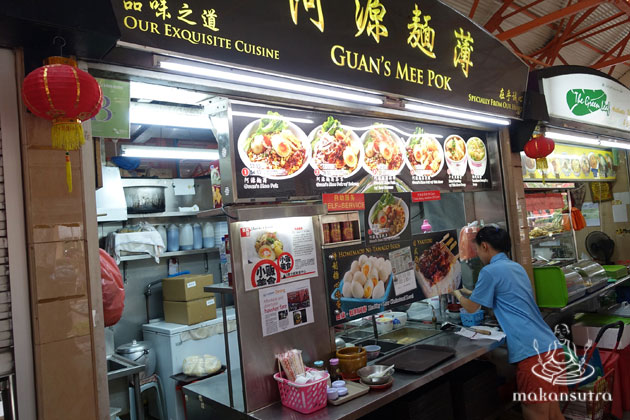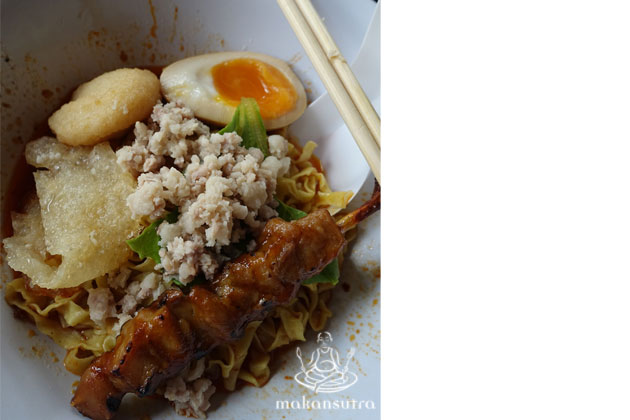 Guan's Mee Pok, stall 99, Maxwell Hawker Centre
7am-2pm. Close on Wednesday.
Eric Chia taught his Japanese disciple well, right down to the 35-36 seconds of noodle blanching technique which they use a timer to assist. It's pretty much the same sambal and meat plus pork ball but the sifu has the edge here- that soulful touch by folks who owns the heritage of this dish. The balance of sambal and vinegar is just nice, it is sharp and spicy but none takes centre stage in your mouth. I feel he has to concede his soup version to Mr Naoji and his daughter. Eric's fish maw soup, with bits of dried scallop, is so thick, it reminded me of the number 3 army outfit we had to starch iron for the passing out parade back in the day. It is a nice trick for them to introduce the tamago egg and yakitori skewer toppings (obviously suggested by Naoji san).