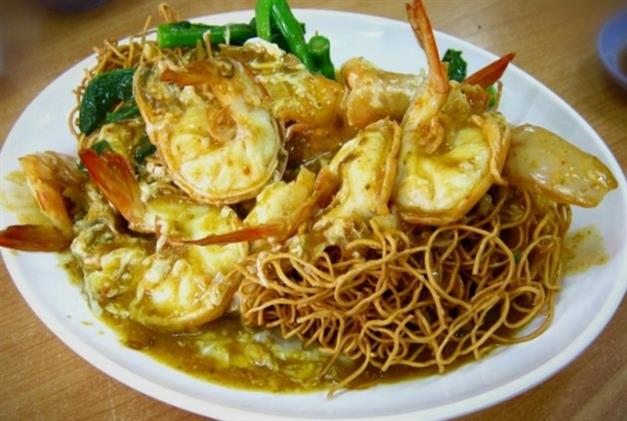 The Last Guard of Keong Saik Road
By TianTianChi - Friday, Aug 09, 2013
The first thing that distracts when you stroll along Keong Saik Road is not the beautiful pre-war houses nor the innate architecture redolent of Art Deco Moderne influences, but rather the mammoth Pinnacle@Duxton that is just a stone throw away, looming high in the south. Perhaps it speaks of what's to come if we remain nonchalant about this heritage street.
The road is once known infamously for its high class brothels, but the area (Bukit Pasoh conservation district) began with more noble intents, with a concentration of clan associations. The red light reputation of Keong Saik Road (which is regarded as the oldest street here plying the oldest profession), however, was contagious, as the rich towkays (bosses) gathered and indulged in their favourite past time of food, gambling and womanising. It decayed into a haven of vices during the 1960s while partying habits of the rich and famous continued adjacently at Bukit Pasoh Road. As the saying goes "stomach filled and kept warm, lust comes to mind (饱暖思淫)," it is no wonder that the street was filled with good eateries those days.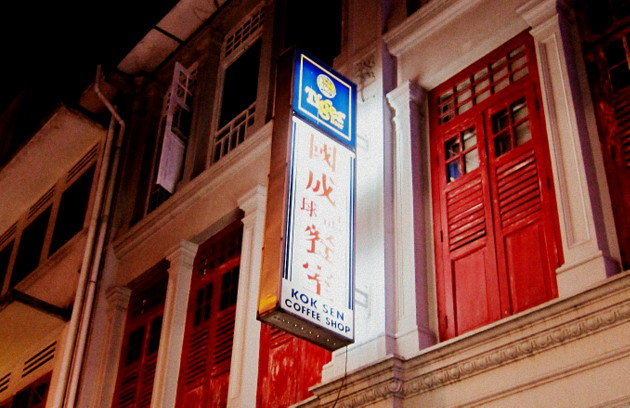 Now, Keong Saik Road has come full circle. It shed its sleazy past (today, only a straggly few brothels stand where over a hundred used to operate) and is now dotted with fashionable café, restaurants, lifestyle shops and boutique hotels. They are again, remaking a lifestyle statement.
One gastronomic legend and icon, Tong Ah coffee shop with its famous coffee and toast in that quirky triangular shaped corner kopitiam, moved out to give in to property redevelopers recently (they have since reopened in early August just across from its original location). Thankfully, some heritage still stand and another old guard still holds its fort there, at least for now.
Kok Sen Restaurant began as as Kow Kee more than 50 years ago at the corner Tong Ah building (unit 36) and was well-known for affordable and great cze cha dishes. Mr Wong Kok Sen, who is in his 60s, took over the business from his father in the 1980s. He relocated a few doors away later, to a bigger premise, because his walkway lined tables and chairs was violating city planning regulations.
The non-air-conditioned restaurant retained its old school feel and has not changed the décor since day one. It is practical and basic with just round wooden tables, plastic chairs and white tiled walls pasted with their offerings written on orange card banners.
When you are ready, the lady order taker comes along, plonks down firmly on a chair next to you- a gesture that is rather strange and amusing – you suspect it's the only time she gets to sit officially for a well-earned rest. Say you are unsure and she'll do more than just rattling off a list of their signatures and recommend based on her reading of your moods. She stops you if you have ordered too much, because they don't like to see greed in action of folks with tummies smaller than their imagination. Very comforting indeed.
You don't find "creative" and trendy cze cha dishes in their menu. There is no Guinness pork ribs, Marmite chicken, pumpkin prawns or salted egg yolk anything. What they offer here are honest to goodness Cantonese cze cha classics.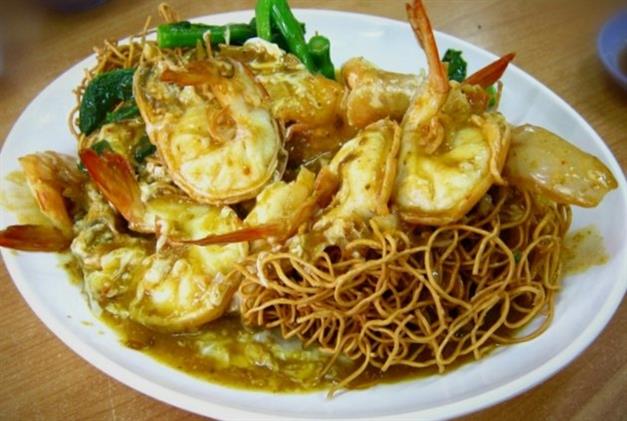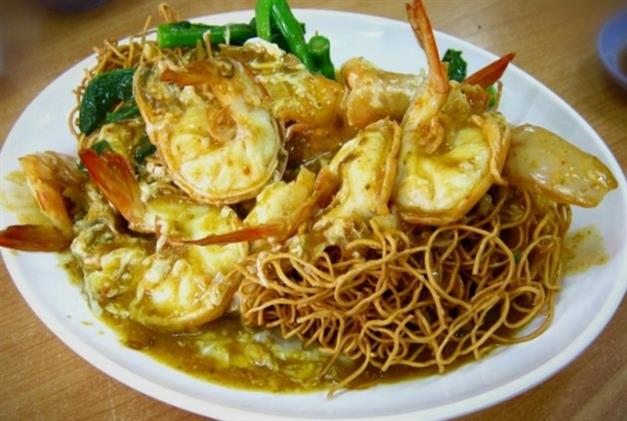 Their signatures include Big Prawns Hor Fun. Very well fried and slightly charred hor fun is slathered with a chilli crab coloured spicy sauce, thickened with raw egg and topped with big prawns with their juice infused in the gravy. They offer a variation with crispy noodle which we like. It soaks up the gravy just before it turns soggy.
Another signature is the Fried Fish Head with bitter gourd in preserved black bean sauce. A simple dish found in many cze cha joints, but they do theirs exceptionally well. Fish head chunks are deep fried and braised in the sauce to allow the smoky earthy flavour penetrates into the fish meat and also to the bones. The bitter gourd is well-seasoned that the chunks tasted sweet and lightly bitter. You may also request to replace fish head with pork ribs.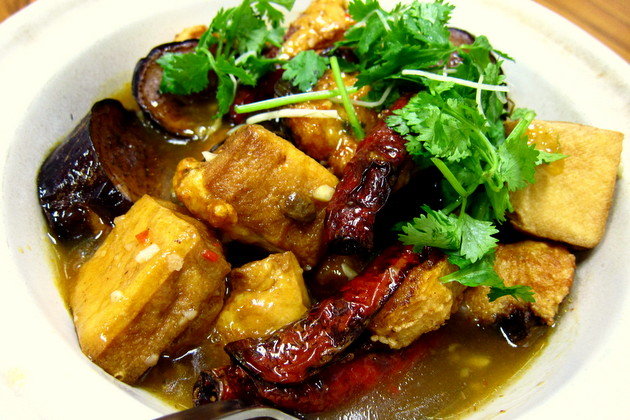 They make their popular Yong Tau Fu on premise, filling up the beancurd, egg plants, bell peppers and chillies with fish and prawn paste that's been seasoned lightly. It is then braised in a peppery brown sauce laced with preserved soybean paste and served piping hot in a claypot. The yong tau fu items are firm and flavorful, and the sauce is simply delectable. However, we do feel that they could add a little depth to the dish, perhaps with some salted fish powder.
The stir-fried Beef with Ginger and Scallion is done with minimal artificial tenderising, as many places are wont to, yet the meat is amazingly beefy, tender and juicy. We prefer the preserved black bean sauce over the black pepper version. It is done in a dryer manner so that every drop of the sweet and savoury sauce cling onto each slices of beef and even on the softened ginger and crunchy spring onion.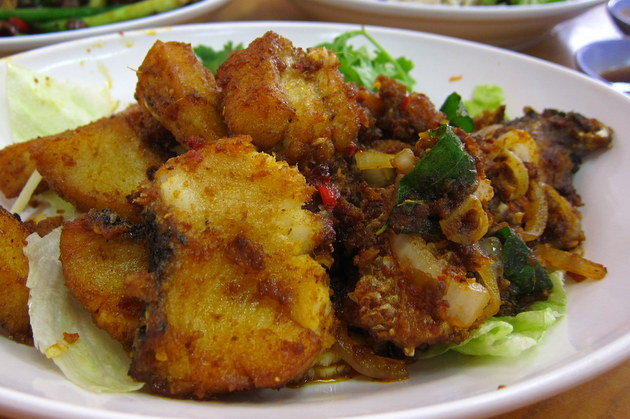 Other dishes we like here include fresh crunchy big prawns or succulent squids simply fried with sambal and long beans. The Kum Heong Fish Belly is our new favourite – chunky fish belly meat is deep fried with turmeric seasoning and served coated with fiery hae bee hiam (dried sambal grits with shrimps). The piquant curry fish head is also a winner here.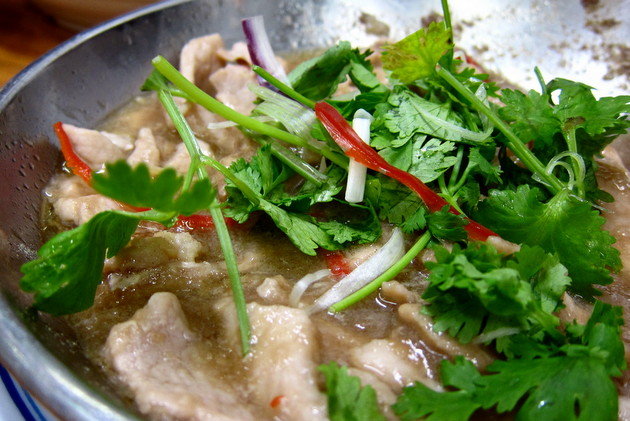 Steamed Sliced Pork with Salted Fish is a comfort food in most Cantonese homes. It is a seemingly simple dish, yet takes some skill to perfect it. The balance of umami saltiness is essential to make this dish work. Many would down it with more than a bowl of rice, a sign of them doing it well. A rarer old school classic prawn paste version is available and just as good. A common fried kailan is done with topping of roast pork chunks – absolute blue collared heartiness.
Dining here does not burn a hole in the pocket. Average spending is about $20-$25 per head for dinner, in line with competitors in Chinatown but cheaper than at fancier joints in the vicinity.
Mr Wong does not helm the kitchen anymore due to health reason and the cooking is now done by hired hands. However he is still there to oversee quality and sometimes help to take orders. His younger son is now helping out and will eventually take over the reins.
The colour and flavour of the past are fading and we can only be glad that there are establishments like Kok Sen that kept this flicker of old Singapore food culture alive on a heritage street.
KOK SEN RESTAURANT 國成球記菜社 30-32 Keong Saik Road, Kok Sen Coffee Shop Hours: 11.30pm-2.30pm, 5pm-11pm Tel: 6223 2005