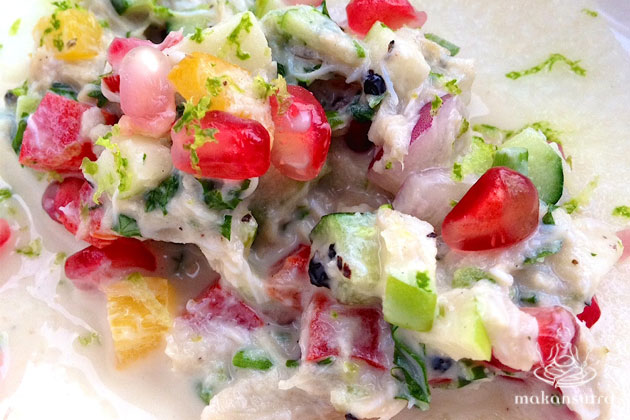 The Lime Truck's Tasty Tacos
By Catherine Ling - Tuesday, Sep 02, 2014
You know that food truck revolution in America? Raging high on the pop culture meter, it's the new energy in street food, a vehicle (pardon the pun) that allows chefs to dream up and dish out creative recipes – food that's fast, novel and cheap. No restaurant required.

There are believed to be over 3 million of them spread all over major cities like Los Angeles, New York, Austin, Chicago, Houston, Portland, Washington, D.C. and Miami. Devotees are fiercely loyal to the vibrantly decorated trucks, tracking their whereabouts via Twitter or online announcements. The scene seems dominated by Asian fusion, unusual burgers and exotic tacos, but you can even find lobster rolls or desserts.

And for two days in Singapore, we got a taste of this culinary phenomenon via a pop-up 'truck' outside Orchard Gateway. The Lime Truck from California rolled into town with chef-owner Daniel Shemtob doling out some of his signature tacos. Well, not the actual truck, but we got the Kerbside Gourmet truck decked out in the same bright green and the chef on board.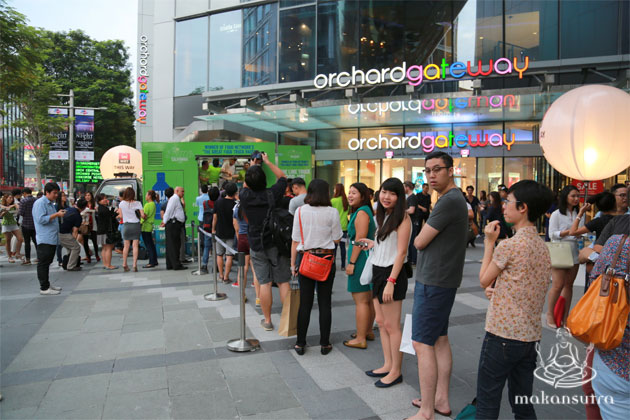 This was a collaboration with FIJI Water, part of its yearly charity-driven initiative. All proceeds were donated, and they raised almost S$10,000 for Willing Hearts, a volunteer-run non-profit organisation.

The Lime Truck was the latest winner of Food Network's 'The Great Food Truck Race' (Season Two), and it was so successful that they started two brick-and-mortar shops to meet the demand from customers. Daniel was named one of "LA's 30 under 30″ by Zagat. Not bad for a self-taught chef.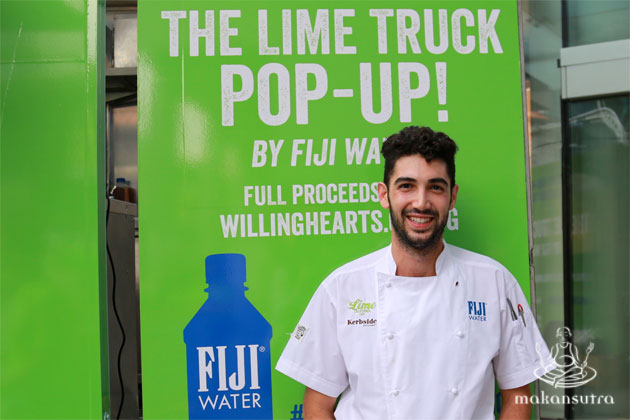 "Daniel's dedication for quality produce and creative, fresh flavours made him a good fit for Singapore's discerning palates," said Lee Wai Mei, General Manager of Asia and Australia, FIJI Water.

"People are surprised that our food costs can be as high as 60 per cent, but I want customers to feel good after eating, even though it may be a rich dish," Daniel has been known to say.

The three dishes served were chosen with local palates in mind, using ingredients we may be familiar with but with a twist in flavours. And they were nothing short of amazing.

The Braised Pork Belly Taco with Tomatillo Pico de Gallo and Sriracha was an intense flavour bomb, from the juicy savoury pork to the tangy green tomato salsa and dash of spicy heat.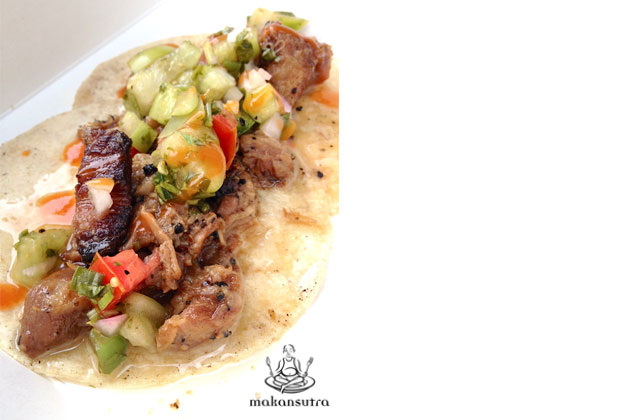 The Fresh Fish Ceviche Tostada was a lovely contrast in textures, with tender cubes of deliciously marinated raw fish atop a crispy flour tortilla.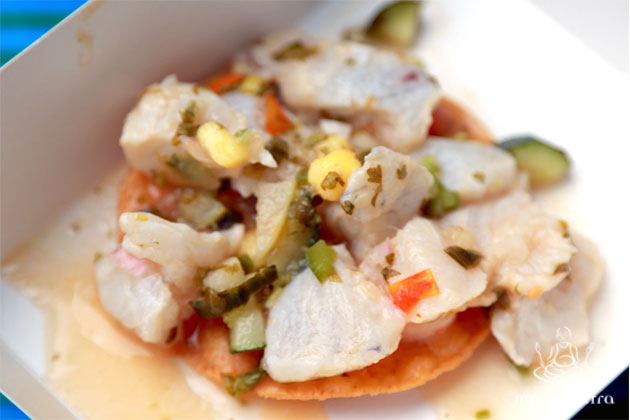 The Crab with Jicama Taco is ingenious – the jicama is the taco! The thinly sliced "bangkuang" makes the crab salad topping even more refreshing. And what a beautiful gem-like ensemble this is.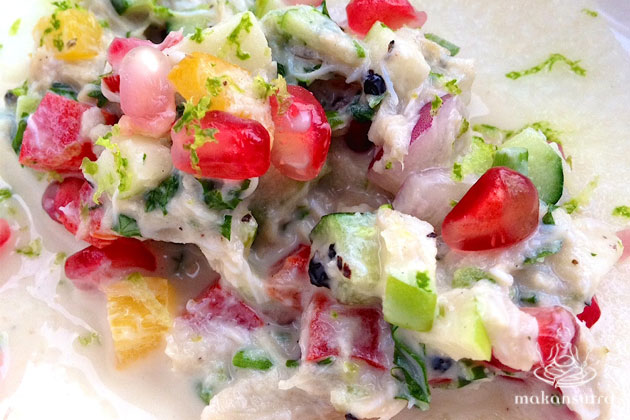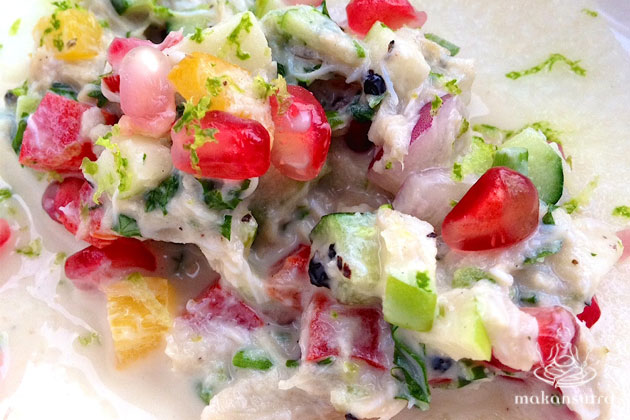 Daniel's cuisine has been termed "SoCal fusion" but he calls it "California beach".

The 25-year-old who started The Lime Truck in 2010 has no formal culinary training but he grew up in a Middle Eastern family surrounded by many ethnicities in his neighbourhood, so he is used to ingredients that would be exotic to others and has a knack for cross-cultural flavours that party well together. On-the-job experience has also helped him hone those instincts.

"When I first started out, yes, I went by what I felt would work. Now, after years of cooking, I go by what Iknow will work!" he says.

"Running a food truck can be more challenging than a restaurant, actually. There's limited space and if things break down, you don't have extra equipment you can fall back on, unlike in a kitchen. However, with a food truck, the customers are more forgiving," says Daniel.

He also says it would be harder to run a food truck in Singapore, compared to the US. The trucks here are not as big, and there are more restrictions and regulations. For example, they were not allowed to cook on the truck itself here. Food had to be prepared in a kitchen elsewhere to be finished and served from the truck.

It's ironic that the food truck can't thrive in Singapore where we absolutely worship street food. But perhaps for us, we don't need four-wheelers for mobile food. In Asia, many a stall, cart or a makeshift stove churns out delicious treats. We are just missing the young and driven individuals to make them happen.

Daniel is no stranger to Singapore, having visited in recent years and even bringing back some flavours he's discovered here. He loves the hawker scene here, citing a laksa and a duck breast ramen that totally blew him away. He's had fish head curry, chilli crab, chicken rice, you name it. The only thing he's not so fond of? Cockles.

On his ultimate dream, Daniel says, "I am thinking of opening a restaurant here in Singapore. I have friends here, and I would love to come back."

If he does open here, it would be good news for foodies. And perhaps his energetic ambition and flair can inspire similar success stories here.