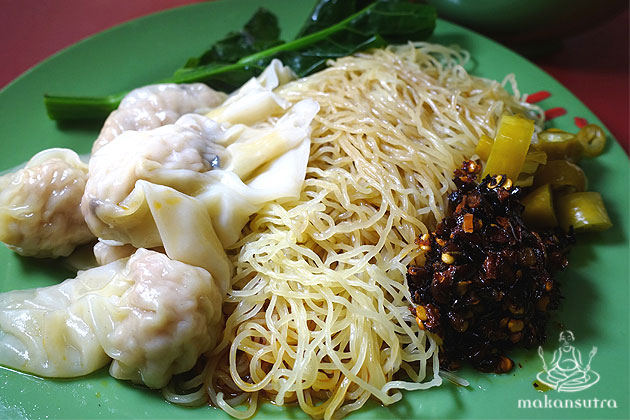 The Master's Wanton Mee
By KF Seetoh - Monday, Nov 24, 2014
I asked another hawker to check out how this new wanton mee was, and " macam Crystal Jade la" (just like Crystal Jade's), was Melvin Chew's response. He's a discerning duck rice kway chap chef in the same hawker centre. Then I remembered, the cook is the former head chef and trainer of Crystal Jade kitchens for the last 17 years.
"If I retire, I will get bored and rot.", said Mr Tang Siu Nam, the 81 year old spritely chef who opened his own wanton mee and porridge stall about 3 weeks ago. "I retired last year from the restaurant but my bones were all itchy to cook and still be active", so he made this comeback barely a year later at this humble hawker stall. I met him earlier this year and was told of his intent, and this eight month wait was well worth it.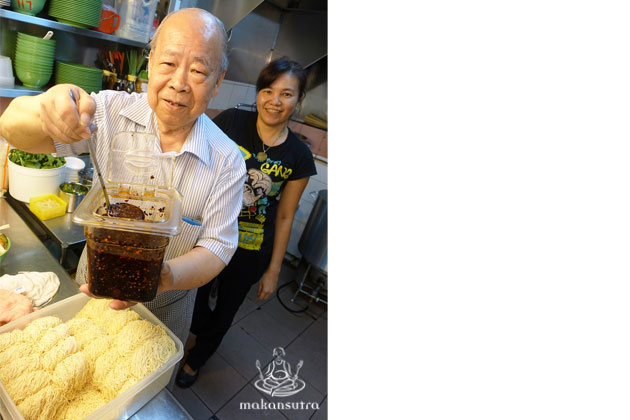 Mr Tang went to Hong Kong from Guangzhou, China, a year after the Cultural Revolution in 1949. "No I did not run away and swim over, but took a train ride over, as the borders were not completely shut then" and toiled and learnt his craft in Cantonese restaurants. He moved to Singapore in 1978 and served hand-made noodles and porridge at a stall in Lucky Plaza, and among the regulars who liked his work was Mr Alfred Leung Chi Wai, former partner at Crystal Jade and now head honcho at Imperial Treasure Restaurant. He hired Mr Tang and set up the restaurant, and in the 17 years Mr Tang was with them, he trained no less than 25 head chefs there. Even Mr Cheung, of Fatty Ox, acknowledges him as "sifu". He said Mr Leung came to his stall a week after opening and jokingly said he stole Crystal Jade's wanton mee recipe. " How could I, when it's my recipe all along", was his retort.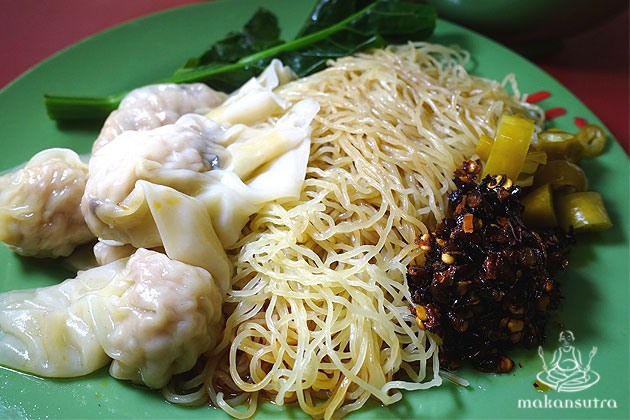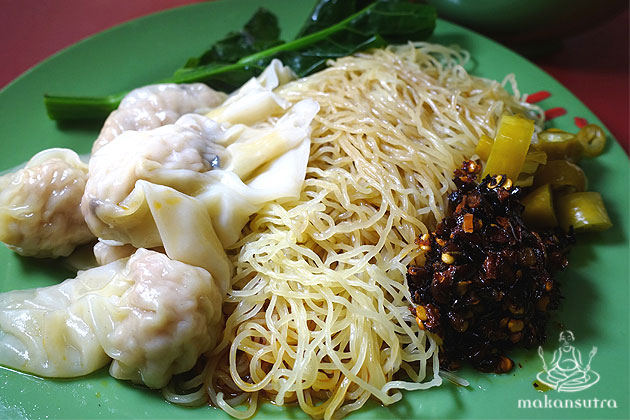 The signature sensation in this shrimp dumpling($3.50) and wanton mee ($3), is firstly, the springy and resilient, yet not lumpy, egg noodles. Second, is the gritty crispy hae bi (dried shrimps) sambal, which when folded into the noodles, was what made Melvin declare "macam Crystal Jade". His dumpling or sui kow, was tightly wrapped with mince pork, shrimps and black wood ear fungus. The umami he lent to the base sauce in the noodles, took all that to another level.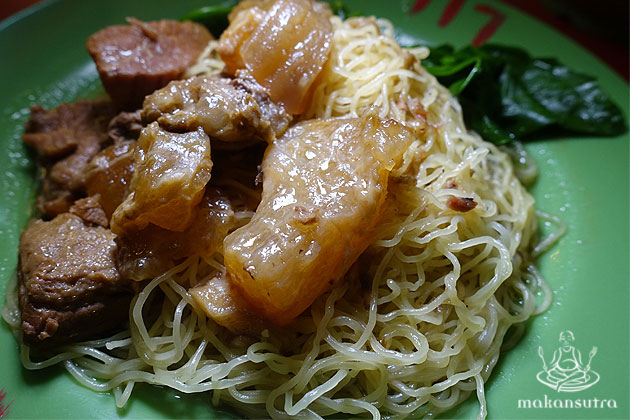 His Beef Brisket ($4), was stewed systematically "you have to layered and stagger what need to go in first, the lean, fatty cuts and the tendons, so you get consistent softness throughout." Mr Tang asserts. It came out as he said it would and was great with those same noodles. He also serves a mean Tang Jai Chuk(boat porridge) or Lan Wan style porridge ($3). It came smooth and not too watery and the ingredients- pig skin, shredded stewed pork, cuttlefish and peanuts, made it so comforting.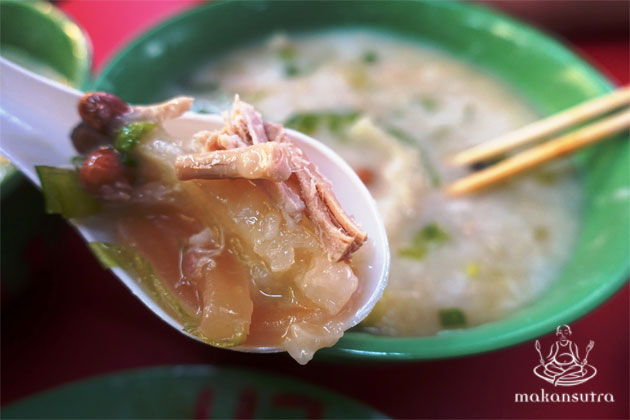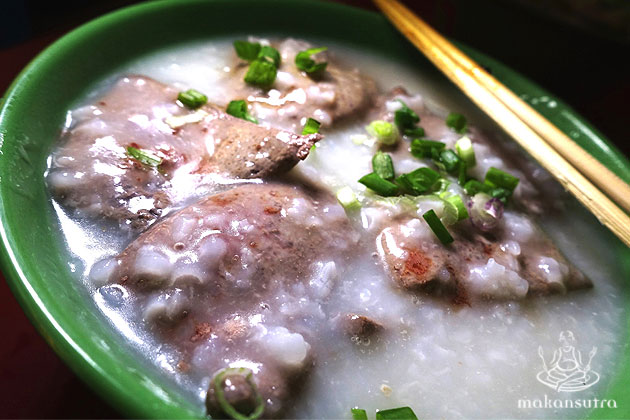 I have to leave the final applause for my favourite- his Pig Liver porridge ($3) . I deliberately left it sitting for 15 minutes before I ate the second slice, wondering if it would still yield the same smooth, soft and crunchy sensation as the first. It did, and "it's the marinate and blanching technique", this master tells me.
His stall currently uses the old tenant's Guang Zhou Kitchen signboard, but it will soon rightly be renamed " Master Tang Noodle and Porridge".
Guang Zhou Kitchen
02-117, Chinatown Food Centre
Blk 335 Smith Street
8am-4pm daily
Updated on 13 August 2018:
Master Tang Wanton Noodles
233 Bukit Batok East Ave 5 #01-53
Operating hours: 8am – 3pm, closed on wed