The Meaning of Chinese Wedding Banquet
By Sheere Ng - Wednesday, Feb 13, 2013
The banquet is a thorny issue in weddings. The 20 and 30-somethings commonly echo their sentiments on the internet. "Wedding banquets scare the living daylights out of me!!! I shudder to think of having to plan for one … think of it, when you issue invitations, the people who receive it usually complain and see if they can weasel their way out of it. I wouldn't want to celebrate my wedding with a bunch of grumpy folks who feel obliged to go," says one on a local forum. Another condemned it alongside the inescapable flu or diarrhea. "Some things in life, we just can't avoid…. Sigh…"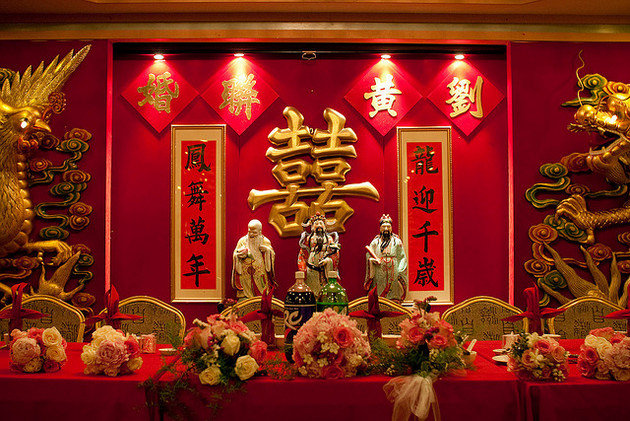 If planning a banquet is a mental test then hosting is a physical one. The bride and groom typically spend the entire night strutting in and out the banquet hall, up and down the stage, without laying their fingers on the food. They are also expected to flash the warmest smiles to the strangest of relatives and friends of parents.
And there's more bad news to the gripers above – the banquet isn't really about them. To do away with the rites of spring rituals at a Chinese weddings banquet is not a decision that the couple can make on their own. "I don't really want a banquet. But we have to ask our parents first," a friend J who had just been proposed to, tells us. She, like many others, seek permission out of respect to her parents and a tradition that perhaps, only the older generations understand these days.
"The banquet was meant for the parents to introduce their new daughter or son-in-law to relatives and friends, especially those whom they hardly get to meet," says Mr Hooi Kok Wai, co-owner of Red Star Restaurant, a popular wedding dinner venue during the 60s and 70s, and one of the Four Culinary Heavenly Kings in Singapore. This was taken so seriously that the newly wed, accompanied by their parents, would go table to table to greet each and every attendee. "It is also basic courtesy for a host to personally thank their guests for coming," he says.
The banquet was also an opportunity for the extended relatives of both families to know one another. So even though the wedding dinners were mostly free seating, the newlyweds, their parents, eldest uncle or auntie, always sat together at a designated table, distinguished from the rest with an auspicious red tablecloth.
Because the dinner marks the beginning of a marriage and the union of both families, it was strictly organised by the parents only. It was never an option for the couple. Mr Ong Siew Peng, former chairman of the Kheng Keow Coffee Merchants Restaurant and Bar-owners Association, explains from a father's standpoint: "If my son doesn't have a banquet, next time I bring my daughter-in-law to a family event, people will wonder where this woman came from!"
In the old days, there was no evening gown or picture montage to amuse guests. There was only food, which was a crime to skimp on. "No matter which dialect you speak, there is a common understanding among the Chinese that the guests must not go home hungry," says Mdm Chan Siow Ying, wife of Mr Sin Leong, another one of the four culinary kingpins. "We would rather have leftovers than to be short of food."
The spread need not be extravagant, she adds, but it had to reasonably satisfying based on what the family could afford. While wedding banquets were mostly at Chinese restaurants or coffeeshops, those who couldn't afford either did their own cooking. "With sincerity, plain rice can also be filling," says Mdm Chan in Cantonese.
Wedding banquets today are measured with a different yardstick – it's about glamour and style. "Instead of looking out for an appropriate and affordable menu, couples seek the grandest venue," says Mr Ong, who recently attended a wedding banquet at a five star hotel. He noticed that the food portion was a huge disparity compared to the past: "Everything came in small pieces. If you serve that to the really old and traditional people, they will scold you to death!"
That said, Mr Ong didn't think that this shift in perception of a perfect wedding banquet can be judged wrong, as "a new generation will inevitably have new preferences" he says.
But those who have been uncomfortable with the way the modern-day wedding banquet is done can perhaps revisit the traditional style. It is simpler, more affordable and most importantly, traditionally meaningful too.