The Nasi Padang Connection in Kampong Glam
By Sheere Ng - Wednesday, May 15, 2013
Raffles' treaty with Sultan Hussein Shah in 1819 not only turned Singapore into a world class trading port but also facilitated the importation of regional and international, chiefly European, Chinese, Arab and Malaccan and Sumatran cuisines. They were the food of our original "foreign talents" immigrants.

As the Sultan was given areas of land in Kampong Glam under the treaty, Malays and Muslim immigrants to Singapore congregated there, so did their food culture One of which is Nasi Padang, from Padang in West Sumatra, Indonesia.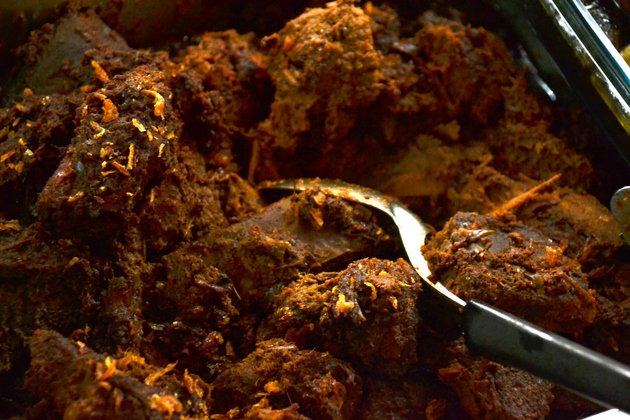 Likely, the first known proper Nasi Padang stall to open in the area was Sabar Menanti, originally at 62 Kandahar Street. It was opened in 1945 by a man called Mr Bagindor Marlien who came from Pariaman, a city in West Sumatra, according to his son Mr Lizar Marlien. Three years later, Haji Isrin bin Ibrahim from the same kampong (village) opened Warung Nasi Pariaman at 738 North Bridge where they have been since. In 1967, Mdm Hajjah Sharifah also from Pariaman opened Hajjah Ratna Nasi Padang at Aliwal Street.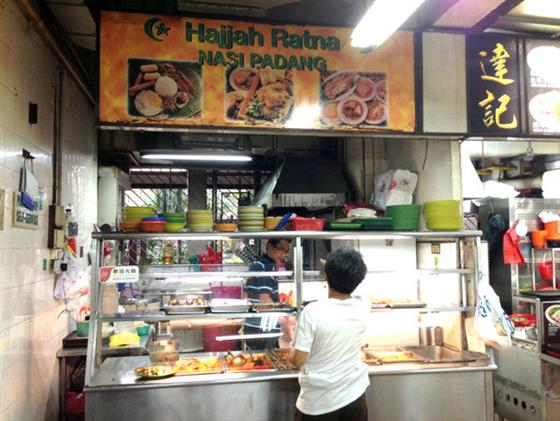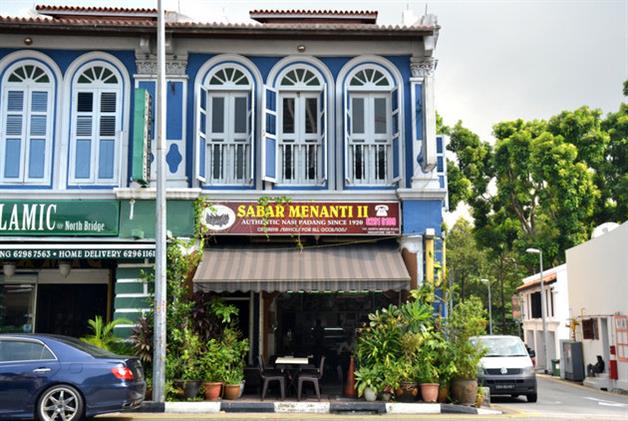 Up till the 80s, these three stalls were recognised as the go-to places for Nasi Pandang. They coexisted amicably and even became families when the second generations of Sabar Menanti and Warung Nasi Pariaman married into each other's families, and when Mdm Sharifah of Hajjah Ratna became Mr Marlien's step mother. Their good relationship (they borrow rice from one another when their own supply runs dry) remains till today.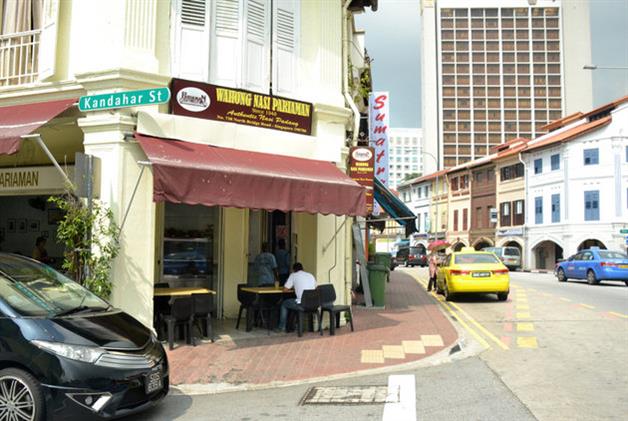 In the earlier days, these stalls sell mostly to Indonesian traders who preferred the Kampong Glam area because there were cheap accommodations around Masjid Sultan mosque – built for Sultan Hussein in 1820s. Since their customers had fussy taste buds, the stalls stayed true to Padang cuisine, which is Pedas (spicy) and rich, through and through. Dendeng Balado (fried beef lung with chilli paste), Keripik Balado (chilli chips) and Gulai Nenas Muda (young pineapple chicken curry) are some examples.

What the stalls offer today are remotely similar as they have switched to the lesser spicy big red chilli to suit softer taste buds of the genteel generation born and bred in Singapore.

The people and descendants of Padang are also uncompromising and even inflexible about their meals. They yearn for Padang food and refuse to adapt to other cuisines even when they are miles away, like when they are seeking foreign jobs or to study, according to Mr Norfrins Napilus, a businessman based in Padang and keen advocate of their heritage. For that same reason, the dishes featured in Nasi Padang, each of which is a speciality of a city in west Sumatra, have hardly evolved in decades. There is fish curry originating from Pariaman, and the famous Rendang from Agam or Alahan Panjang, where the coconut, an important ingredient for their gulai or curry gravy, is said to be tastier than those found in the coastal areas. It is rare that a new creation, such as Ayam Pop (skinless fried chicken, created in the 70s by a Padang hawker), can be successfully introduced to the traditional spread.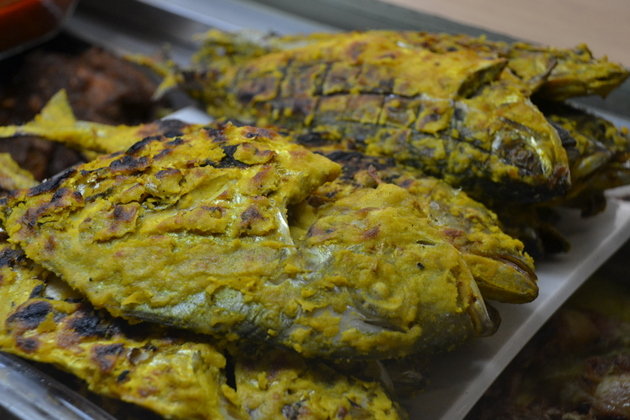 But in Kampong Glam, stiff competition forced many stalls to compromise and improvise. There are now more than 10 establishments claiming to sell Nasi Padang. "But if you see they sell Asam Pedas, that means not authentic already," says Mr Marlien.

His own family's restaurants – his siblings subsequently opened Rumah Minang and SabarMenanti II, where he is now helping out at – also sell the sour and spicy fish stew, which would fit more appropriately with Nasi Melayu. But because of customer's request, they decided to add it into the menu, Mr Marlien explains.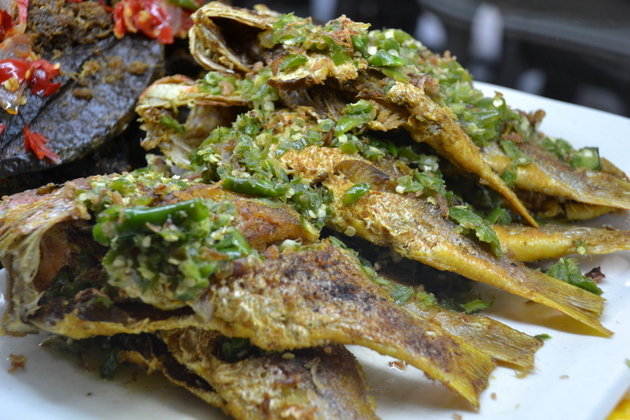 But there is one of them that is regarded, even among competitors, as the only stickler of Padang traditions – Warung Nasi Pariaman(although they adjust the spice meter to suit new palates) . They still make their own coconut milk from freshly grated coconut, which Mr Abdul Munaf Bin Isrin, one of the second generations running the business, says is key in keeping the original flavours. It also uses charcoal to cook Rendang and Ayam Bakar (grilled chicken). Asam Pedas or Sotong Hitam are nowhere to be found at his stall. "We don't want to mix, so that we can keep the originality," he says.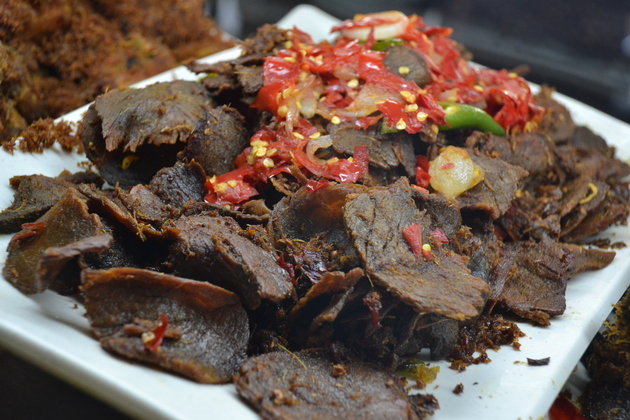 Mr Isrin says, the stall is doing well, as the packed crowds from morning till 2pm(when they close) each day would prove. Their business model is authenticity, while others would modify and evolve. This is a matter of survival in our fragile nasi padang industry. It's like how some Chinese dialect restaurants have begun to introduce each other's popular dishes in their menu- notice how Teochew ornee (yam paste) is found almost in every Chinese restaurant's menu?

In the spirit of authenticity, the World Street Food Congress has invited Mr Afdal Fitra, who runs a humble street side Nasi Padang (Agam) stall in Padang, Indonesia. He comes at the suggestion and invitation of their Regent or Bupati, Mr Indra Catri. Catch him from 31stMay to 9th June at the F1 Paddock area.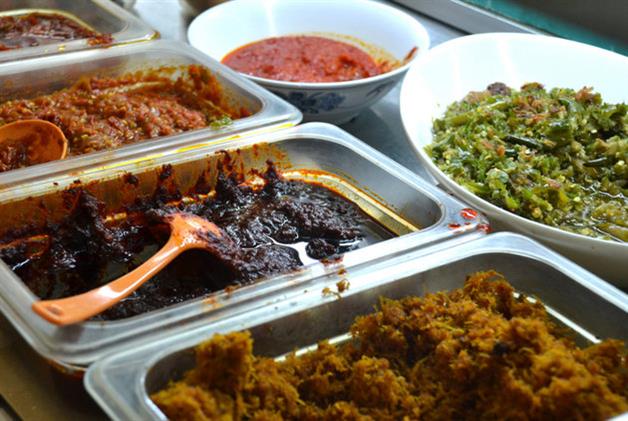 The World Street Food Jamboree (31 May to 9 June) is a mega street food feast featuring up to 40 of the world's best street food masters from Indonesia, India, Thailand, Vietnam, USA, Mexico, Malaysia, Denmark, China and Singapore. The Jamboree aims to create better awareness for some of the lesser known but still excellent street cuisine and the personalities behind it, bond communities through a vibrant food experience and generate opportunities for the public to the part of the industry. For more information, go to www.wsfcongress.com