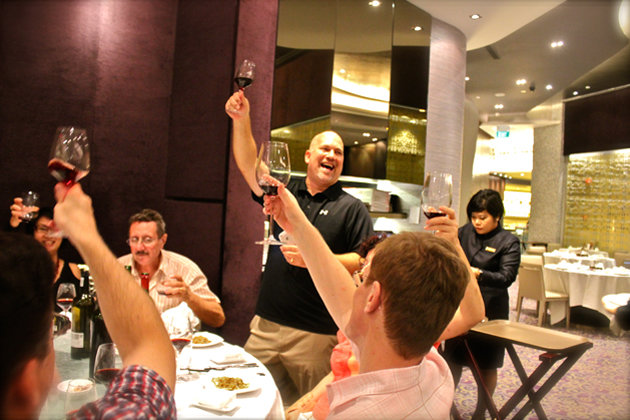 The Oldest Online Makan Club in Singapore
By Admin - Tuesday, Dec 25, 2012
Dinner was supposed to commence at half past seven, but people only started streaming in at eight. In a matter of minutes after most showed up, the diners were devouring their first course (crispy pork belly and bean curd roll), toasting one another with amply filled wine glasses, and flushing red from too many toasts before. The restaurant turned from eerie emptiness to donkey din.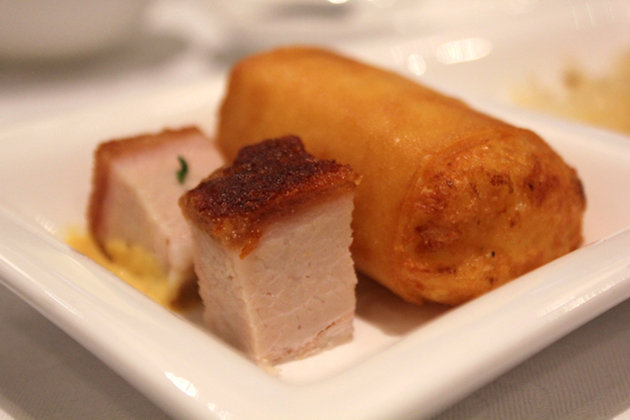 This could have been a scene of a wedding banquet, but there was no sight of sugar-high-zippity-doo-kids and strange distant cousins.
Welcome to the Makansutra's Makan Meeting*, a monthly gathering where avid, if not serious foodies come together to eat, drink and talk. "Mmm… The mala cake is very good! Very moist! Best one I've eaten," says one.
They also share their latest food adventure. "I was outside Chennai's airport and I saw a street stall selling chicken. I was wondering how come it's so black. Then someone ordered some and the man reached for the chicken and swung. Wah lao it was covered with flies!" says another.
These people, 120 or so of them, have been having dinner together every month for the last 11 years, and this is the 132nd time. They are a motley crew – a retired brigadier general sits in between a food blogger and a restaurateur, who then sits diagonally across a public relations manager – like in a wedding function.
But far from an obligatory social event, these people sign up voluntarily and even bring friends with them. More often than not, demand exceeds supply.
It all began from a one-day food tour for Makansutra's forumers with the intent to finally meet one another after years of cyber chatting into the late night (remember there was no Facebook then). But the rigour of the tour was too formal and taxing (it is a serious food tour after all), so instead they hung out over dinner in subsequent meetings. From an initial 10 participants it grew to 50 and about five years ago the number doubled to an average of 120 per session.
You may ask: what's the real prize here, we can makan anytime anywhere. Answer – camaraderie, networking and just snaring new pals, over wine and good food.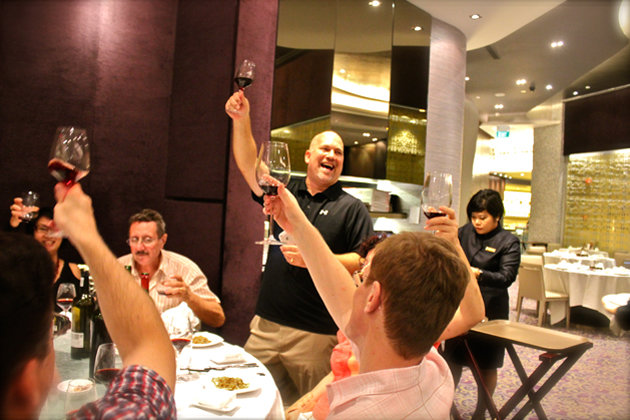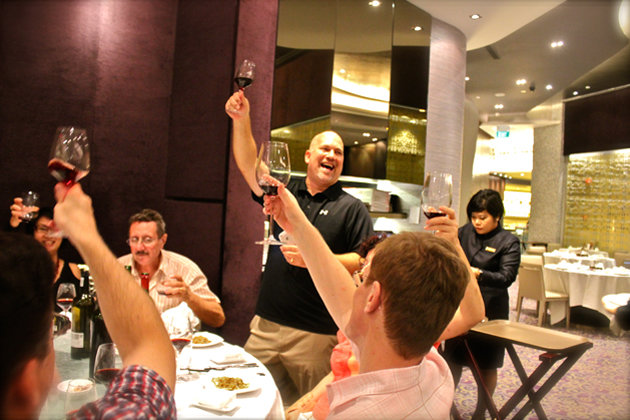 "I used to get a whole table and invite my friends. But I realised it's better to come alone and meet new people, and I've made some very good friends," says Mr John Mauro who attends four to six times a year since 2007.
"With only two or three people you can't try a good variety (of food) like what we do here," says Ms Chee Ee Lin, who joins the meeting almost every month in the past two years.
For those from the expat community, the makan meeting is also an introductory dinner to local food. Mr Ryuzo Akano, who has attended more than 10 times in his two years in Singapore, says, "Because we are Japanese we don't go to Chinese restaurants often. This is a good opportunity for people to come together to try delicious food at reasonable price."
Food gatherings organised via the Internet, whether impromptu or regular ones, are a dime and a dozen in Singapore. Think automobile clubs, hardware zone, sgforum and food blogs. But Makansutra's Makan Meeting is possibly the oldest and biggest amongst all.
Makansutra's founder, Mr KF Seetoh, is a fan too. "I will definitely join them whenever I can. I am awed that this is by and for the Makansutra community. I had no hand in it and this is one of the best ways to meet, greet and eat," he says.
Many participants express great appreciation to the two organisers, Dr Tony Lim and Mr Andrew Wong. Both men, busy professionals in their own league (medical doctor and financial consultant respectively) are the social glue of this makan group. They source for a restaurant each month (largely Asian), test the food (out of their own pocket moolah), haggle for a good and extensive menu within budget (up to 9 dishes at $45 to $50 per person), fix a date and time (always a Wednesday as it is restaurants' quietest night in the week, so as to not deprive them of business from walk-ins), announce details on the forum and via emails, collate reservations and arrange seating – month after month. They are effectively unpaid, volunteering organisers and happily so.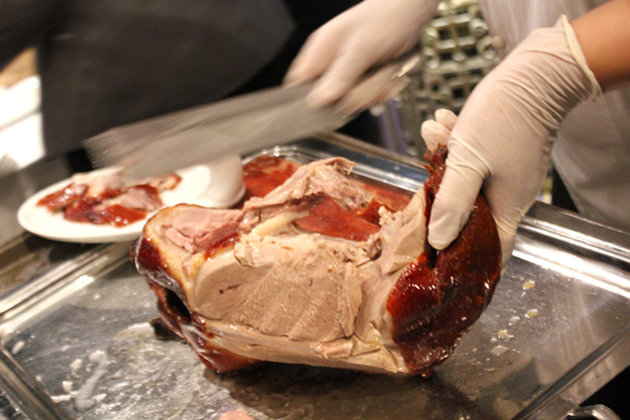 "We always believe that good food should be shared," says Dr Lim, explaining his motivation. "And there are many restaurants out there that serve good food but have not gained enough recognition."
While they do their bests to introduce new finds, says Mr Wong, they sometimes revisit restaurants, but not without a good reason. "Either because they changed their chef or management," he says.
Most of the participants interviewed are happy with the selection so far, but there is a slight complaint. "We had a lot of Chinese food. I'll like to try international food like Mexican," says Ms Chee.
"Mexican is too expensive lah!" says Andrew, who was within earshot. He later explains: "It's mostly Chinese food simply because there's more Chinese food in Singapore!" However, he reveals that articipants would sometimes arrange amongst themselves for a mini gathering, on top of the one he organises, to try all sorts of flavours and cuisines.
So how many more 10 years do they think they will be organising this? "As long as I'm still physically and mentally fit!" says Dr Lim.
* Updates on Makansutra's Makan Meeting, which is open to both new and old forum members, can be found here: http://bit.ly/W2Swan