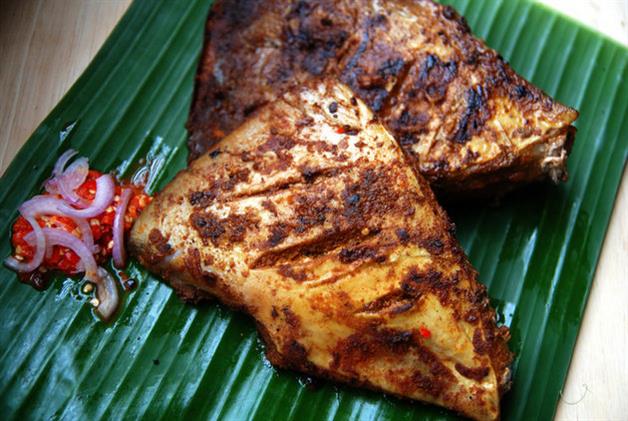 The Origin of "BBQ" Fish
By Sheere Ng - Wednesday, Jan 30, 2013
BBQ fish, the hawker food that people so love yet hate. Love, for the piercing and stinging fragrance of its sambal marinade, the smoky aroma and juicy meats. Hate, because the portions are usually huge, bigger than one's greed can accommodate, hence, you often cannot eat in solitude and quiet contemplation.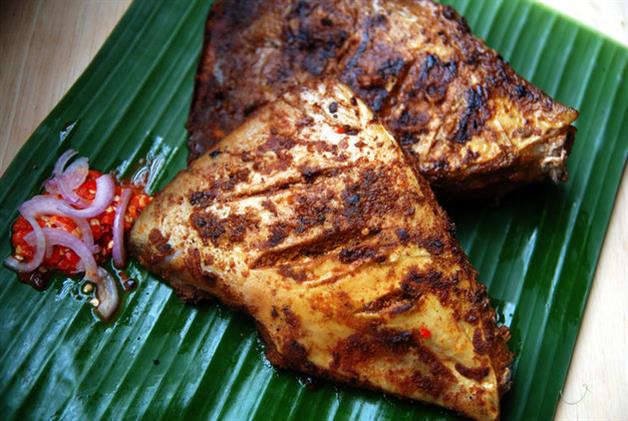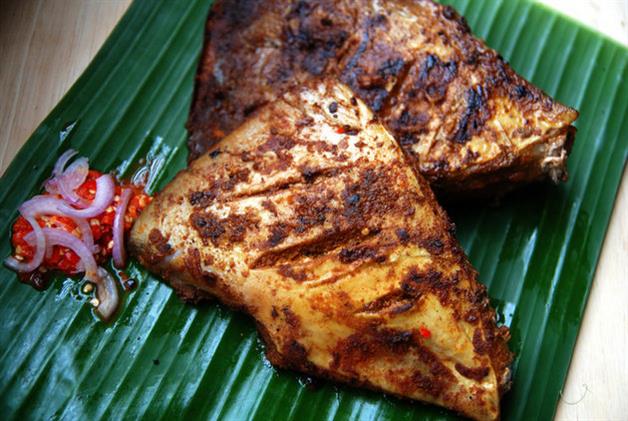 The term "BBQ" is actually a misnomer, as today the seafood is mostly grilled on griddle, not over charcoal. Although it could be attributed to the handful of hawkers who did the actual barbecuing back in the 80s, interestingly, the original "BBQ fish" was actually fried in a pool of oil.
We refer to a news article written by Margaret Chan (stage actress and former Straits Times food writer) in 1986. She traces the origin of the dish to a stall at Gurney Drive in Penang, where the dish appeared in the mid 70s. Then, the fish wasn't barbequed but fried. Here's her short description of the cooking process:
"Fish is first brushed with a curry marinade and then wrapped in fresh banana leaves and fried on a cast iron or stainless steel griddle which is awash with cooking oil," she said in the article. "The heat is turned up and quickly sears the outside of the fish. A metal cover is then placed over the frying fish and the heat turned lower so that the fish cooks in its own steam."
This, she comments, results in a fried fish crisp on the outside but moistly steamed inside.
By the early 80s, "barbeque fish" joined char kway teow and mee goreng in the rank of Singapore hawker food. She recalled her first encounter with "barbequed fish", in 1984, at the old Wayang Street opposite Hong Lim Green. By 1986, the stall has disappeared with resettlement, she said, and similar stalls have popped up in food centres. Some fried the fish on griddles, others barbequed their fish over coal, which she described were "not as juicy as with the fried method but less greasy".
Margaret Chan's article rings a bell. Coincidentally, or not, my father also marinates stingray with curry powder, and he fries it on griddle with a piece of banana leaf between – rather unusual in today's context, so I connected the dots.
Unfortunately he was not the Wayang Street hawker (that would have made a really good story), but he was taught by a Malaysian friend who used to run a stall in the 70s, in front of the old Thong Chai Medical Institution, he said. He has lost contact with this friend but we know that Eu Tong Sen Road, where the old Thong Chai Medical building still sits, was originally called "Wayang Street", to reflect the Chinese opera houses and streetside performances in the area.There is a chance that my father's friend was the hawker Margaret Chan referred.
Which means that the recipe that I'm about to share with you may evoke some memories amongst the slightly older generation who had tasted the precursor of barbeque fish at Wayang Street. The good thing about this recipe is that it can be easily replicated at home, so that you can have it all to yourself.
Ingredients
(serves 2) 250g Stingray, clean and scored 3 tbsp Fish curry powder 2tbsp Fish sauce 1tbsp Light soya sauce 1 40cm X 25cm Banana leaf 4 tbsp Cooking oil
Methods
Rub fish sauce, soya sauce and curry powder on the fish and in between slits. Add 2 tbsps of cooking oil in pan, place the banana leaf on the pan and add another 2 tbsps of oil on top of leaf.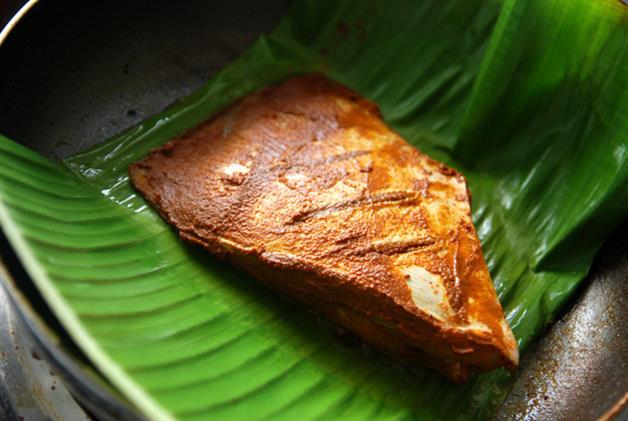 Turn on the fire to low heat. Place marinated fish on the banana leaf. Flip when the curry powder on the underside turns dark brown, or a little charred if you like. It takes about 5 to 6 minutes. Cook the other side for also 5 to 6 minutes and then turn off the fire. Eat with chilli sauce of blended red chilli, bird's eye chilli, grilled belacan, white vinegar, sugar, salt and topped with sliced shallots.