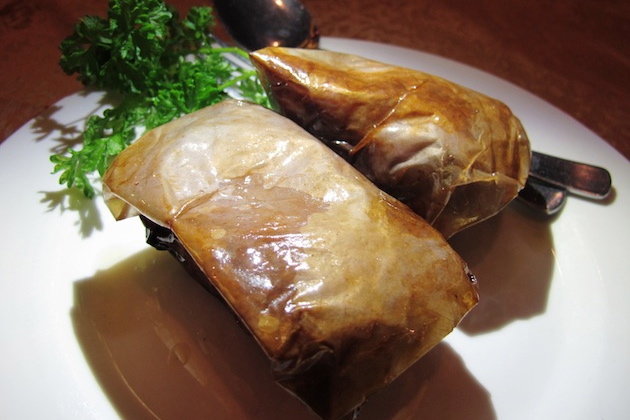 The Paper Chicken Chase
By KF Seetoh - Monday, Sep 09, 2013
Manhill Restaurant
It's a very tired looking restaurant with a jaded glow and trappings of the 70s atmosphere. Not only the unused seasoned and sturdy old chairs are folded and lean on the walls, but the seasoned senior local auntie staffs are also resting on chairs when their attention are not called for. They are very efficient though- ponder over their extensive Cantonese menu, and they'll quickly suggest a few signatures. The restaurant, spread over two floors, is easy to miss. The huge flyover highway built above and next to them perpetually puts them in the shadows all day long.
But regulars know this place by heart. They come for the food, the same food that French master chef extraordinaire Paul Bocuse, once awarded them a gold, silver and bronze prize in 1978 at the Asian Salon Culinaire. While they excel in the claypot dishes, , they are known for their chee pao kai or paper wrapped chicken. This dish is fast fading from the Chinese menus here as it's a tedious affair to make- cut the pieces, marinate, chill, hand wrap each piece carefully in grease paper, deep fry gingerly for perfection- to make just one piece. But it's a dish so easy to like- it does not come too oily as the greased paper repels the oil and contains the flavour and juices. Flavour wise- its basic and classic, soy sauce, sesame oil, sugar, wine and a hint of ginger juice (anything else is a bonus). It comes juicy and roasty, beckons you to tear that parcel apart when it is served. It is easy to down four pieces at one go. Really.
Most of their signatures are served in claypots and it has a hearty home cooked feel and look about it. The fried marmite chicken looked like six pieces of browned charcoal but was gorgeous in the mouth, it was the caramelised sugars that did us in. Their Pot Liver, was done signature Cantonese style, where they let the fresh slices sizzle quickly in the hot claypot and ginger laced sauce. But the liver was not creamy soft. Perhaps it sat too long from kitchen to table. It had a bit of bite and that's a no-no for a dish like this.
The Hidden Gems
You can probably count with both hands, just how many good places offer up chee pao kai, or fried paper wrapped chicken. Among the oldest name of the lot here is Union Farm Restaurant at Clementi Road. It was slated for redevelopment but somehow was given a reprieve albeit with a smaller plot of space. Most Chinese restaurants that offer this often get them from suppliers. A few dim sum stalls often offer them. I understand that one restaurant, well known for chee pao kai, is looking at ways, with some government funding, to mechanise that tedious task of wrapping and marinating this fried chicken parcel.
It's not easy to find good ones these days. Go check online and you won't count beyond the fingers in one hand. So I tracked down four and one outlet has a branch in town too.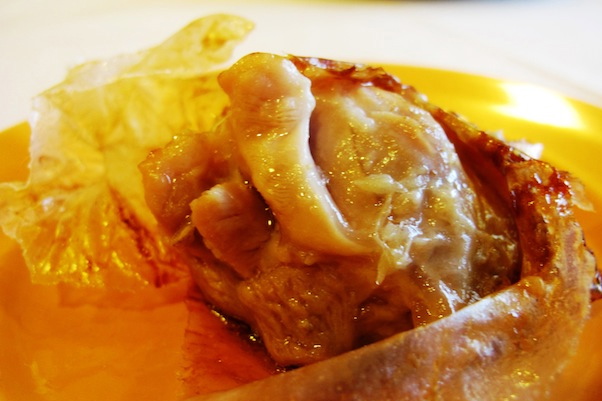 1/ Manhill Restaurant, 99 Pasir Panjang Road, Hours: 11.30am-2.30pm/ 5.30pm-10.30pm. Tel: 6474 6835 (Branch: Hillman Restaurant , 135 Kitchener Road, Tel: 62215073)
As stated earlier, their version is easy to like, if you have an unsophisticated palate. It's the simple soy sauce and sugar trick with very faint hints of wine and old ginger juice. Very faint indeed. It appeals like how char siew or bak kwa can. Entry level like-ability.
2/ Yan Palace, #01-49 Hong Lim Complex, 531 Upper Cross Street, Hours: 11am-2pm/6.30pm-10pm. Tel: 62222516
This little forgotten corner of South Bridge Road resides this old Cantonese icon. Very old fashioned offerings and they still offer chee pao kai everyday. Theirs come chunkier and very well fried, just short of overdoing so. While the attendant sweet savoury notes are all there to please the masses, hints of wine and ginger juice are a bit more pronounced, though not overly so. They cost $2.50 a piece, slightly more than their peers but they make up for it in size. One discomfort is that when fried too heavily, the paper sticks to the skin and peeling it is a mess.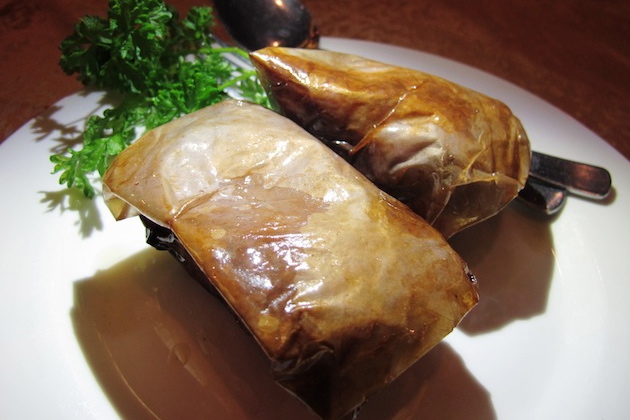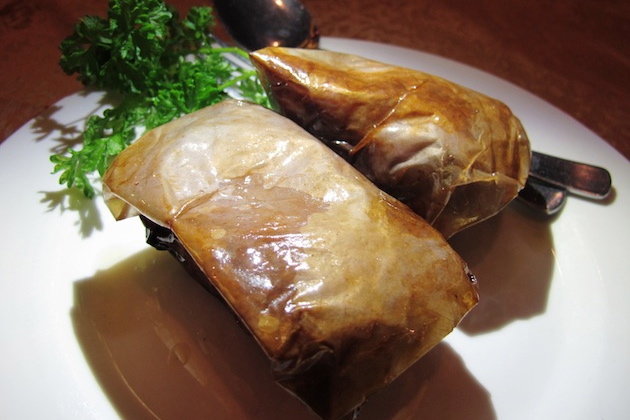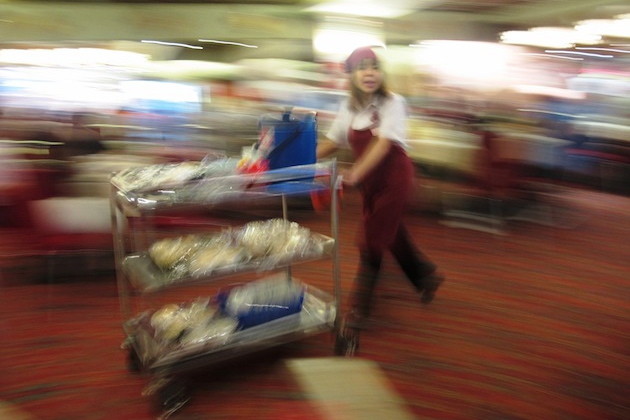 3/ Red Star Restaurant, #07-23 Chin Swee Area Office, 54 Chin Swee Road, 7am-3pm (for dim sum). Tel: 65315266
By far the most authentic. By that I mean it has enough saltiness, sweetness, savouriness and umami from soy sauce, a deliberately balanced Chinese hua tiao wine and enough old ginger juice. Mr Hooi Kok Wai, one of the remaining legendary Four Heavenly Kings of makan here, when asked, simply said "it goes with nothing, just beer or hard liquor." A piece goes for $2 and they offer it only on weekends in their dim sum push cart trolleys for lunch.
4/ Union Farm Eating House, 435A Clementi Road, Hours: (Tue – Fri) 12pm – 3pm/5pm-9pm, (Sat, Sun & PH) 12pm – 9pm
Arguably the most famous place in Singapore associated with chee pao kai. They were set to close shop for good but a stroke of luck brought them back and are now housed in the same spot , albeit smaller. The first time I tried it in the early 70s, I could even suck up the juices clinging onto the paper. But over the decades, the flavour has tamed somewhat and feels like a light stir fried three-cup-chicken, heavier with sesame oil, chilled and then deep fried in the paper parcel. But they still have their loyal followers.