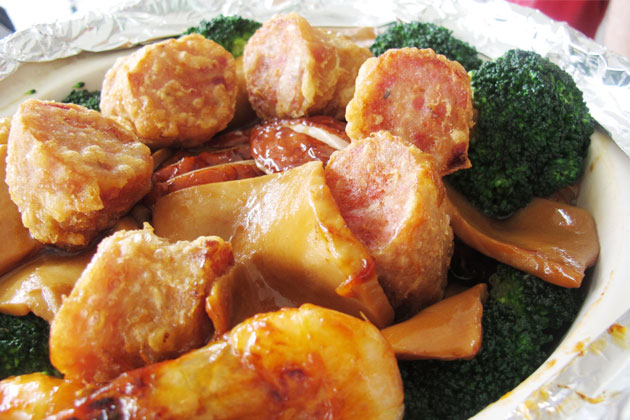 The Prosperity Basin Dish
By KF Seetoh - Monday, Jan 27, 2014
Long before the fast food chains introduced the bucket meal, there was the basin meal – a whole lot more complex, meaningful and definitely friendlier to the palate. Top international chefs speak of layering in flavours in the way they deliver their creation. They are deliberate about texturizing, flavours, colour and the "third sensation"- the effect of that symphony on the plate. All, concepts inherent in Poon Choy or "basin dish".
It was once believed that a monk was so tempted to stray from his integrity when he scaled a wall to investigate the devilishly attractive smell emanating from the kitchen behind it. They were making what is now known as Monk Jumps Over the Wall – a exquisite collection of fine ingredients, each carefully cooked and layered in a pot – where each flavour makes you yearn for the next. There was no mention of whether the monk was defrocked thereafter.
But Poon Choy is a common man's version of that – where you don't need to scale walls. You can just ask for it, ideally with forlorn expression or, just order it at the restaurant. It's a humbler rendition of Monk Jumps Over the Wall. It is not deliberately layered with "2 head" abalone, fine sea cucumber, deep sea prawns, superior shark fins, fish maw and even organic shitakes , but done with simpler stuff like chicken, pork, black fungus mushroom, fish fillet, prawns and perhaps small abalones. You find them being offered in mid-range Chinese restaurants and heartily appreciated by big families out for a bonding meal on a budget.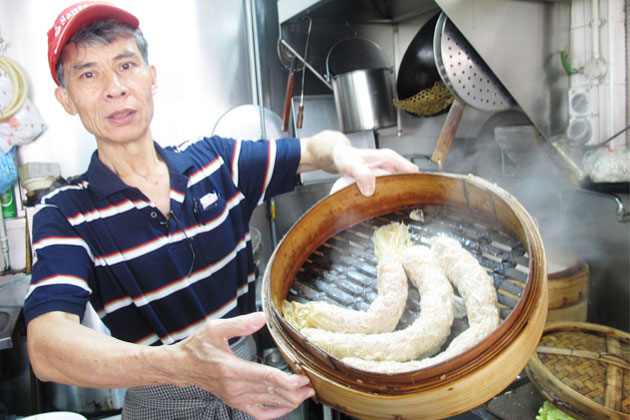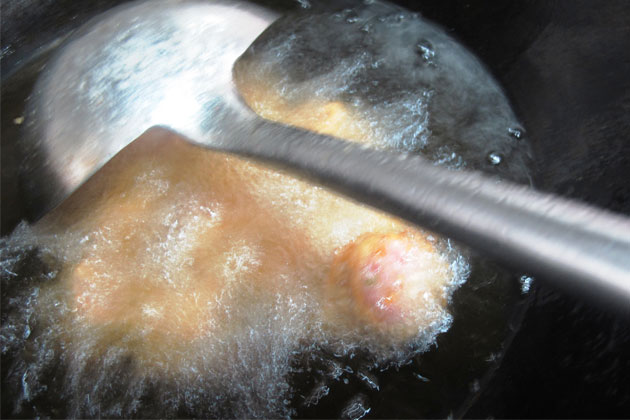 Now, even a hawker is offering it. But Mr Cheung Sun Kwai is no ordinary hawker in Chinatown. He used to run the popular Fatty Ox restaurant in Murray Street along Maxwell Road years ago. One of his specialties then was the Monk Jumps Over the Wall. He went on a little hiatus and was back in Chinatown almost 3 years ago "and I had been offering Poon Choy in this hawker centre since day one". Mind you, this is not a quickie dish, which is why Mr Cheung is the only known hawker offering this dish, which is quite elaborate.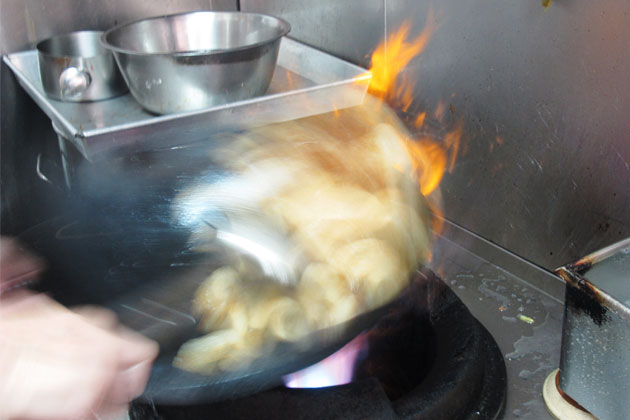 Every item, and I counted 8, were individually cooked and carefully laid on a pot, warmed over a low iwatani fire. No chef will cook them all in one go as each ingredient need be cooked differently. There is his own-made meat roll "I sell a lot of this everyday" he says, roast duck and chicken, fish maw, abalone, ocean prawns (not farmed ones), broccoli and braised daikon. Some deep fried, steamed, double cooked, braised etc…and all carefully set on a pot or basin (if you order the larger portion), each designed to anticipate for the next.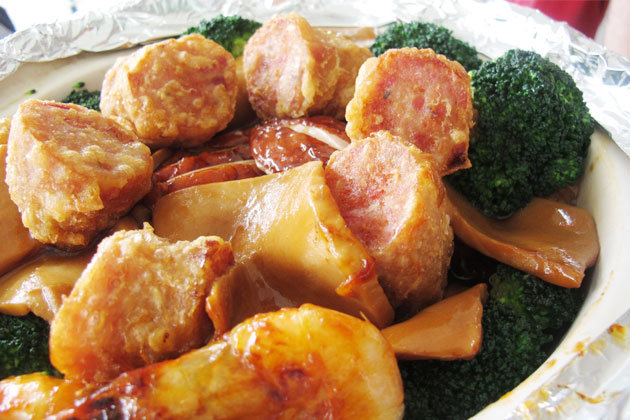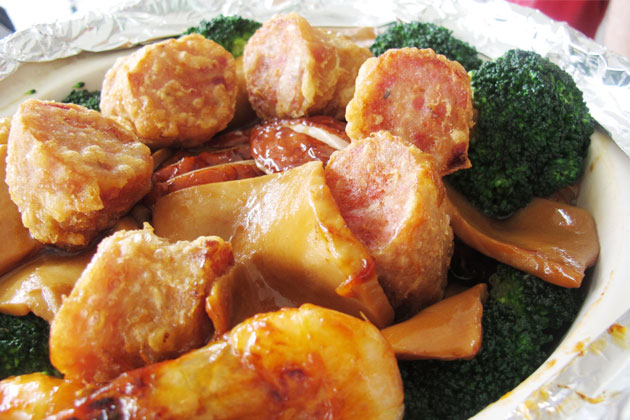 Hong Kong-born Mr Cheung is already in his mid 60s and he's not your usual hawker. His Poon Choy starts from $68 and "I can make a smaller one if I have time" and the deluxe basin version (for 8-9 diners) go for $138. You have to give him at least a day's notice if you want the deluxe rendition.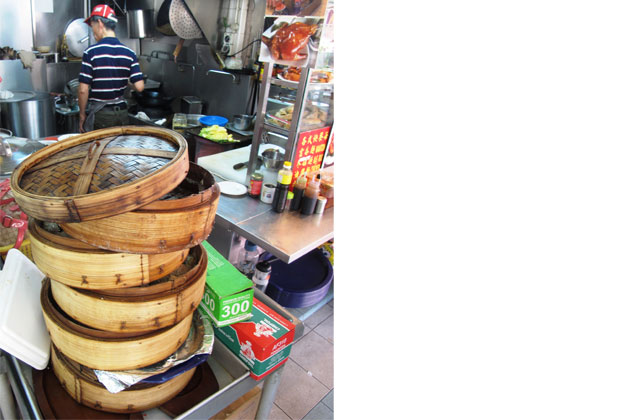 On usual days, he offers up his signature chicken and wanton noodles. I had a lovely discussion with him regarding continuity and "my son is into digital animation but he is keen on taking over as it's about heritage and family name" he tells me. Well, if that happens, he's got all my support and meanwhile I wish his family and all Chinese readers Xing Nian Kwai Le and Long Ma Jing Shen.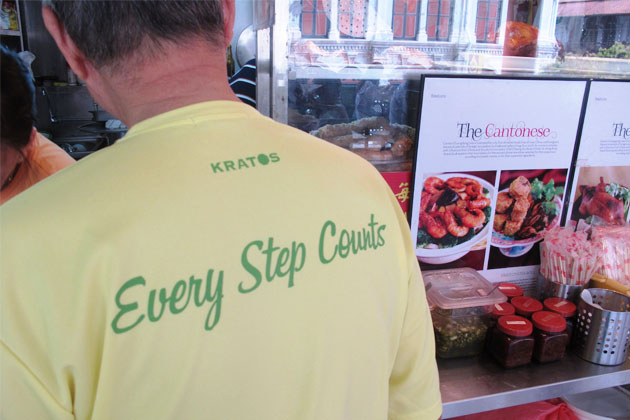 Fatty Ox Hong Kong Kitchen
#02-84, Blk 335, Smith Street, Chinatown Food Centre
730am-2.30pm (Only for diners with reservation thereafter.) Closed on Mon & Tues.
Open daily till CNY eve at 5pm. Closed on 1st day of CNY.
facebook.com/fattyoxhk