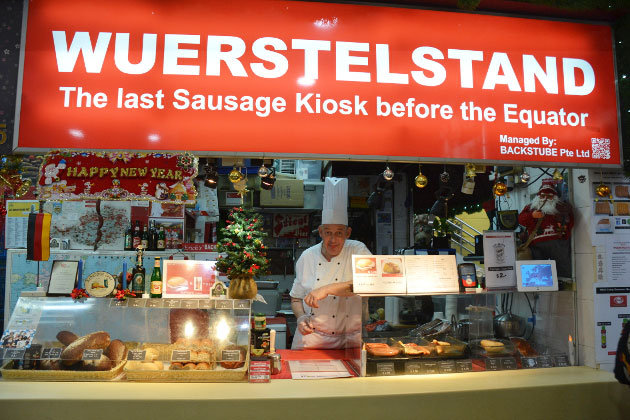 The Sausage Chef Keeps It Real
By Jade Hu - Tuesday, Dec 17, 2013
"When there's a queue, it means the cook is too slow," says Erich Pollski, owner of Erich's Wuerstelstand, with self-deprecating humour, followed by a hearty belly laugh. It is 4pm on a slow and humid day and there is a line of hungry customers eyeing the bratwursts (German pork sausages) on the smoking hot grill. There's nothing ostentatious about this 'angmo' hawker, hailing from Gresten, a small town 100km west of the Austrian capital Vienna. It has been eight and a half long years of hawking sausages in the street, to be precise, at Chinatown Food Street, before he moved to his current Banda Street location. Some might find it mind-boggling that just by selling sausages, a non-mainstream makanan in the Singaporean Chinatown street food landscape, his business and brand still tick.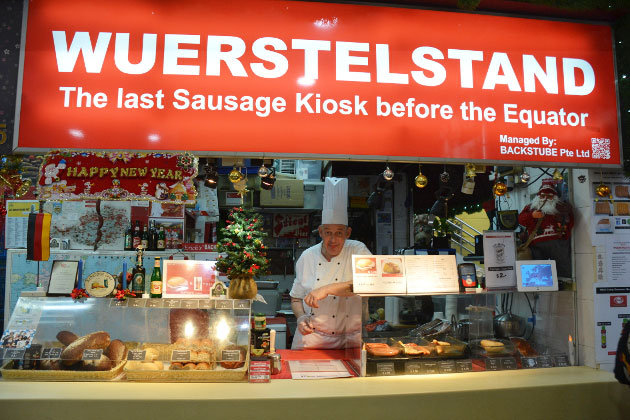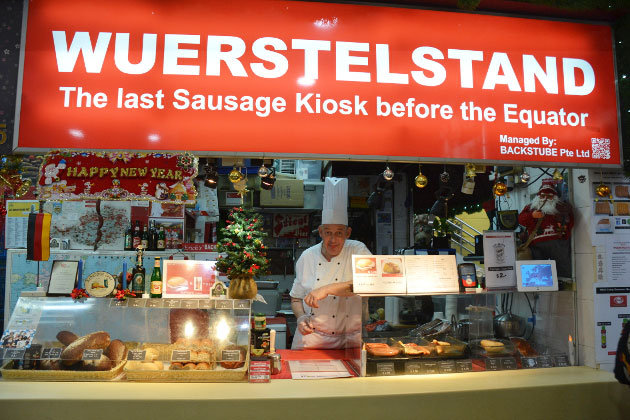 Behind his ever-smiling and convivial guise is a story of ups and downs. Erich has come full circle all these years. The self-proclaimed sausage chef has been through his fair share of roller coaster rides in the business. He went from offering his own pretzels, dinner rolls and onion buns made in a friend's production facility until early 2007, to starting his own company when the former option became unavailable. Two years later, he was left as the sole shareholder when his partners could no longer pursue the same business. Since then, it has been a one-man show for him, something that he takes in stride, and embraces good-naturedly. These days, he has newer stuff like sauerdough (sourdough) bread and muffins, and procures the imported German ingredients to produce his bread and sausages here.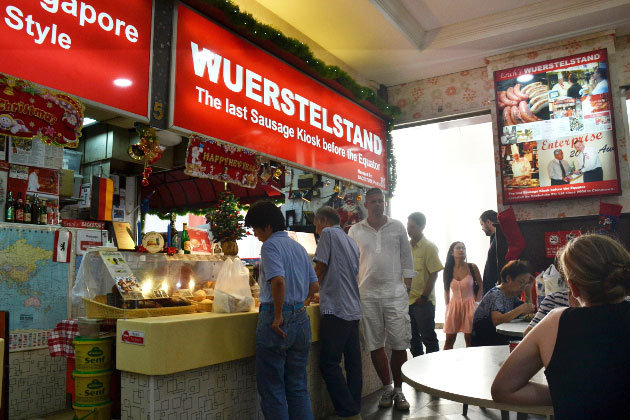 So, what keeps this oddball in Chinatown ticking, after all these years? While the sausages, all six different types, make a wonderful afternoon snack, they are not exactly out-of-this-world rockstar-chef material. Holding court in the heart of Chinatown, Erich has now become a permanent fixture in the local community. It is no longer strange to see Westerners in our neighbourhoods from West Coast to Whampoa, but to the Chinatown uncles and aunties whose movement range is limited to the heartlands' coffeeshops and food courts, he is still considered a welcoming breath of fresh air, and a source of mirth and entertainment (especially when he dresses up for festive occasions, complete with pigtail caps) in their midst. I watched in amusement as an auntie pleaded with Erich to sell her more dinner rolls, when she already has a big bagful clutched tightly in her hands. The sausages may be the stars of the show, but the supporting role offered by the humble dinner roll is a force to be reckoned with, especially in Singapore where people hardly make bread at home. The killer application is his friendly, funny sideshow peculiarity. That his breads and bratwursts aren't half bad is a big plus.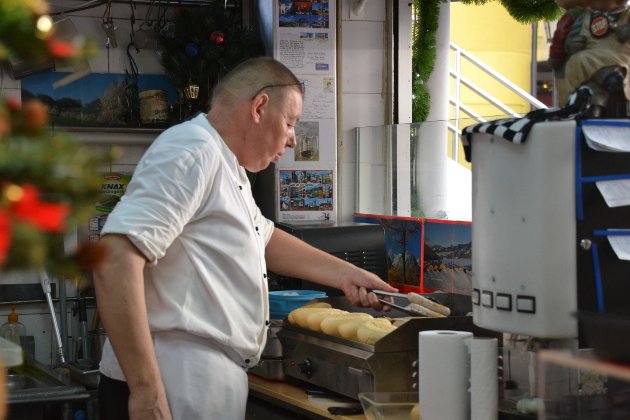 Finally, the secret of his success could lie in the mere fact that Erich was in the right place, at the right time. He has literally seen it all, having travelled twice around the world as executive chef on cruise liners. Late 2004, he jumped on the opportunity to be the only Western stall at the Chinatown Night Market, jointly run by Chinatown Business Association and Singapore Tourism Board. His location at a high foot traffic area also meant that people could find and patronize his sausage kiosk easily, all at a time when Singaporeans have begun to embrace their identity as world citizens and began to open up to welcome new flavours and cultures to the land. The best part is, he tops it off with the one thing money cannot buy – that is, his infectious vibrant personality, which is not hard to see why he has been around for as long as he has been