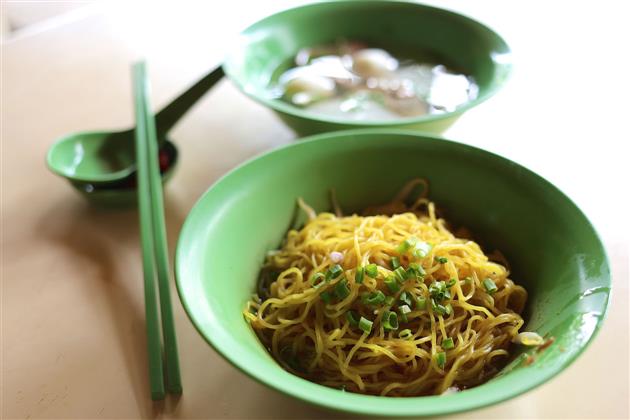 The Story of Jin Ji Fishball Noodle
By Cecilia Joven Ong - Tuesday, Jun 24, 2014
This simple story is about the Toh family – the father, his daughters and their 30 years old noodle stall at Sembawang Hill Food Centre.

The elderly Toh though in his 80s, still wakes up very early in the morning to personally go wet-marketing for fresh ingredients like pork liver, lean meat and prawns for the stall. He's been at it for 43 years now – serving up bowls of fish ball noodle or mee pok tah, before he went into semi-retirement mode and handed the reins to his daughters, the older being 55 years old and her 52 year old sister.

The sisters begin their day at 4am and so they can dish out their first bowl by 7am. This very popular stall usually sell their last bowl by 2pm. The younger Madam Toh takes charge of the cooking and the older Madam Toh serves the customers.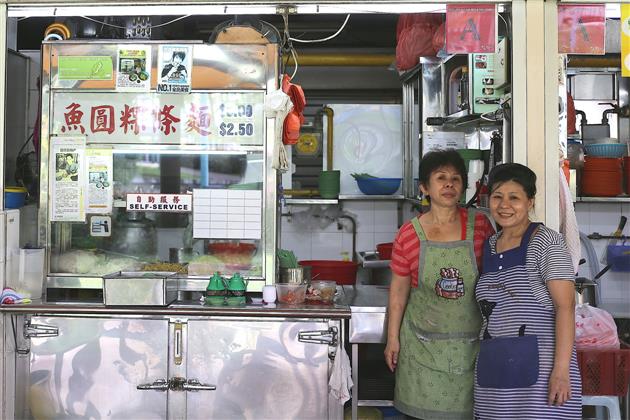 I asked whether she knew about a competing stall nearby in the same row of stalls and she revealed that it's her uncle (her father's brother), who was taught by her father. They used to be street hawkers along the road nearby before moving to the food centre many years ago. Though it's an identical recipe, their   ingredients are from different suppliers, hence the slight dissimilarity in taste.  The crowd gravitate a little more to the sister's stall though both have their regular customers. At peak hours, the waiting time can touch 30 minutes.
A gentleman came by for take away orders and Madam Toh immediately recognized him and remembered his orders well- he's a son of an old regular customer, Mr Neo. His family has been coming regularly in big groups for their weekend breakfast fix.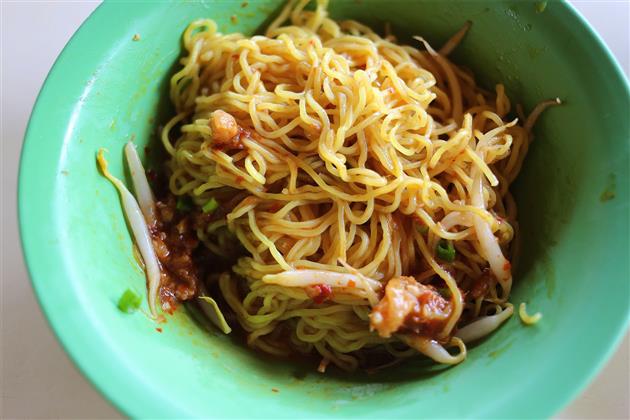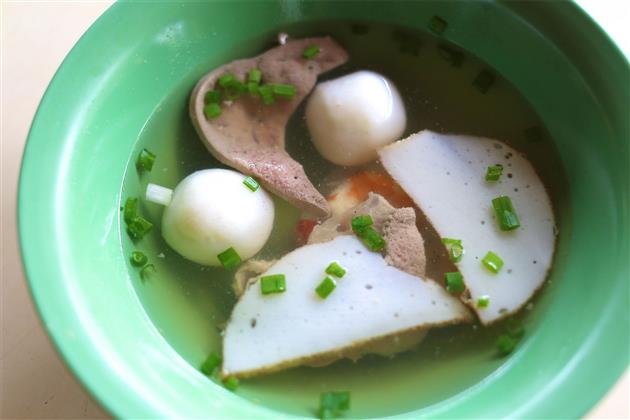 When asked whether would there be the 3rd generation to take over this stall, the emphatic and regretful reply was "no, none of our children are interested". She knows it's tough being a hawker and the younger generation lacks the patience and resolve to endure the hardship.
They still offer heartland prices – the smaller portion of their noodles at $2.50 and the larger one at $3.00. I went with their larger order which came with a substantial portion of mee kia served with their homemade chilli with a handful of crispy pork lard, bean sprouts and chopped spring onion. The mee kia was nicely cooked to give it the desired springiness with just the right chewiness. When tossed well with their chilli, it transformed and actually tasted good. Their fish balls have a noticeable bounciness and were felt fresh. The perfectly fried pork lard bits were particularly delightful and it enhanced the overall taste.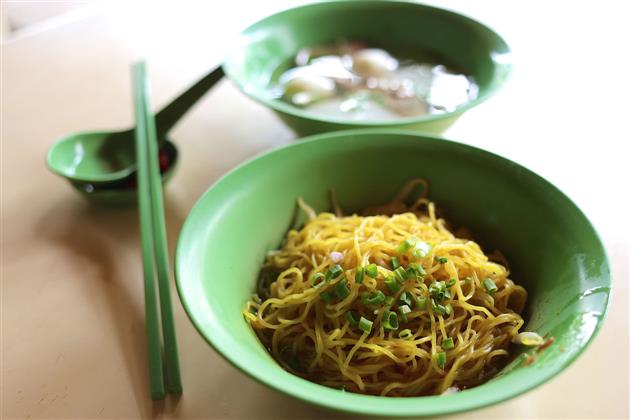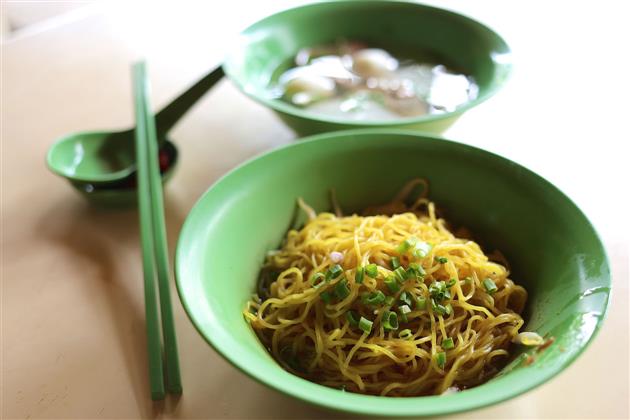 A bowl of soup consists of a prawn, pieces of pork liver, fish balls, slices of fish cake and lean meat. The soup had light peppery hints.

Such old school taste though simple but definitely memorable.
Jin Ji Fishball Noodle 錦记鱼圆粿條面
590 Upper Thomson Road #01-04 Sembawang Hill Food Centre Singapore 574419
Hours: 7am – 2pm, Daily