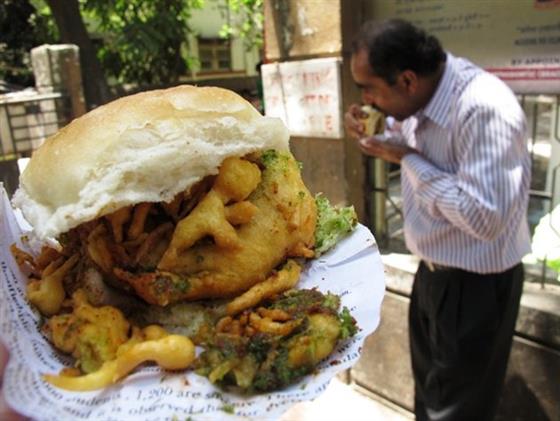 The Street Delights Of Delhi And Mumbai
By KF Seetoh - Friday, May 25, 2012
I made one of those eat, meat and greed trips to India recently and among all the iconic stalls and dishes I subjected myself to, I specifically looked out for flavours that I wished were available here. Due to historical migration patterns, Singapore inherited a large colony of the South Indian diaspora which resulted in soulful and endearing southern Indian snacks of our own. We love our roti pratas (they call them parathas), chapatis and dosas; (Indian pancakes and breads) which come with many chutneys and dips. The overwhelming majority of Indians in India are vegetarians, though I suspect the minority chose to spend time with a meat-lover like me. The cuisines are predominantly vegetarian but there is also a good range of meat dishes to tempt the carnivores.
Delhi
It had been over twenty years since I last made a trip to the Indian capital of Delhi. I got lost in Chandni Chowk, did my sunrise photo essay of the Taj Mahal in Agra, chilled in a boat house on Dal Lake in Kashmir and patiently waited for a bullock cart to pass in between my camera and the stunning architecturally perfect yet quaint façades of the Palace of Winds in Jaipur. In the 1980s, the Chandni Chowk – one of the oldest and busiest markets in old Delhi – was crowded and almost suffocating, especially on a hot summer's day. It is still the same 20 years later. This old and largely Muslim quarter is the street makan hub of Delhi and it is crammed with restaurants, carts and small sardine can-like eateries.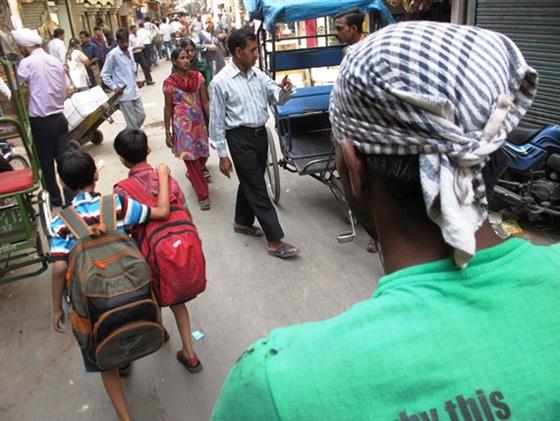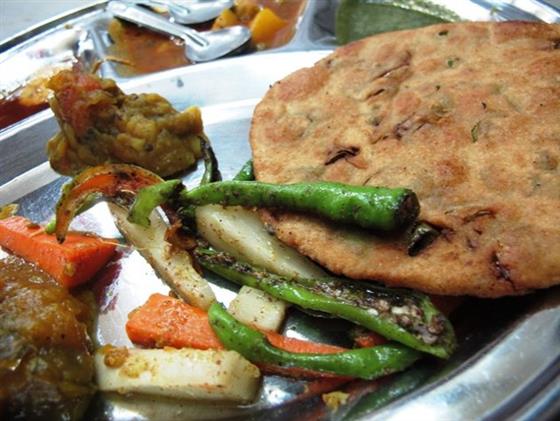 The most famous makan icon there – when you eventually find it – is Karim, a little hole in the wall makan legend, worthy of National Geographic glamour. Push past the pots of keema (minced lamb curry) and curries and the smoke from barbeque grillers, and waiters will promptly greet you and take your order.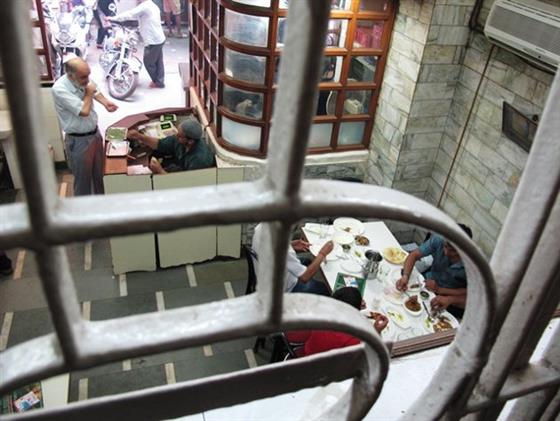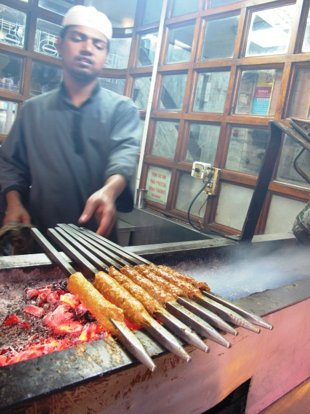 The mutton keema was one of the best I've had and it is hard to resist the urge to dip the accompanying crispy and fluffy rotis into the curry that came with the dish and lap it all up. The flavours of the other dish I had, the sheesh kebab, were intense- the gamey lamb accents were there but were well tamed by the spices in the dish.
The smoky and juicy grilled lamb ribs were also another highlight. Since the Singapore Indian restaurant, Ujagar Singh (where the Grand Park City Hall Hotel now stands) left our local makan scene in the early 1990s, I 've not had any better. I also made a trip to the famous Gali Paranthe Wali, a row of old paratha stalls along a street so narrow that it will only fit a child or a skinny adult under three feet tall. Unlike the shallow fried roti prata we are used to, the paratha stalls here deep fry them and it is served with a glorious array of dips, chutney and chillis. I was told that Bollywood stars and even wannabe Bollywood stars have been there.
Around the corner stood a small stall, (I could not see it as it was surrounded by so many people) selling Jalebi, a wonderfully deep fried, light and crispy curled dough stick covered in a caramelised screamingly sweet syrup. Nice, but one piece for me only, thank you.
Mumbai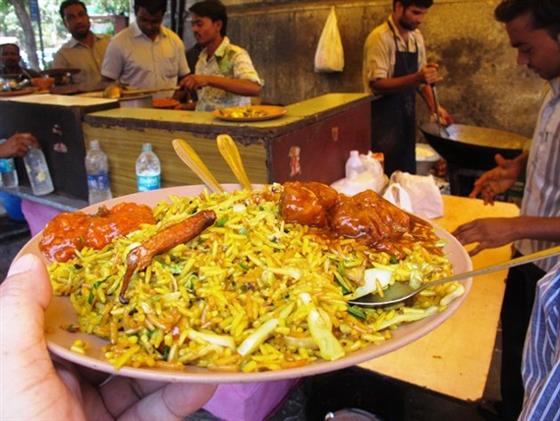 For this trip, I also careened over to Mumbai and my eyes and palate were opened to the stunning contrast and approach to food flavours there. I was in the city for one whole week but I had barely scratched the surface of the thousands of street food stalls on offer. In short, Mumbai has a very international soul as the city is very receptive of foreign flavours and concepts. There is so much wonderful food to be found there that I don't understand why more folks are not putting these foods into Singapore menus.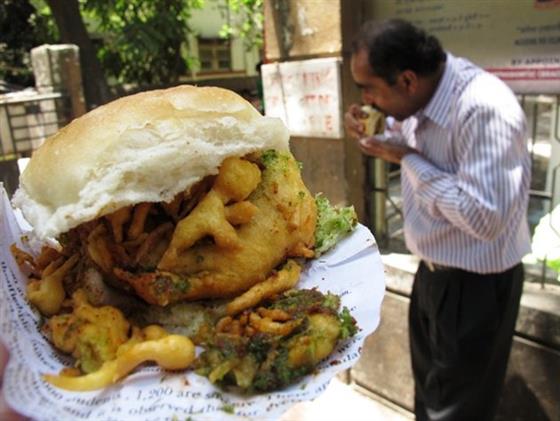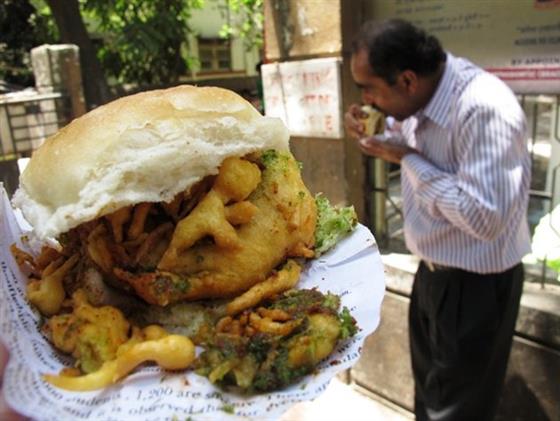 The Vadpao, a spicy vegetarian potato cutlet burger, is so easy to eat. I've had a version of it at the Bombay Café at Tanjong Katong, but it pales in comparison to the famous street stall selling it in Mumbai. They deliberately put in fried bits of crispy spice for crunch and chilli for some zest to every bite. Anthony Bourdain calls this the Bombay Burger. (not to be confused with their Mumbai sandwich, another crunchy, bready and saucy wonder.)
I binged on street snacks when I walked through a food alley lane (Khau Galli) at the Fort area, at the heart of their business district. What amazed me was the sheer variety of vegetarian meals on offer. A fair warning- not all the snacks on offer are healthy.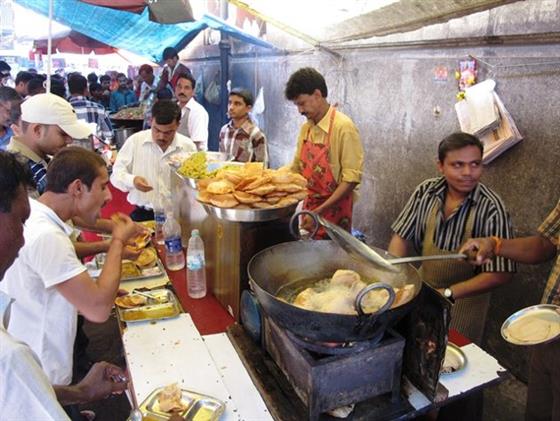 From deep fried vegetable vadas (snacks) and buttery Bhel Puris (spicy tomato-potato and butter stew bread dips) to a Singapore Fried Rice. A first for me. Don't ask, I don't even know where to begin. Basically, it's an Indian take on what they think we eat.
They also have a Chinese Szechuan take on our mee goreng at the beach side Chaupati stalls. I reckon the dish will appeal to the mainland Chinese. It's very bold. Salty, sour and spicy flavours, with a spoonful of MSG to boot.