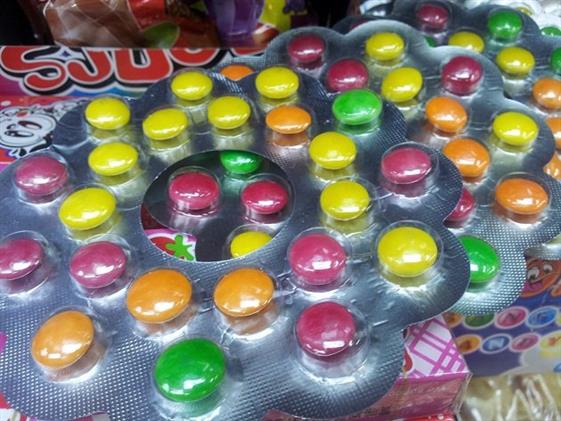 The Sweet "Smoking" Kids Of The 90s
By Joanna Yeo - Monday, Oct 08, 2012
Smoking cigarettes, flaunting mega diamond rings and playing with "explosives" – that's what cool kids did back in the 90s.
And no, we're not talking about rich gangland kids that were high on drugs and ready to terrorise the neighbourhood. We're referring to the sweet treats for cool kids in the 90s.
Now, over 20 years on, these sweets that resemble or mime adult accessories and paraphernalia, are still sold in Singapore, albeit rare and mostly in neighbourhood provision shops. Impressionable kids, being what they are, will always imitate adults and candy makers took advantage of that childhood phenomena. Most of these confectionaries are now mainly imported fairly cheaply from Thailand and Malaysia thus, prices can remain relatively unchanged, according to Mdm Toh Siew Eng, owner of TL 98 International provision shop. She adds that they are importing lesser sweets from China as consumers are quite skeptical of its quality – she cites fallouts such as 2008 milk powder contamination scandal and the milky Rabbit Sweet ban.
"Kids' tastes today are different. They like gummy candies, sour-tasting stuff and preferably cheap," says Mdm Goh, owner of Yi Feng Provision Shop. Packaging is also another factor of consideration for kids these days, says Mr Lee and Mdm Toh. Children like sweets that are nicely packaged and are, for example, printed with their favourite 'Hello Kitty' or 'Thomas and Friends' cartoon characters.
A visit to some neighbourhood provision shops is like a walk down memory lane. Here's a quick flashback of popular childhood sweets from neighbouring provision shops.
Bangle Chocolate Candy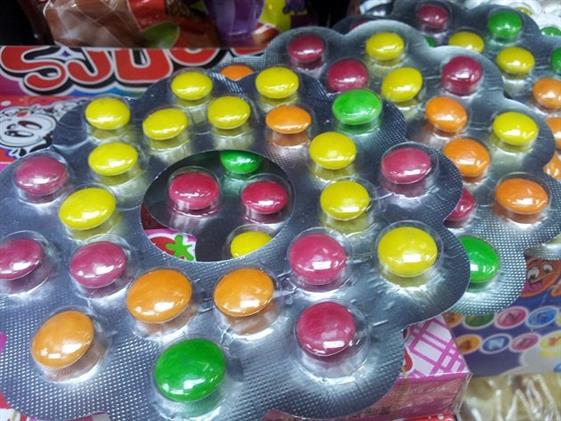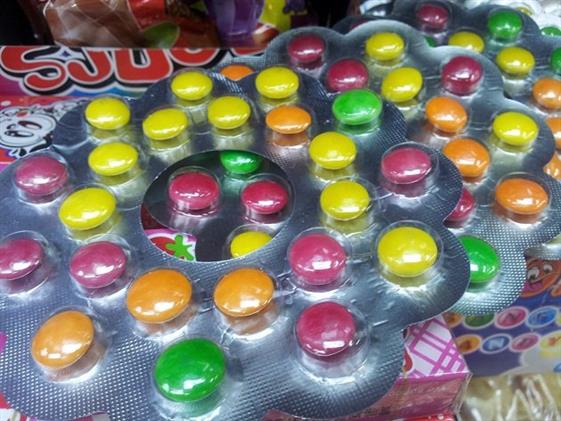 This M&M's – like chocolate candy comes in two blister pack packaging: bangle-shaped and another shaped in the '8'.
Little Bobdog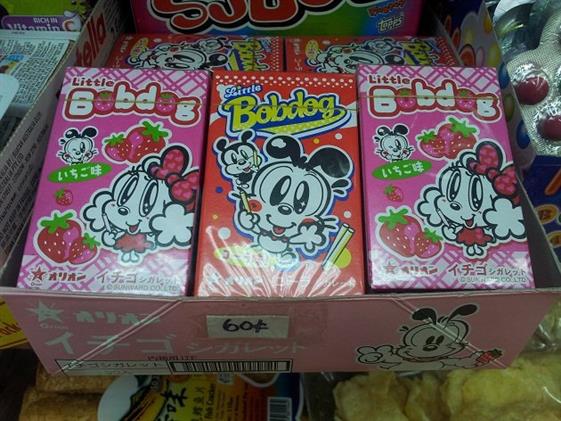 This sweet chewable candy stick come compactly packed into a box, and it resembles a box of cigarettes. Designer Ms Mossy Chew, 24 recalls her mischievous self imitating adults puffing "cigarettes" with the candy sticks and had an earful from her dad who thought she was really smoking.
Magic Dust Lollipop + Popping Candy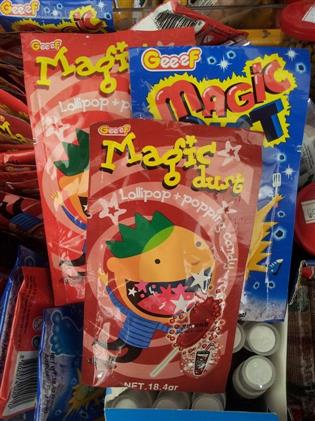 This foot-shaped lollipop comes packaged together with a packet of 'magic' powder. Dip the lollipop into the bag of powder and anticipate the 'explosion' of the powder when it makes contact with the saliva their mouth. It's like having or faking TNT (chemical explosives) in the mouth.
Blue Berry and Mini Cola tablet sweets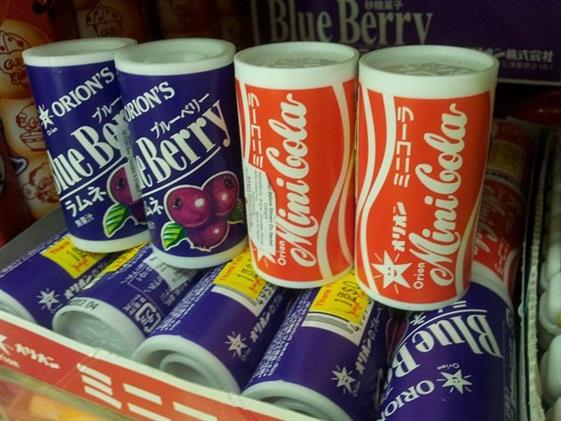 These are small chewable and fizzy tablet sweets that come packaged in gassy drinks plastic containers.
Ring Pop
Children who buy this hard diamond candy-crusted ring will usually wear it around their finger and lick it or stick it in their mouth like a pacifier, according to Mdm Toh.
Whistle Candy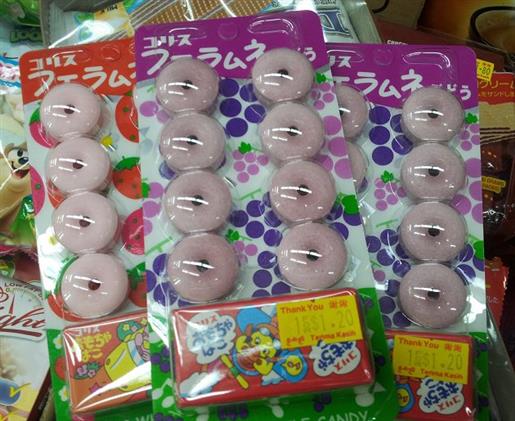 Children like it because it is both a sweet and a whistle, says Mdm Toh. To use it as a whistle, simply place the candy vertically at the lips and blow through the whistle hole.
Breath Spray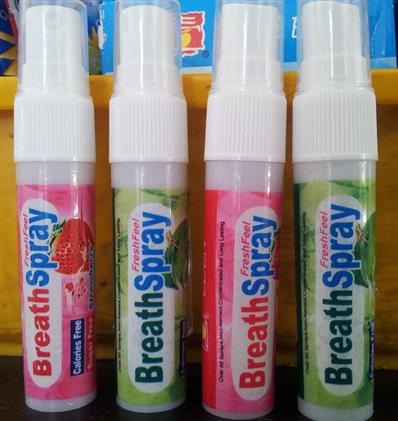 This is not exactly a breath freshener but more of a candy solution contained in a lookalike aerosol spray container. "Kids will spray into their mouths and ask their peers whether their breath smells nice," says Mdm Goh.
Milk Tablet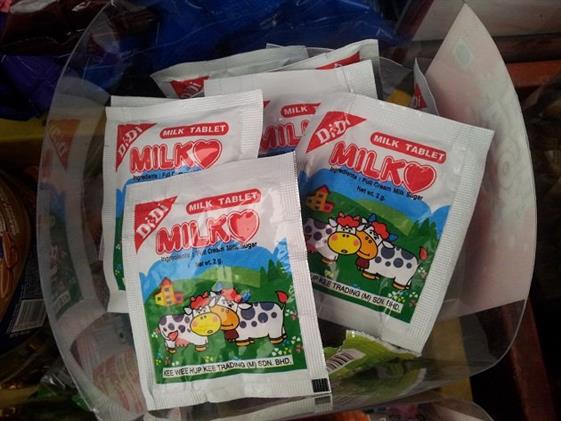 At only 10 cents a packet, it is no wonder why this strawberry and chocolate flavoured milk candy is still a favourite amongst kids today.
Airhead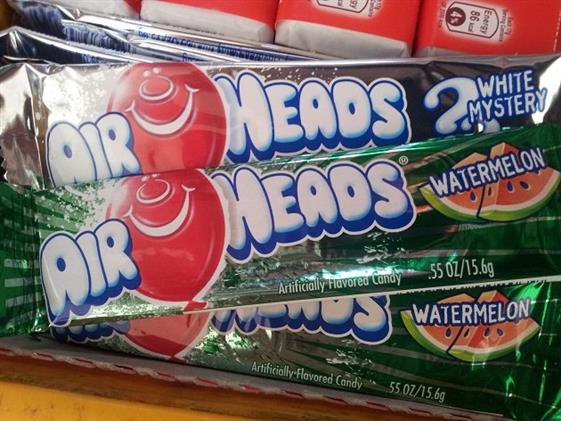 A favourite childhood sweet of Ms Chew, she describes the candy as "sour, sweet, very chewy and often sticks to her teeth." She remembers that the candy is hard to find in shops. Mdm Goh says that the candy went out of production for a period of time but recently made a comeback and emerged as one of the current kids' favourites.
Were you a kid in the 90s? Share with us some of your favourite sweets in the comment box below!