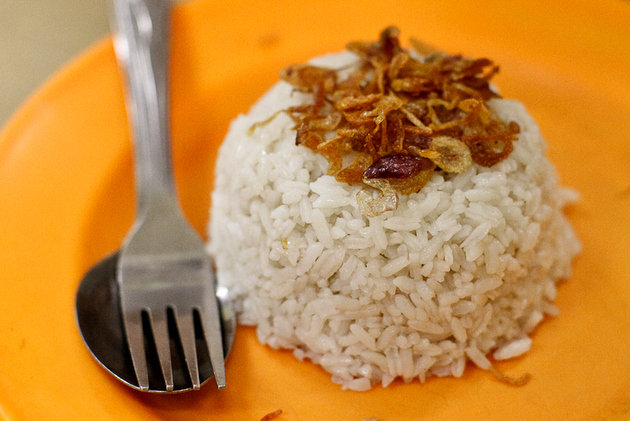 The Ultimate Nasi Uduk
By Marchellinus Hanjaya - Tuesday, Jul 23, 2013
In Malaysia and Singapore, nasi lemak is seen as a staple food of sorts. And it's not hard to see why. Nasi lemak is a humble dish with light and fluffy rice, infused with fragrant and rich coconut milk. It has an edge when compared to a bowl of plain rice.
In Indonesia, there are a few different versions of 'nasi lemak.' There is nasi lemak in Riau (where the Malay tradition came from), and along Sumatra and Java islands there are nasi Gurih (savoury rice), nasi Minyak (oily rice), nasi Gemuk (fatty rice) and lastly, nasi Uduk (mixed rice). We also have nasi Kuning (flavoured with turmeric), nasi Liwet (flavoured with chicken fat) and nasi Hitam (flavoured with buah keluak), but that is a whole different story.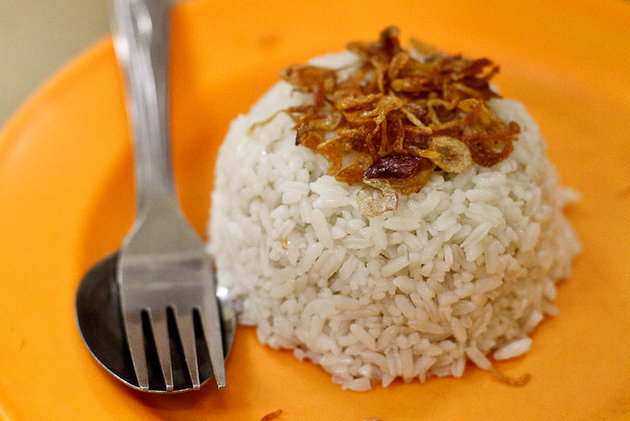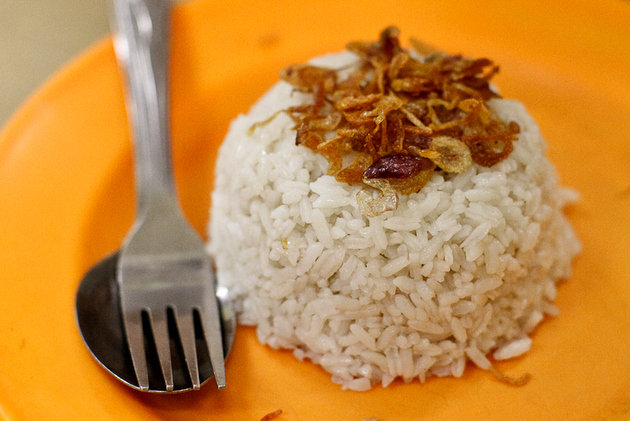 Let's talk about nasi Uduk, which is regarded by the Betawi (Jakarta native) people as their national dish. Although debatable, it is hard to deny the fact that nasi Uduk is very popular in Jakarta, served at kaki limas (street food carts) as well as upscale Indonesian restaurants.
It is similar to nasi lemak, but besides coconut milk, nasi Uduk is also cooked with lemongrass, bay leaf and kaffir lime leaf to give the rice an aromatic scent. Nasi Uduk can be literally translates as "mixed rice," and not only there are a great mix of herbs in cooking the rice, it is often served with mixed side dishes too. In Indonesia, it is treated as plain rice and can be eaten with anything.
In Jakarta alone, there are a few types of nasi Uduk. A common version can be found in morning wet markets, where the rice is wrapped in banana leaf to resemble a cone shape, with fried rice noodle, sliced omelette and fried shallot.
Northern Betawi version is dry and plain, but it comes with great side dishes. At Zainal Fanani in Kebon Kacang, dishes like turmeric seasoned chicken and deep fried prawns are served piping hot to go with your plate of rice. It is a benchmark of all nasi Uduk around the area and very popular among the Jakartans.
The nasi Uduk at southern Betawi, however, comes with more moisture, richer aroma and a tad bit oilier grains. Side dishes are readily made and served on the table as a spread along with the plate of rice. Customers can just pick what they want and pay only for what they had eaten.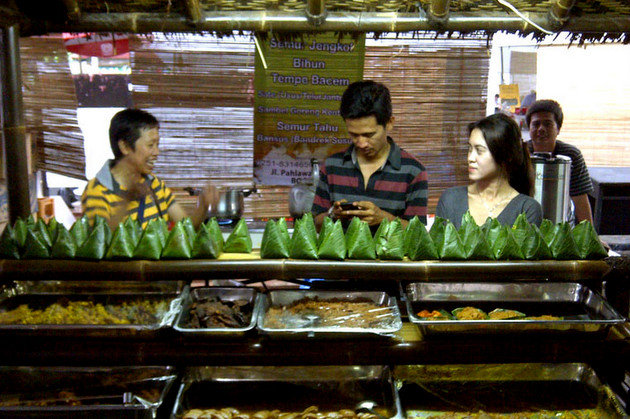 One more interesting fact, this Betawi cuisine has been perfected and sold by local Chinese in Jakarta. Some the best nasi Uduk in this category are Nasi Uduk Kota Intan in Krekot area and Nasi Uduk Koseng in Glodok, Gajah Mada area. These two stalls consistently serve nasi Uduk in prime quality, not price.
Now nasi Uduk can be found easily at kaki limas (street food carts) that offer Javanese or Sundanese menu. Pecel Lele (fried catfish), Ayam Goreng (fried chicken) or even just Tempe Penyet (fried smashed fermented soya bean cake) will go well with a plate of piping hot nasi Uduk. Don't forget to add a dollop of sambal too!
Nasi Uduk Zainal Fanani, Jalan Kebon Kacang VIII No. 5, Tanah Abang, Jakarta 10260, Tel: +62 21 3190 1459.
Nasi Uduk Koseng, Jalan Gajah mada No. 216, Glodok, Jakarta 11180, Tel: +62 818 652 125.