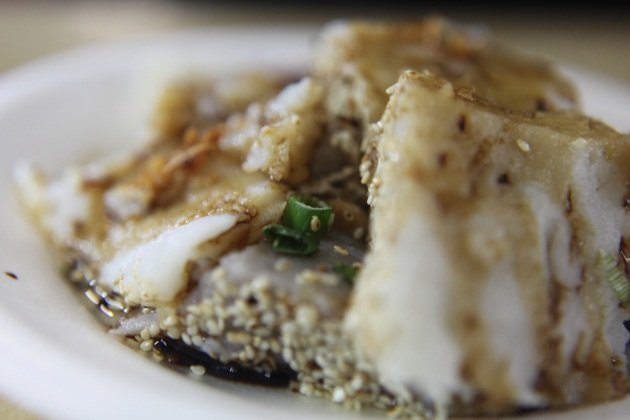 The Versatility Of Rice
By TianTianChi - Thursday, Jul 05, 2012
For thousands of years, rice has been the most important food staple in Asia. It is extremely versatile and plays a big role in many cultural customs and religious festivals.
When harvested, rice first has to be husked, and during the milling process it is inevitable that some of the grains would be crushed and broken. Resourcefulness and probably sheer desperation (the mother of ingenuity) has resulted in creative transformations of these "scraps". They milled it further and obtained flour. This has resulted in them innovatively turning flour into cakes, vermicelli, toppoki, gruel, and even food glue. (!)
As the saying goes, the sky's the limit and the only limit is your own imagination.
Here are five of our favourite (and creative) varieties of rice cakes.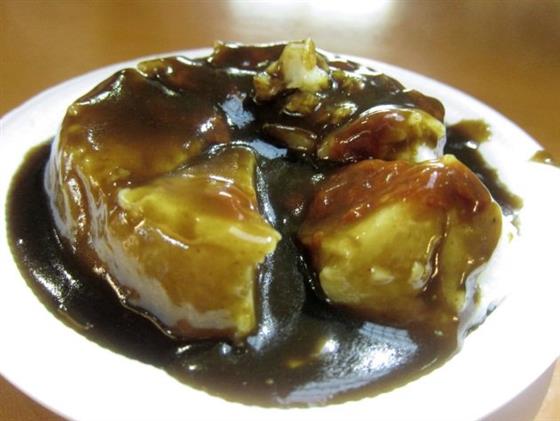 Wah Kueh (Bowl Cake)
The origins of this snack hark back to early days of agriculture. This was one of several afternoon snacks clever wives made for the farmers. It is easy to make and keeps well. It is still very popular in Taiwan today where it has evolved into sweet and savoury variations. They are usually steamed in a rice bowl, hence the name.
While it has been around in Singapore for decades, it is hardly popular when compared to the ubiquitous yam cake, radish cake or chwee kueh. But, these are no lesser cousins in any way. These folks are one of the very few people selling this rare snack here. Less than 20 of these are made each day and sadly, it doesn't sell well.
The wobbly rice cakes (speckled with bits of savoury and sweet dried shrimps, minced meat and chopped mushrooms) are steamed in rice bowl sized aluminum containers. It comes with a stinging chilli sauce.
Ri Xin Snack Delight, Stall 55 Maxwell Market and Food Centre, 5pm-8pm (or sold out- close ad hor)
Chwee Kueh
One of the most popular breakfast snacks in Singapore, it has its origins in Chao Zhou (Teochew in China) province, where it has existed for centuries. The rice flour batter is steamed in a saucer shaped small cup, served with a preserved chye poh salsa (chopped pickled radish stewed with flavoured oils and fermented tofu) toppings and our uniquely Singapore version is laced with sambal chilli too.
Mr Lee has been at it for more than 50 years now but still believes in making everything the traditional way from scratch. They begin making this at the stall as early as 5am. A very intense fragrance of stewed savory chye poh and fragrant shallot fried in lard would catch your attention as you pass his stall. The chye poh topping is rough and has some bite and his cakes are tougher than normal but in a nice way. Sadly, his chilli sauce is a tad shy.
Ghim Moh Chwee Kueh. Block 20 Ghim Moh Road #01-31 Ghim Moh Food Centre. 6am-7pm daily (Closed ad hoc)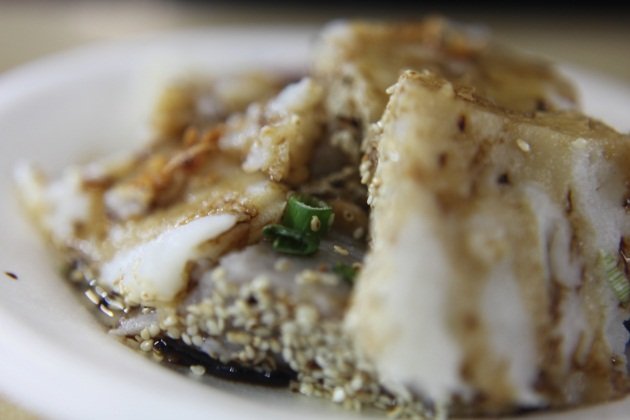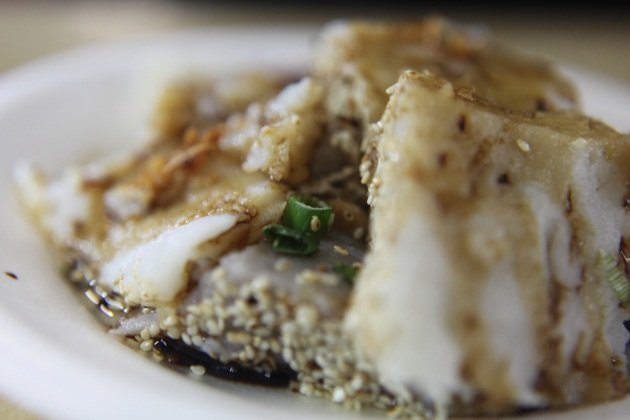 Wu Tao Ko/ Lo Pak Ko (Yam cake/ Radish cake)
One of the most favoured Cantonese breakfast and tea time dishes and a frequent item on Chinese offering altars. The luxury version will have minced meat, Chinese sausages, mushrooms, fried shallots etc, etc but the main ingredient will be the mashed tuber – radish, yam and even pumpkin.
The queue starts to form before their 5pm opening hour and you'll be taking a risk if you come any later. They make only about 20 trays of the cake and it sells out in less than two hours. A frustration is that these old folks take time off as and when they feel like and they can close up to a week at a stretch, even with their official day off on Wednesdays.
Their cakes are soft, smooth and have that melt in the mouth texture. The yam or radish is mashed instead of shredded and steamed with rice flour. This allows the rich sweetness of the tuber to shine through and it is aided by savoury dots of hae bee inside. Go easy on the sauce, it's good even on its own.
Ah Lo Cooked Food. #02-003 Chinatown Complex Food centre. 5pm-8pm (but usually sold out before 7pm) Closed Wed (or ad hoc)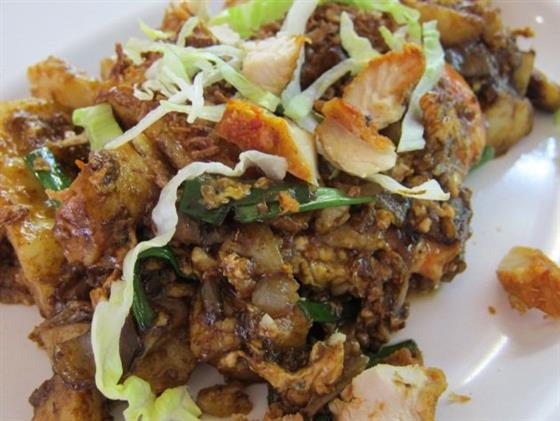 Lontong Goreng
This is the Malay's answer to the Chinese fried carrot cake (chai tow kway), except there isn't any radish in it. It is just large diced fried ketupat (pressed rice cakes), done in a style closer to Penang's char kuoy kak. It is usually garnished with meats and vegetable. Even with its delicious appeal, somehow it didn't catch on, and not many stalls sell them.
At Jesswan (the name comes from a combination of the owners's names, Jess and Wan), it is fried with sweet soy sauce together with sambal chilli and caramelised onions, eggs and bean sprouts. They value it up with deep-fried diced chicken, prawns and with a garnishing of chopped spring onions. They have beef and seafood versions but the favourite is still the chicken version which is not shown on the menu, for some strange reason.
Jesswan Kitchen. 665 Buffalo Road #01-252 Tekka Centre. 1pm-10pm
Idli
It looks like a snowy white flying saucer three-inches in diameter and it's usually served during breakfast or as a snack. It is made by steaming a batter consisting of lentils and rice flour and fermented overnight to break the starch down, which explain the light sour taste.
If you order two pieces or more here, it will come lined on a leaf with a bowl of sambar and at least four types of chutney – coconut, tomato, coriander and mint.
The soft idlis here is almost bread-like, more dense than fluffy. Each idli has a distinctly different sensation when dipped in different chutneys. The coconut is gritty with hints of sweetish ginger, the tomato version is spicy and fragrant, the coriander is done with a sharp tang and the mint is refreshing. Alternatively, just dunk it in the standard spicy sambar provided. Ask for the podi (very spicy powder mixed with oil) dip if you feel the need for heat (chilli).
This place is small, certainly not a place for chilling out.
Murugan Idli Shop. 81 Syed Alwi Road. 9am-11pm