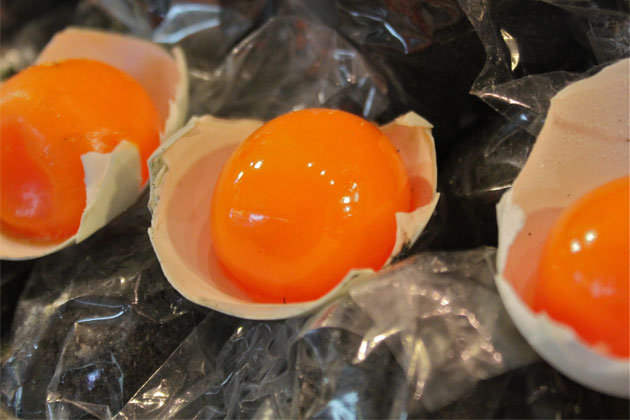 The Versatility of Salted Egg Yolk
By Tris Marlis - Friday, Dec 27, 2013
Ah, the pleasures of the humble salted egg. Weeks of a briny curing process of an egg will result in a salty and sharp egg white that is rubbery when it's cooked. The egg yolk, however, is bright orange, fatty, rich and prized in so many ways. The yolk is often found as a pleasant surprise, hidden in mooncakes or wrapped in bak chang or dumplings. The briny flavour works well in desserts as well as in savoury dishes. It can be steamed, stir-fried or boiled or made into a sauce. The gritty texture (a result of oil exudation) along with the flavour helps to add depth to a dish.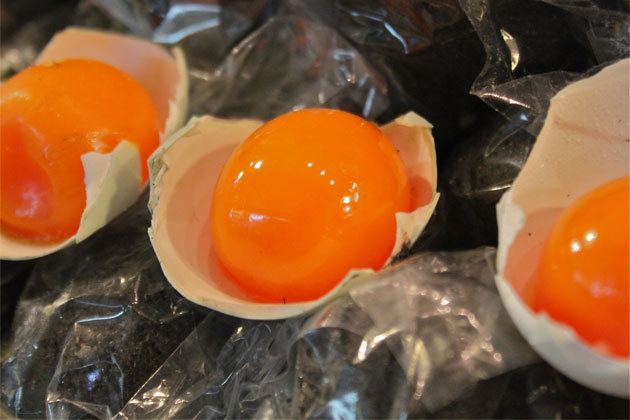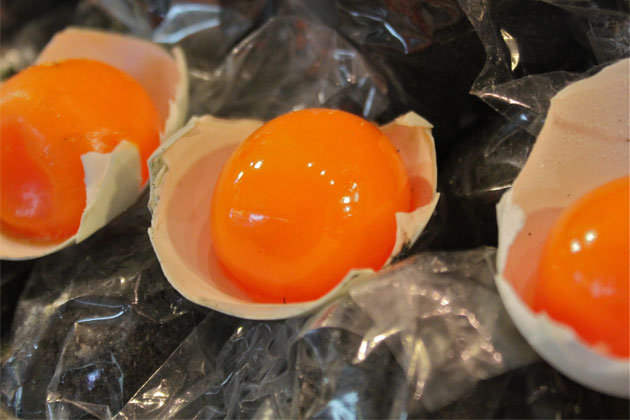 Some of the most common dishes incorporating salted egg yolk are those done with seafood, such as prawns and crabs. At Keng Eng Kee (Blk 124 Bukit Merah Lane 1, #01-136), or KEK, a splash of dairy or cream is used to smoothen the gritty texture of salted egg yolk to create a thick sauce that binds the protein. Curry leaves and chillis are added for fragrance to enhance the briny aroma of the smoky saltiness.
Another cze cha classic using salted egg yolk is the Sam Wong Dan. It is a braised spinach dish that uses three types of eggs – salted, century egg and regular egg. They fresh egg acts as a base texture to the sauce of that dish, while the other two add dimensions of flavours and added texture. Our favourite spot to get this fix for is at Dragon Phoenix Restaurant (177A River Valley Rd, Lvl 6, Novotel Clarke Quay).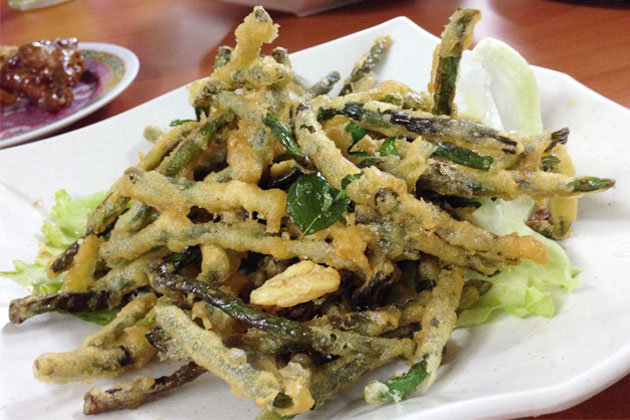 Next is a not-so-classic cze cha dish from Tong Ah eating house (35 Keong Saik Rd) – a deep-fried battered string beans stir fried with basil leaves and salted egg yolk crumb. The fried string beans itself is nicely seared, with a roasty outer layer – addictive like French fries. The salted egg yolk is dry fried with basil leaves, and finally tossed with the beans. Delectable with a bowl of rice.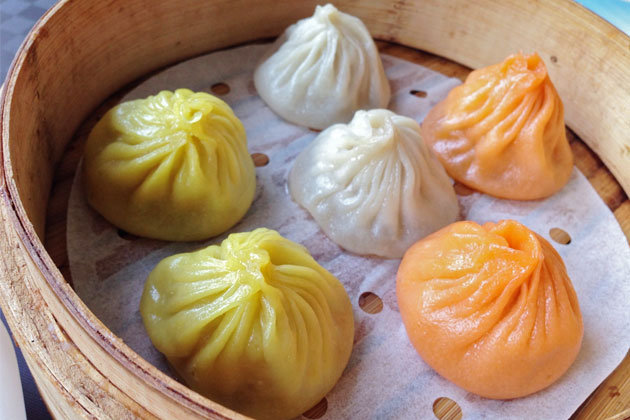 Next up, pork. Besides the usual steamed pork patty with salted yolk, we also like these salted egg yolk xiao long bao from Extreme Xiao Long Bao (30 Seng Poh Rd, #02-36, Tiong Bahru Mkt & Food Ctr). Every bite-sized dumpling comes with juicy pork, flavourful broth and the fatty and gritty bits of salted egg yolk. It blends in well and does not steal the show.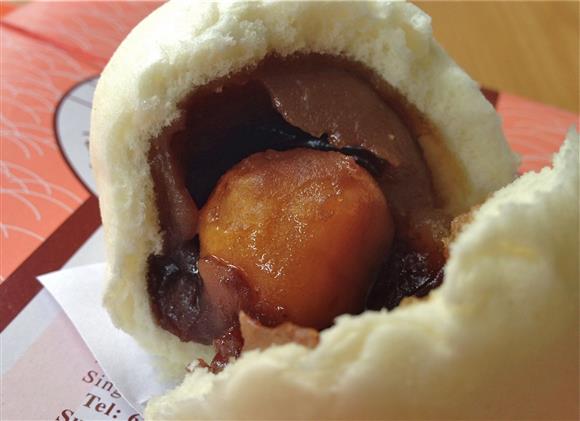 For dessert, try the "3 in 1" bun from Tanjung Rhu Pau (389 Guillemard Rd), it's like a cross between custard bun with mooncake. Every petite sized bun comes with lotus, red bean paste and a whole, softly firm golden salted egg yolk. The paste is not as dense as it is in mooncakes, and the salted egg yolk gives a nice bite without being too runny like in custard buns.
Salted egg yolk is so versatile that you can use it in almost any dish, but remember to always consume moderately as it contains high level of sodium.