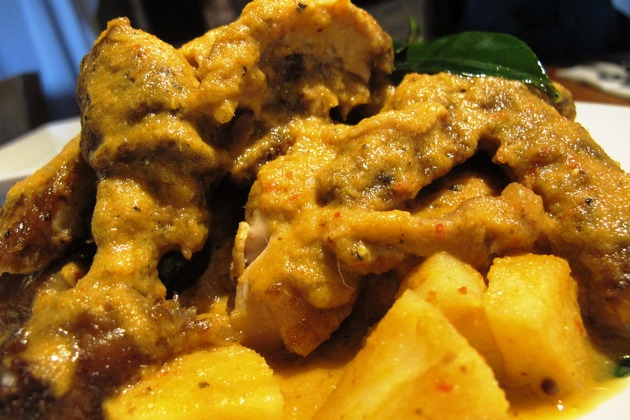 CLOSED- The Wan and only Malaysian Makan Legend
By KF Seetoh - Monday, Nov 11, 2013
I had to ask, "How do you teach that x-factor in cooking". For once, I could see him stumped for a while before he recovered four seconds later with a dissertation on it. He went on about passion, food culture, love of heritage, feel for food and etc – stuffs that did not answer my question. But it was very entertaining.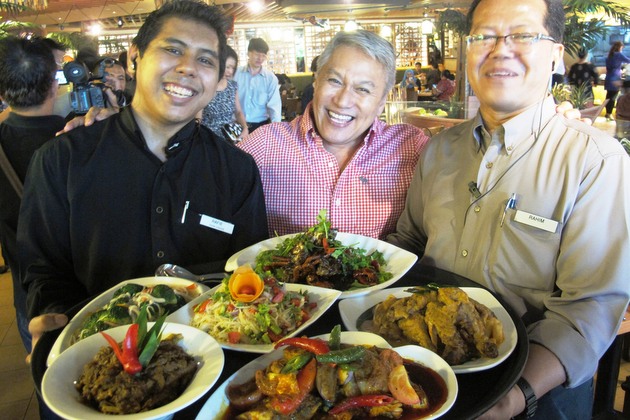 You could not expect anything less from this talented funny makan man from Malaysia. Datuk Chef Wan was in town earlier last week to launch his new book The Best of Chef Wan – a collection of his best recipes updated for this edition. This man is a living makan legend and food ambassador of Malaysia. He has sold numerous books, done countless TV shows and is consulted on many restaurant openings. I had not seen him since we launched the defunct TV Works station over a decade ago. Datuk Wan, in partnership with local investors, set up 1 Market, a big halal buffet extravaganza makan market here last year.
I personally know that it is almost impossible to teach passion. It is hard for any chef to be imbued with the intangible skills needed to deliver what is not presented in a recipe sheet and a cooking demonstration session. That is why I always allow a fat discount on quality on franchised brand named chef eateries or restaurants. You see them in the integrated resorts, relying on big name chefs but often fall short on delivering it big.
There are famous three Michelin star chefs who go on to open numerous restaurants and later watch them close. One example is Gordon Ramsay, at least eight of his restaurant had closed in recent years and not all are worthy of any Michelin star ratings. There were even accusations that his food was pre-made and heated up in some of his eateries.
Worse, when a top chef delivers his skills to his team, it is often translated downwards to the line cooks who will probably end up delivering something other than what was intended. That is like getting Picasso to teach others to paint exactly like him.
That is the conundrum a lot of fast expanding top chefs encounter.
Chef Wan Markets Himself
I have no doubt about Datuk Chef Wan's skills. Look into his books (I have a few) and you can see his range and understanding of the nuances of South East Asian flavours. He shows off his flair from Kam Heong Crabs (Malaysian Chinese style golden fragrance crabs) to Gulai Keladi Assam Tempoyak (yam in fermented durian), an old and almost lost dish in Malaysia. A year ago, he set up 1 Market, a big halal buffet of South East Asian flavours offered in grand style with open performance kitchens.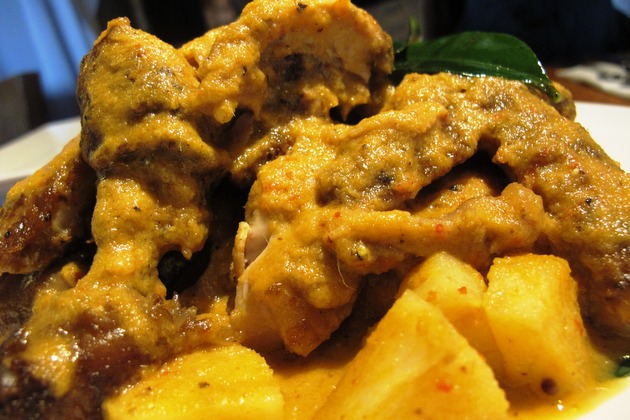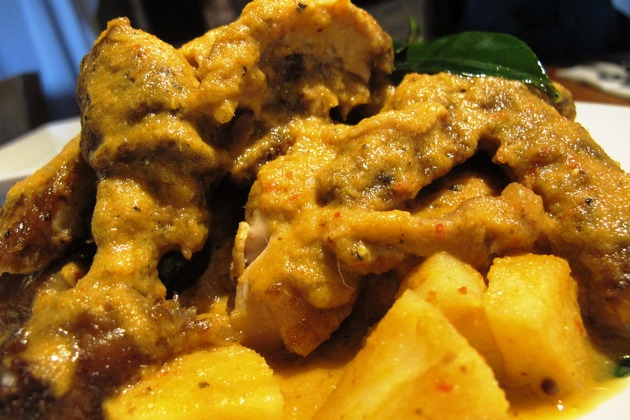 The place sits 450 people and is pretty massive for such a concept. One glance over and it seems there are closer to 100 items on offer each lunch (more is delivered for dinner). For our starved-for-choices Muslim friends in our midst, this is god-sent. "My menu changes every week and any item from my books can be offered anytime", the affable and motor-mouthed Datuk Wan tells me. So I revisited this place over two occasions, a few months after the buzz had settled, at this local launch of this book The Best of Chef Wan held in his restaurant. I include feedback we received from a trusted associate food tester and we size up 1 Market in bite-sized buffet portion points.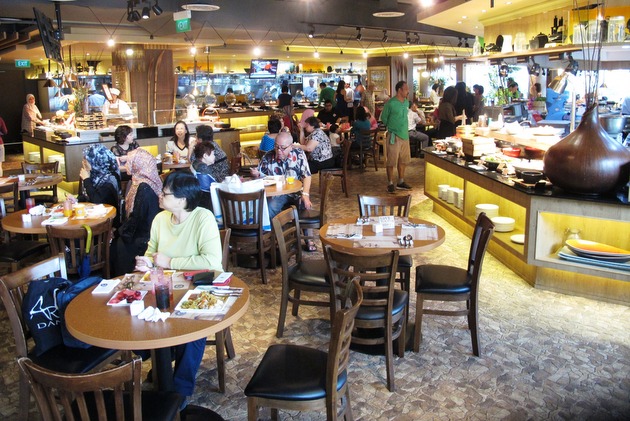 The first and humble station I gravitated to was the fresh fried tapioca chips (keropok ubi). It was stacked on a basket, warmed and kept dry by a heat lamp. Wonderful, as starter get-up with salads. I dipped in the sweetish sambal.
A dish Chef Wan demonstrated, the Ayam Bakar, or grilled chicken with pineapple sambal, pique my interest, especially the pineapple part. It was available on the buffet line but Chef kept telling me, they had lots to improve on, like how they must char the chicken somewhat more. I liked it though. The fruity accent on the sambal was refreshing.
The assam pedas fish was redolent with colours- topped with red and green chillis. I liked the roughness of the rempah which was visible in the dish. But on another occasion, this dish came out short, as if it was a pre-packed rempah, all smooth, too sour, tame and dull.
This is also one of the rare eateries that offer Indian Rojak, but theirs seem like a combination of the Singapore style and Malaysian Pasembor. The fritters, salad and tofu were agreeable but I could sense a few things missing in the brown pinkish sauce, although it had a sweet potato mash base.
The meats were fresh and soft enough in the beef rendang and it was richly spiced, as Chef Wan is a master of this dish. But on separate occasions, some chefs on site were a bit heavy handed on the salt department.
I like the Chayote Masak Lemak, a gourd like summer squash (native to southern America but also grown widely in Indonesia and Thailand) simmered in rich coconut spiced gravy. It was comforting, amidst the sea of meats and stews offered in the main buffet line.
They offered two interesting desserts that struck me, among the lot. One was a pandan panna cotta with gula melaka that has a green fragrant sweetness that was just shy of cloying. The other was the white sweet corn jelly, served in a tiny plate with a round dollop of yellow mango sauce atop, looking like a bulls eye egg. So easy to like them.
I can only conclude that this place is like a generous lucky draw of good makan – most days are hits and some are misses. Best to go when Datuk Chef Wan is in town and on site, as he breathes down the chef's necks.
CLOSED
1 Market by Chef Wan
Plaza Singapura Atrium
68 Orchard Road #04-45 to 49
Tel: +65 6341 9159
Monday – Sunday
Lunch: 11.30am to 2.30pm
Dinner: 6pm to 10pm
Lunch from $23.80, Dinner from $35.80 (about 15% more for weekends)