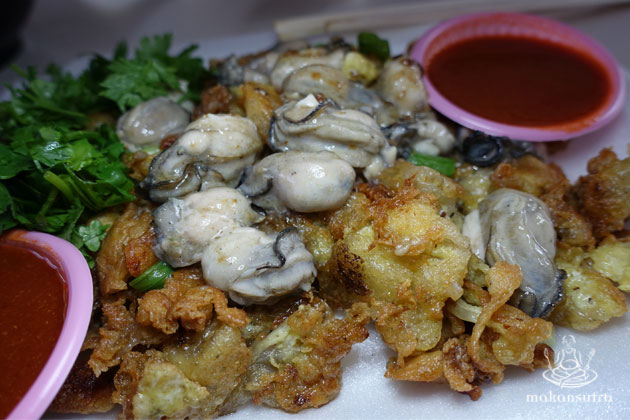 Three Eggs and the Oysters
By KF Seetoh - Friday, Aug 26, 2016
Let's get one fact clear today- to render a god version of this sinful platter of or luak or fried oyster omelette with all those crispy, gummy and eggy edges with soft starchy sensations and juicy oysters burrowed within, a lot of oil has to be used. I kid you not, just take a look at how many spatula of oil is showered on the pan before and as they fry. This Teochew comfort platter of pleasure is a snack or a delicious way to past time. There are a few versions in the region- the thick frittata style in Chaosan in Chaozhou (Teochew), the crispy thin eggy pancake adaptation from Bangkok and the chunky crispy fried egg rendition in Singapore and Penang. I love em' all, provided they are done properly and faithfully to their styles. These are my top three favourites in Singapore which are trending in my tummy currently.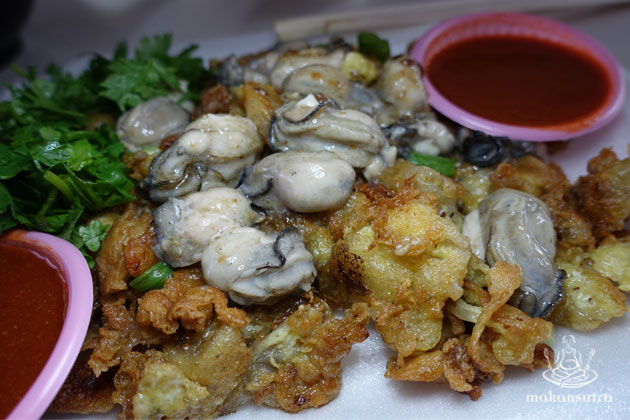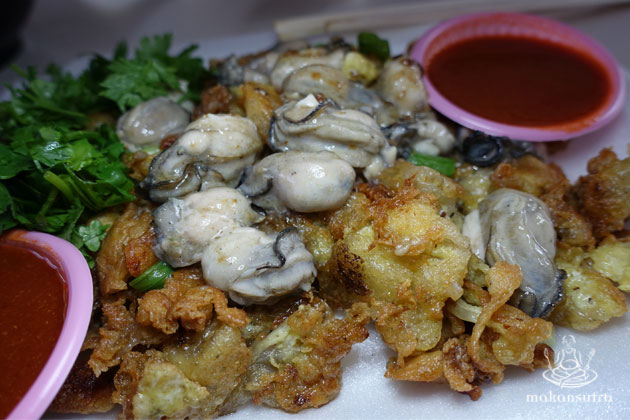 1/ Hup Kee Fried Oyster Omelette, Stall 73, Newton Hawker Centre, 6pm-1am, closed Wednesdays.
These folks hail as far back as the original Orchard Road Gluttons Square carpark in the 60's (where the Orchard Central now sits). They use a lot more eggs to coat the starches and leave them on the high-fire pan a little longer than most. It comes out like crispy little egg coated starched parcels and they quick-fry the oyster separately, for its natural juices and flavour before slathering it over the platter of omelette. The chilli is sharp and piquant, which I suspect many hawkers use a similar supplier for it, as they know just what hawkers want from this chilli dip.
2. Ah Chuan Fried Oyster Omelette, Blk 22, Toa Payoh Lor 7, #01-25. 12pm-4pm, closed on Tuesdays
This is the moist version. Ah Chuan fries it over medium high heat and the starchy batter he uses crisps up at the corner very quickly, and when the eggs are cracked over he gives it a few flips and flops, then lets it sear. And just before it's done, he pan-fries few huge Korean oysters (he showed me the supplier's pack) with a few drops of starch, fish sauce and quickly flips it over the starchy omelette. I can sense that there is a very moreish chicken stock flavour in his starch, which pairs so nicely with the juicy oysters.
3. Lim's Fried Oyster, Address: #01-32, Berseh Food Centre, 166 Jalan Besar, Tel: +65 93860732 (irregular days off, call to check) Operation Hours: 6pm to 12am daily (impromptu off days)
At the basement, in a corner of this rare double storied food centre is this humble (read; no designer signboard nor kitchen layout) stall. The style here is a tad more moist than Ah Chuan's- and is also, juicy, softly starchy with crispy bits of eggy goodness. It does not sit long on the pan and they sear it just enough. The batter comes gummy yet chunky and the egg is not overdone, like a nice moist fried omelette with little chunks of starchy soft batter.
Strangely, all the chilli sauces of the above stalls felt similar, like they only added a spoon of more lime, sugar or salt to the base chilli sauce from the same supplier.