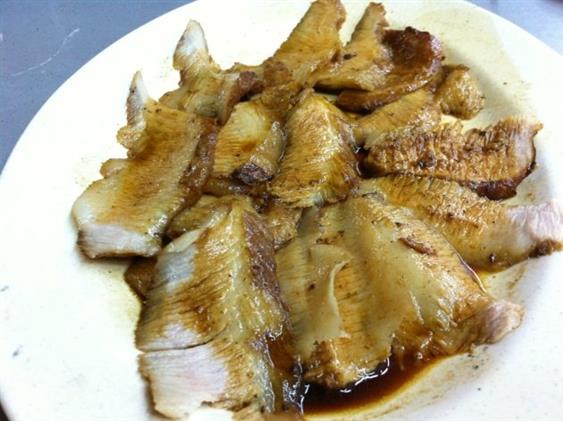 Ting Heng Seafood Restaurant: When It Rains, You Run
By Gregory Leow - Thursday, Jul 19, 2012
There should be a saying that Singaporean foodies will go through all sorts of discomfort for good food: uncomfortable seats, dirty surroundings, hot and humid weather and rain. The case has never been truer than at Ting Heng Seafood Restaurant at Tiong Poh Road.
Opened 12 years ago, the restaurant was allowed use of the spacious pedestrian space outside the restaurant but with no cover, so their outdoor tables and chairs are exposed to the elements.
Still, you will see many of his longtime patrons risk hot and sticky weather and the rain to sit alfresco.
Hong Kong born owner and chef Wat Wing Keung shrugs his shoulders.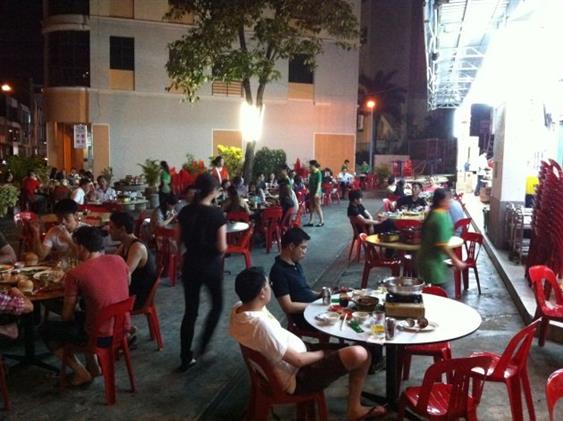 "What to do? Can't be helped. So whenever it starts to drizzle, there is a mad dash for the tables under cover and inside the restaurant. Luckily, it doesn't rain for long periods in Singapore," says the 52 year-old chef, who estimates that 60-70 percent of his tables are under the open sky.
Although unintentional, (since the owners would prefer cover over atmosphere in a heartbeat) it results in a wonderful alfresco dining area where you're under the open Singapore sky framed by the old 1930s Tiong Bahru HDB housing flats. With a modest old tree outfitted with fluorescent neon lights brightening up the wide pedestrian open space of tables and chairs, it is a throwback to alfresco dining in the 1960s.
And the reason why foodies risk the rain here is all due to Wing Keung, who has been a chef for "many years and has been working in many hotels in Hong Kong." (He did not want to elaborate out of gruff shyness). Though the restaurant is popular for its fish head steamboat, it is Chef Wing Keung's specials which are the highlight.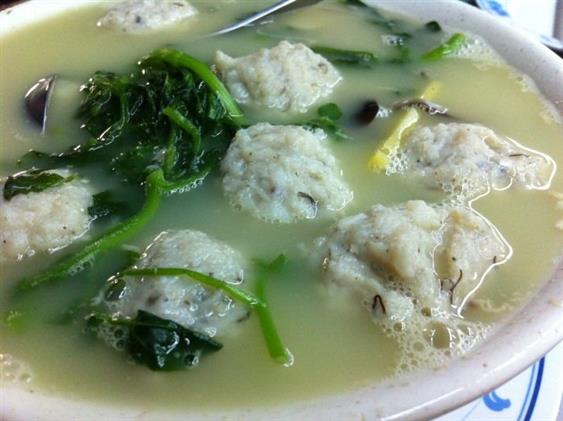 A favourite of regulars is their Minced Fishball Soup ($12). Using leng yu (carp fish), their fish meat mixture is formed into rough balls and served in what they claim is a chicken, pork and fish stock soup. The chef says only fish paste is used but we spotted other ingredients like fat choy (black moss) and we suspect a touch of flour was used to bind the ball. The result is a soft, but meaty ball with a good amount of fish flavour in a cheng (simple tasting) but comfortingly tasty soup.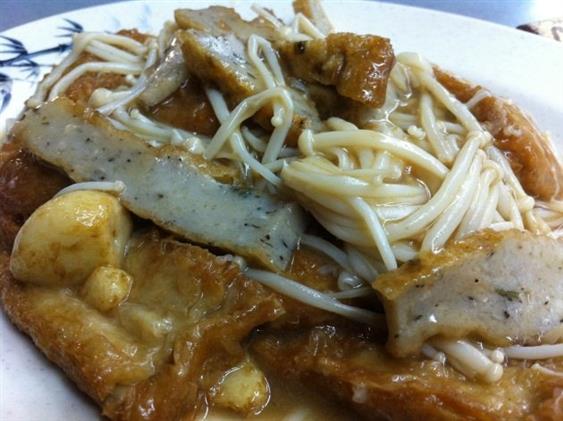 One of their signature dishes, stir-fried Minced Fish Paste With Golden Mushrooms And Beancurd Skin ($12) can be seen at every table. They use enoki (golden) mushrooms and fried fish paste imported from Hong Kong, with a smokier flavour and softer texture. (we suspect it is the same used for the fish ball) But the killer ingredient here is the beancurd skin cake. Imported from Malaysia, layers of beancurd skin are bound together into a cake form and fried to form an unusually soft but layered texture. As it is beancurd skin, it results in a more intense beancurd flavour and the cake form gives you a nice chunky bite of it.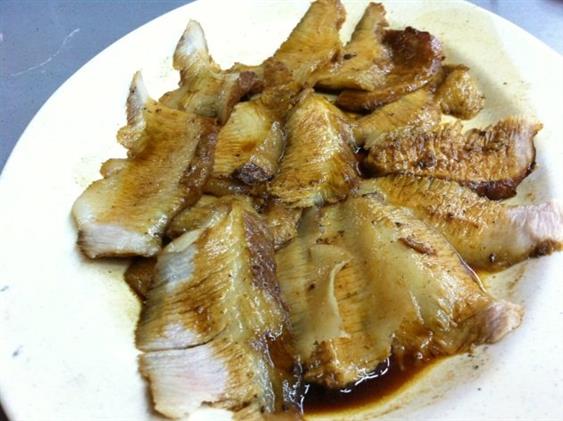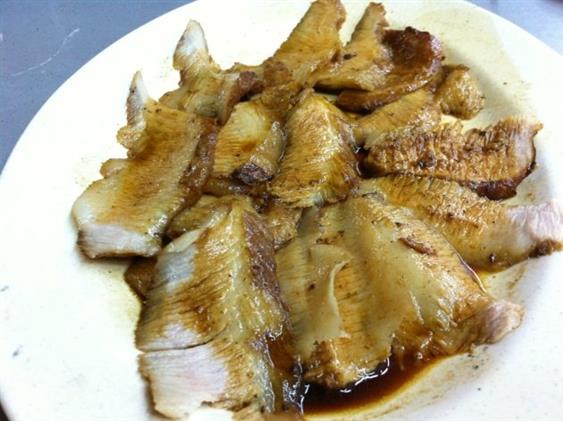 A relatively new dish, according to chef Wat, their Braised Pork Collar ($20) is a serious hit among his diners. Thin slices of pork meat from the neck and upper chest area are boiled, then drenched in a soya sauce concoction. The result is soft, fatty meat which still has some bite to it and a surprisingly light soya sauce that is never too salty. Amazingly addictive with rice.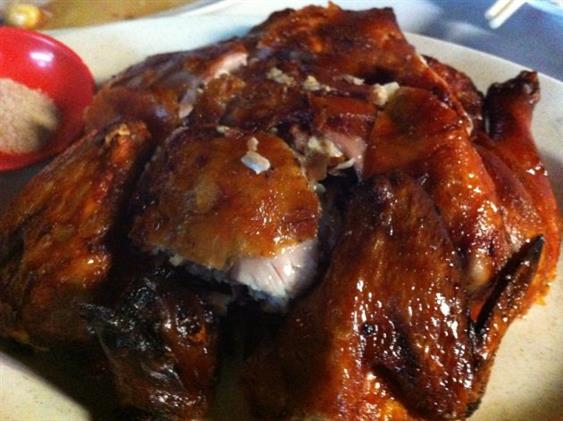 Another popular dish is a puzzler until you actually eat it. Their Famous Roast Spring Chicken ($20) is on almost every table. Bite into it and you are greeted with chicken skin that shatters with a crisp and meat that is so soft that it falls off the bone. Pair it with the usual salt and pepper mixture supplied and the provided fiery sour chilli mixture and you're home. It's simple but who can resist perfectly roasted chicken?
Ting Heng Seafood Restaurant. Blk 82, Tiong Poh Road, #01-03. Open daily from 5pm to 4am.