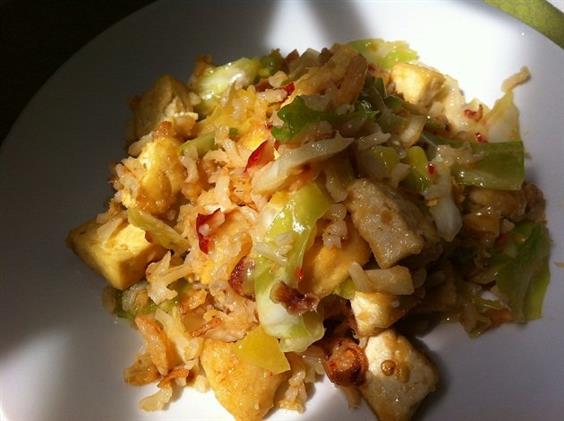 Tired Of The Same Old Flavours In Your Salad? Try Going Burmese
By Gregory Leow - Thursday, Jun 07, 2012
Let's be frank now. If you're a salad fanatic, the range of salad flavours can get a bit boring after a while.
There are creamy dressings like Thousand Island or Caesar salad dressing or the lighter French vinaigrette versions which have oil and vinegar minus the cream.
The other Mediterranean dressings like the popular Italian-style olive oil and balsamic vinegar mixes are basically variations on the French vinaigrette theme with oil and some sour overtones thrown in.
The Japanese Wafu salad and other Asian-style salads with its sesame oil, fish sauce, citrus flavours and soya sauce mix it up a bit with the introduction of sesame and soya overtones.
If you're in Singapore, you're lucky. We have more choices to choose from, like the Indonesian gado gado with its creamy and slightly spicy peanut sauce and our local rojak which introduces hae ko, a sweet prawn paste with a toffee-like consistency.
As for the rest of the world, good luck to you. It must be really boring where you come from.
So basically we have four types:
creamy oily and sour oily and sour with a third dimension (sesame, soya or fish sauce flavours) the Asian version of creamy (peanut sauce) and ok, admittedly, hae ko is pretty far out tasting, so five types.
Unfortunately, all our local salad flavours are heavy and we have nothing remotely close to being a light salad.
This is where the flavours of the northeast region of Southeast Asia, which comprises of Thailand, Vietnam, Laos, Cambodia and Myanmar, comes to the rescue.
Myanmar to the rescue.
They are refreshingly different. Low fat and low carb, light and refreshing, but they are still bursting with strong sweet, salty, sour and chili flavours.
Among the northeast region of Southeast Asian salads, the one not encountered often are Burmese salads.
Called thoke in their native language, the Burmese have such a wide range of salad recipes that salad alone can form its own cookbook. There are 15 main types and to boggle the mind further, each region and ethnic group can have its own version.
Besides raw vegetables, they throw in carbohydrates like rice noodles potato and rice into their salads and they even add in dried foods like dried shrimp or even fried items like fried tau kwa into their salads.
Raw, fried, dried, sweet, sour, salty, chili, oily. A multitude of textures and flavours all in one bite. Its either the Burmese are really sophisticated with their multi-dimensional and sensory taste buds or they don't have long to live, that's why they must cram every flavour and texture into their mouths at once.
More akin to complete meals with proteins, carbohydrates and greens, some of these recipes can contain a whopping 25 to 30 chopped ingredients and are no mean feat to prepare. Preparation for some of these salads can take a few hours.
The one thing that ties these salads together besides sweet, salty, sour and chilli flavours, is the use of onion oil. The Burmese love their onion oil and they use onions a lot in their food, whether raw or fried.
Another practise the Burmese sometimes do, which makes many thoke dishes tedious to prepare, is that they lay out the chopped ingredients onto a platter with the salad dressing on the side. With your personal plate, you pick the ingredients you'd like and pour on however much sauce as you'd like.
With so much variation, the Burmese will argue like feuding Peranakan (Straits Chinese) families as to what goes into a particular salad recipe, so instead of presenting what is authentic, this particular salad is an amalgamation of various Burmese salads, given a slight local touch and presented in a classic salad form which most people would recognise.
Plus, and probably the most important point, it is simple and will only take you only half an hour to prepare.
Burmese Thoke (hand tossed salad) (feeds 2-3 people)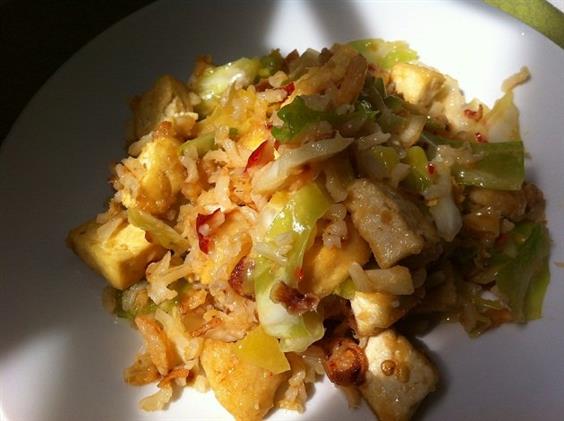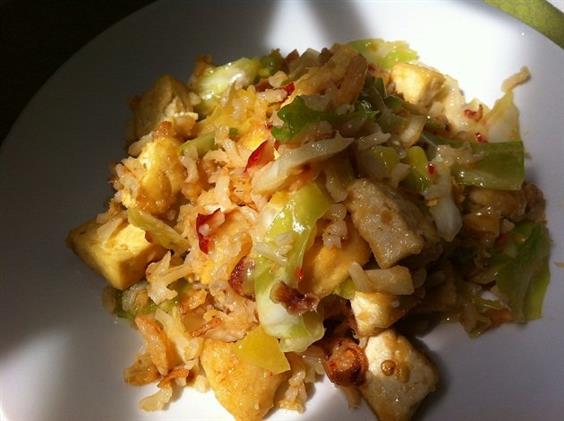 Ingredients 1 tau kwa, cubed and lightly fried 3 fish cakes cubed and fried half cup cooked rice (can be substituted with potatos or rice noodles or all three) 250g raw cabbage (half a small cabbage) 50g rough chopped dried shrimp (lightly toasted) Fried onions (to taste)
Dressing 5 tbsp onion oil 5-7 blended dried chillies 2 tbsp fish sauce 2 tbsp fried onions 20 limes a teaspoon of sugar (optional)
Method Like any salad, place all the fried and raw ingredients into a bowl and mix well with the dressing and serve.
The tastes here are a happy balance of all flavours, with the sweetness reduced, but do adjust the flavours to taste. Some like it saltier, more sour or hotter.
For as fresher taste, substitute limes with lemons and for a more robust version, use tamarind water instead.
Instead of rice, cubed boiled potatoes or blanched rice or yellow noodles can be used instead. Some Burmese salads call for all three carbohydrates to be thrown in!