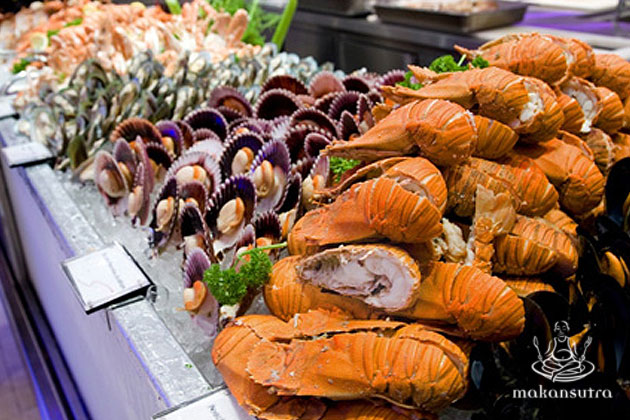 Tis The Season To Be Feasting
By Adeline Ang - Wednesday, Dec 24, 2014
It's that time of the year you've been dieting for; the season of feasting is finally here! Although our tropical island may be devoid of snow, the wide variety of festive food available makes up for (at least a little) the absence of a white Christmas. With different "original" ethnicities (Chinese, Malay , Indian, Nonyas and Eurasians)Christmas feasts can be made special in a rojak kind of way here. So instead of pigging out at the usual international Christmas buffets that we all are, honestly, a little tired of, add a little magical rojak touch to your Christmas feast this year by giving different festive cuisines a go!
Indian Cuisine
Known for its unique North Indian and Western cuisines, D'Bell is a restaurant that traces its roots to Mumbai. Indulge in a festive feast that includes fusion dishes prepared by D'Bell's award winning chef, Satish Madan, a three time award gold winner at Food Hotel Asia's Culinary Compeitition this Christmas. If you're going for the four course Christmas Special Dinner Set, be sure to give the Tandoori Turkey Roulade a try. With turkey breast stuffed with baby spinach, mushroom and marinated with Masala yoghurt before being perfectly roasted in Tandoor, this appetizing fusion dish will have you tossing­ your usual roasted turkey aside in no time. The unique Masala Lamb Chops, marinated with ginger, coriander and Indian spices, are lightly grilled before they are served with olives and cheddar Naan.
But if it just doesn't feel like Christmas without the plain 'ol turkey, fret not, D'Bell has it covered with their Roasted Whole Turkey with Chestnut Stuffing and Honey and Guinness Baked Ham. A full Vegetarian Set Menu option is also thoughtfully set aside so no one will be excluded in the festivity.
Add: 43 North Canal Road S059299, Tel: 6536 4046, Email: reservation@dbell.sg , Operating hours: 11.30am-2.30pm, 6pm-11pm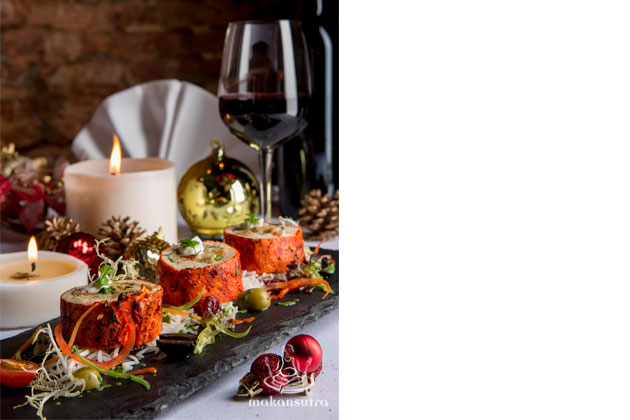 Peranakan Cuisine
For those who can't get enough of the Peranakan cuisine, indulge in Indocafe's Festive A La Carte Buffet this upcoming holidays. At $48.80+ for lunch and $58.80+ for dinner, feast on over 35 signature Peranakan dishes such as Kueh Pie Tee, Ayam Buah Keluak and Assam Laksa. Jiu Hu Eng Chye, the traditional dish consisting of blanched cuttle fish served atop a bed of water spinach with shrip paste that now barely makes an appearance, is also available. If you're looking for something special, do give Tempoyak Asparagus, a dish made up of fermented durian flesh stir-fried with asparagus a go. What's a Peranakan feast without its signature desserts, right? Complete your feast with some Nonya Kueh Kuehs such as Corn Kueh and Kek Lapis or some hand-picked wines to add to your Christmas cheer.
As Indocafe rightly puts it, " Peranakan food is all about communal sharing and Christmas is all about families coming together", so if you're looking for an East meets West kind of Chritmas, Indocafe would be a wise choice.
Add: 35 Scotts Road S228227, Tel: 6733 2656, Email: enquiry@thehouseofindocafe.com , Operating hours: 12pm-3pm, 6pm-10pm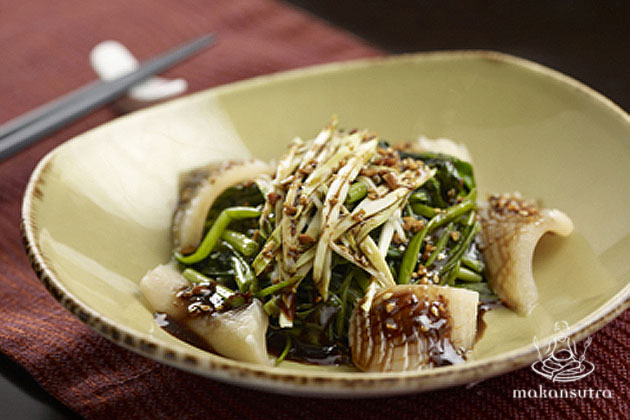 Chinese Cuisine
Christmas is all about togetherness, so if you're looking for food that caters to the young and the old, the Chinese cuisine would usually be the best bet. Located at Orchard Hotel, Hua Ting is known for its various Cantonese delicacies. At a slightly pricy rate of $1188 for a family of ten, get into the Christmas spirit of the Romans by enjoying a a Suckling Pig Stuffed Witth Prawn Paste Topped With Plum Sauce. Taste other delicacies such as Sautéed Fresh Scallops With Seasonal Greens and Stewed Mian Xian With Fresh Crab Meat And Egg before ending your feast with a rich Aavoado Cream And Sago Topped With Vanilla Ice-Cream for desserts.
Address: 442 Orchard Road S238879, Tel: 6739 6666, Email: huating.ohs@milenniumhotels.com , Operating hours: 11am-2.30pm, 6.30pm-10.30pm
If you're looking at a more flexible headcount, Jade Restaurant, located at Fullerton Hotel, would be a good venue to hold your annual gatherings at. At $98 per individual, choose from a variety of dishes such as Pan-Fried Turkey And Chives, Chilled Abalone Marinated With Honey Soya and Braised Duo Noodle With Boston Lobster in Premium Soya before completing your feast with some Mango Sorbet. But be warned that availability is limited and restricted to Christmas evening itself so do make your reservations as soon as possible.
Address: 1 Fullerton Square S049178, Tel: 6877 8188, Email: info@fullertonhotel.com
Halal Cuisine
A good hala buffet is hard to find but with Carousel, you may never need to find another. Plunge into Carousel's extensive menu by first tasting its wide selection of fresh sashimi that includes salmon, yellow-fin tuna, seabass and octopus that the restaurant is reknown for. Get your full rojak Christmas feast experience at Carousel by treating your taste buds to a whole range of cuisnes that include Chinese, Indian, Japanese and Mediterranian. With mouth-watering dishes such as Singapore Chilli Crab With Bun, Fish Tika, Teppanyaki and Pan Seared Red Mullet In Orange Salsa And Lemon Butter Sauce, get ready to be spoilt for choice this Christmas feast. For a Christmas dinner menu as extensive as this, $68+ would be a steal.
Add: 25 Scotts Road S228220, Tel: 6589 7799, Email: carousel@royalplaza.com.sg , Operating hours: 12pm-2pm, 6.30pm-9.30pm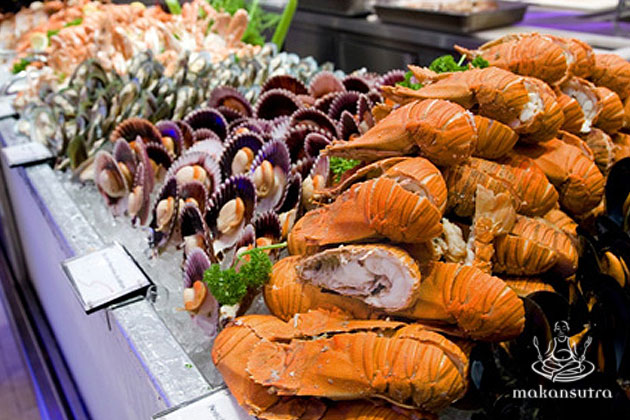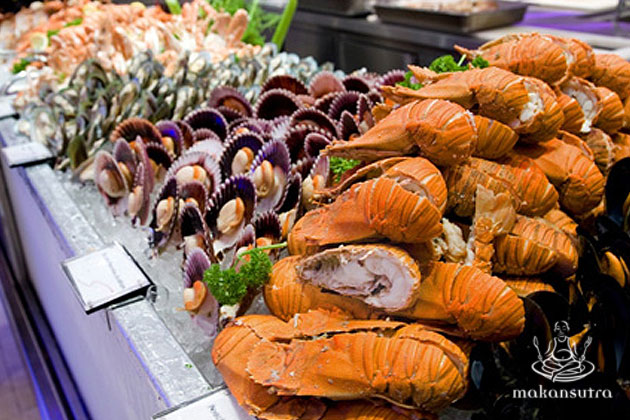 Eurasian Cuisine
Besides its extensive catering menu, the in-house menu offered by Quentin's this festive season is equally impressive. At a minimum of $45 that include 3 starters, 7 mains and 2 desserts, choose from hot favourites such as Chicken Curry Devil and Babi Assam. You can also get in the Christmas atmosphere with Quentin's festive special; Sliced Turkey Breast with Cranberry Sauce. Before you non-chilli fans break any sweat over Quentin's menu reknown for its wide variety of spicy dishes, rest assured that its Christmas menu from 2nd December-4th January 2015 consists of a considerable amount of non-spicy dishes as well.
Add: 139 Ceylon Road S429744, Tel: 6348 0327/8198 1660, Email: ask@quentins.com.sg , Operating hours: 11.30am-2.30pm, 6.30pm-10.30pm
But despite all this food talk, Christmas is still all about togetherness as well. So gather your loved ones and treat them to something special this year; add a little rojak magic to your Christmas dinner and immerse together in this season of feasting!