Top Best Chinese Cuisine: A Vanishing Cze Cha Master
By KF Seetoh - Friday, Apr 27, 2018
I feel I am rehearsing a eulogy for this breed of street food chefs and professionals, with this article. Not any I know, are coming up with such stalls, like those 30 to fifty dish chap chye or scissor cut curry rice stalls, let along this mind blowing menu cze hawker stall. Perhaps a new chicken rice, fish ball noodle, prawn mee or nasi lemak hawker surfaces now and then, but the bulk of our popular food culture (with hundreds of comfort hawker dishes) are left to fade into the sunset. It's a long and sad tale to narrate but meanwhile, I'll share this little gem of an aging master cze cha chef in an obscure little hawker centre.
His stall is nothing to look at- no photos, fancy lights nor counter design. It is merely a – kitchen, with 3 roaring Chinese wok stations and steam/fry sections, decked with plates and bowls all around with chiller worktops. I could tell, first time I saw them, that there's a master chef in the house. The laminated menu card, which is the only thing that tells what they are cooking, lists an amazing 88 full range items (sans desserts) and no wonder. Mr Lee Bok Eng 71, began in the 70s with a decade old stint in Dragon Phoenix under Heavenly King, Mr Hooi Kok Wai and moved onto many other gigs before running this "retirement project" here and his son Vincent helps in the evenings. I tore into his dishes and many stood out.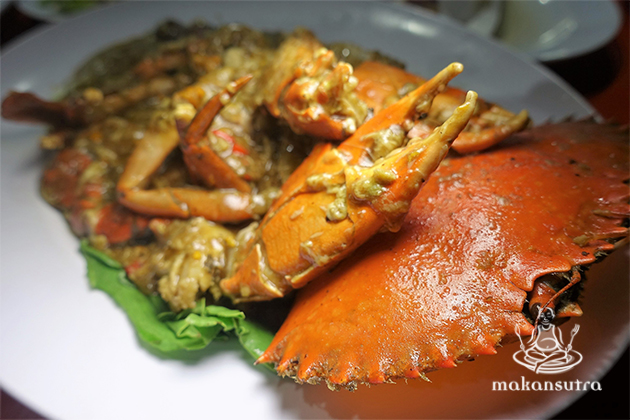 The Soy Sauce Crabs (seasonal price)– done with an egg drop sauce, was refreshing and great for the spice fearing seafood fan. The sweetness of the fresh crab shone through the egg thickened, soy-umami sauce. "You have to get a good soy sauce and fry it up to extract maximum flavour before you even begin cooking the dish" Mr Lee enlightens me.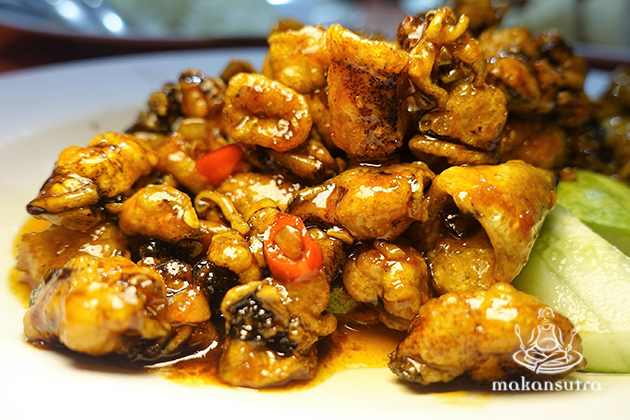 Their Crispy Baby Squid (from $10) came as per usual, slightly sweet, crispy and spicy but the extra lift came from the limes he squeezed over- it contained the heaviness of this deep fried dish. Difficult to stop nibbling this one.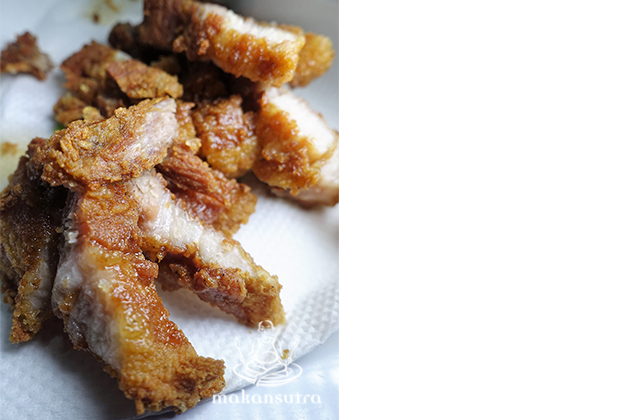 The classic Nam Yue Pork ($8) was faultless- not too heavy on the fermented yam, very well battered and soft, pork shoulder cuts were used. Very comforting to a Cantonese son like me.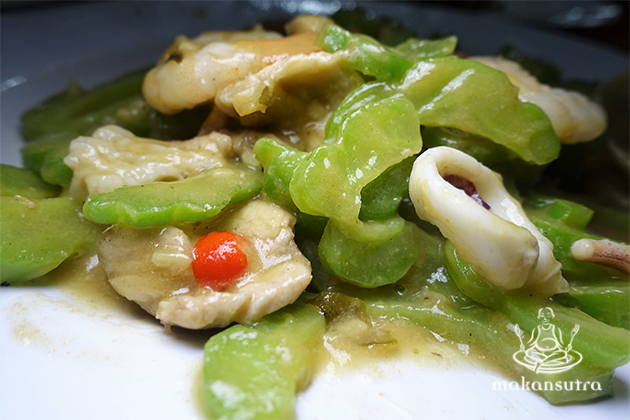 The one that I was looking forward too was the Salted Egg Yolk Bitter Melon (from $10) with seafood. Instead of crushing the salted egg and frying it up, they turn the yolk into a sauce and it was not salty- just very creamy with the seafood and slices of the bitter greens. At meals end, he was surprised I did not order the food old Fried Rice ($4). I noticed they use a good grade of jasmine grains and the art was in the oil and fire control. The rice came lose and fluffy and was not too oily. The wok heat was evident in the dish.
If you think continuing this food legacy is your calling, go work, apprentice and learn it on your own. No schools can properly teach you all there is to know about his rich food heritage of ours today.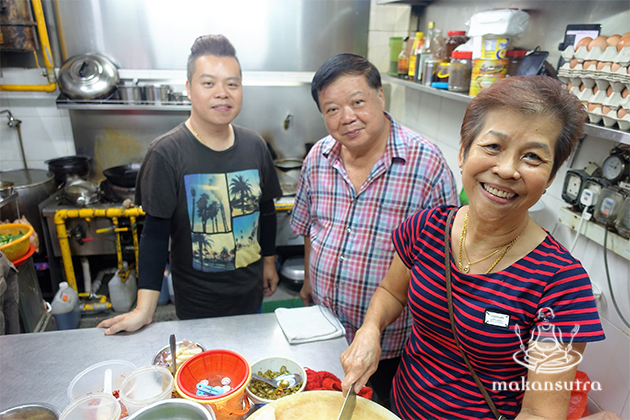 Top Best Chinese Cuisine
Blk 36, Telok Blangah Rise Hawker Centre
#01-41.
Tel: 90695505/ 91017451
12pm-10pm Weekdays
3pm-10pm weekends, irregular days off