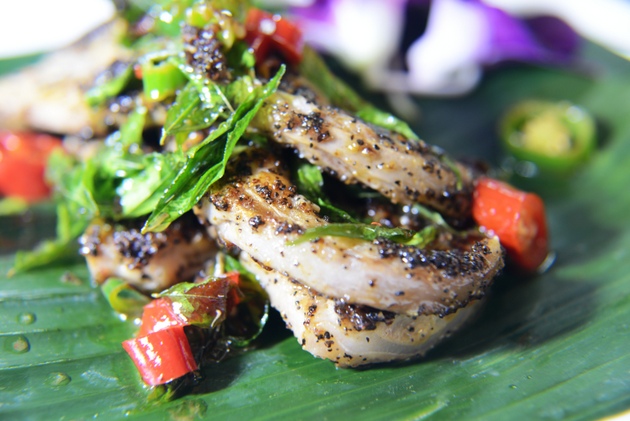 Top Chef's Top Choices
By KF Seetoh - Monday, Nov 04, 2013
He asked to meet up three years back as he was a big fan of Singapore makan. In short, he wanted a chat and a whirlwind makan tour around my favourite makan corners here. But the real reason was: that Claus Meyer (the owner of three time world's Best Restaurant Award) was looking to set up Nam Nam restaurant and wanted some advice and ideas. This chef, celebrity and famous restaurateur in Copenhagen, Denmark wanted to add another stripe to his collection of eateries there – this time, a Singapore Nonya style restaurant.
He was in town earlier in the week to conduct interviews and tests for a new head chef in Nam Nam. He enlisted my help to check the applicants and in between testing curry mee and sambal sotong, I asked what street dishes he best remembered in his many trips here.
1) Chey Sua Carrot Cake, Blk 127, Toa Payoh Lor 1, #02-30, Hours: 6am-1pm (Closed on Mondays)
This little corner stall in Toa Payoh fries the white pancake version and is a regular feature at Singapore Day events in New York, London and Sydney. "I like how it's crispy yet soft inside and so easy to like and that so many local residents adore their food."
2) JB Ah Meng, 2, Lor 23 Geylang, Hours: 5.30pm-3.330am (Closed on Chinese New Year)
Claus loves the Sum Lao crispy flat beehoon here. Boss Ah Meng fries it flat and sears the beehoon on a wok, leaving it roasty outside and tucks bits of meat and vegetables inside. It comes looking like a noodle pancake.
3) Sin Huat, Junction of Lor 35 and Geylang Road, Hours: 6.30pm-12.30am
This coffeeshop seafood cze is his all-time favourite. He swears by their giant Sri Lanka crab beehoon done with a secret and intense stock, and the black pepper crayfish. All the items are "live" and reared in water tanks.
4) KEK (Keng Eng Kee), Blk 124 Bkt Merah Lane 1, 01-136, Hours: 11.30am-1.45pm/5pm-10.45pm
It was the salted egg yolk prawns that did Claus in here. He recalls how "they use milk to bind the salted yolk and made it cling to the fried prawns."
Who will head up Copenhagen's Nam Nam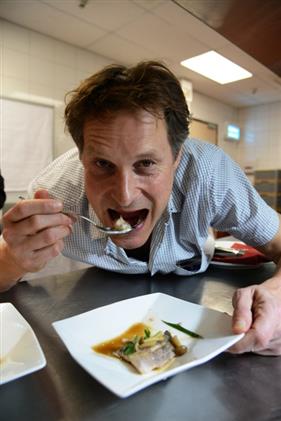 It can be considered a dream job, with many implications on our makan reputation, in so many ways. Firstly, the kiasu concerns of pay and cost of living, is quite well taken care of. It starts from U$6000 and all medical and education cost , through taxes, are paid by the government there. This position will be watched by many people here and around the world as some sort of a benchmark of international Singapore food standards. It will also inspire a new breed of culinary students and warriors to come on board and uphold the future of our makan heritage.
Quite a long list of qualified applicants were shortlisted for the Nam Nam restaurant head chef job in Copenhagen. About 10 finalists were shortlisted for the cooking test at the Culinary Institute of America at their Temasek Polytechnic premises. Their Managing Director, Ms Eve Felder and myself assisted Claus in the auditions. I asked if they could be tested on various techniques like sambal and saucing skills, kitchen mastery of steaming, stir frying, deep frying and approaches to making curries.
They had a choice of making dishes like fried Hokkien mee, bbq, roast of baked sambal seafood, deep fried item and a curry or laksa noodle. Some were hits and some, misses. We realised that it was important to consider the real reasons why they wanted to uproot and be based overseas and if it would affect them socially and mentally as most have families. The bulk of the applicants were Singaporeans and there were some Malaysians who bussed in for the gig, knowing full well that the job can turn their fortunes around.
An "in-between jobs" chef Robinson D'Cotta, with over 20 years of experience, came up with one of the best sambal stingray I've had. He grilled, instead of pan seared it, and the resulting roastiness and soft char at the edges showed up well. His sambal was well spiked with spices and chillies which he had to "soak a few times to tame and control the heat" to balance the sambal. His bbq sotong was stuff with laksa rempah for oomph.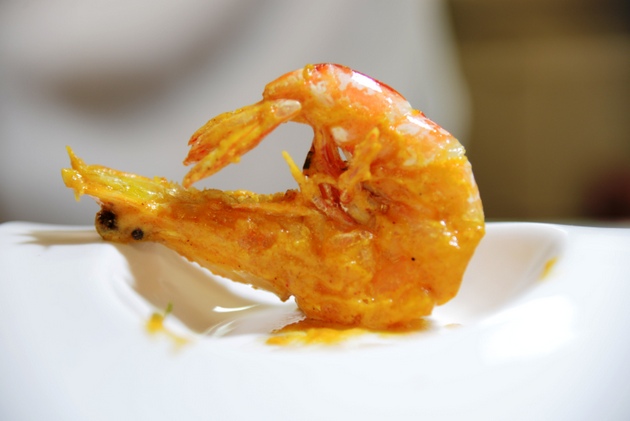 Another chef, whom I should not name as he is still under employment, whipped up a steamed sea bass with spicy plum sauce. "I left the inside a little pink and soft as this is how Cantonese cze cha chefs like it done. I kept it authentic," this former hawker told us. Lionel Chee, who currently owns and runs Eurasian/Nonya restaurant Casa Bom Vento, created a deep fried coconut prawns dish with a sour mango chincalok dip. Wonderfully different yet so familiar in flavours. He will let his partners run the Joo Chiat eatery should he be selected for the job.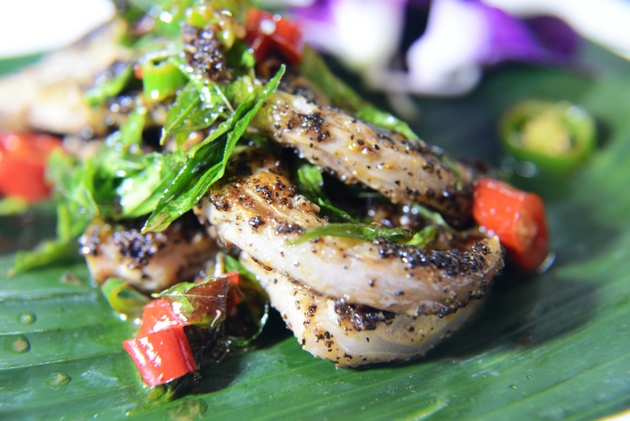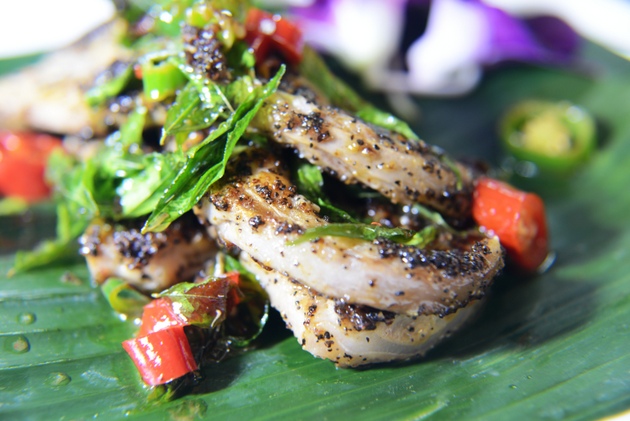 Some reasons why they wanted this Nam Nam gig in their portfolio included "the need to showcase this fast fading food culture of ours to the world so we can revive it.' and, "I feel there could be a more appreciative audience overseas of our food. I will cook stuff that had disappeared from our local menus" , plus a " I need to move onto a slower pace for both myself and my children."
We will announce the winning candidate soon and I wish them all good luck and I will be watching their progress too.