Top Culinary Grads As World Class Hawkers Next?
By KF Seetoh - Friday, Apr 12, 2013
Suppose you like your stewed ter ka soft, lovingly infused with a light herbal stock braised over long hours on low fire, with an equally soft, wobbly shiny skin and a little layer (or not) of fat. You need only to dunk a chunk of that into dark soy sauce with red cut chilli and…wah, suddenly for a while, the still sky high COE prices or ridiculously crowded peak hour MRT trains didn't seem so painful.
But what if someone came about and decoded, deconstructed and reconstructed the approach, and we are not talking molecular gastronomy anomalies. Perhaps he took that front trotter, a little leaner, chopped it, sealed it in an air tight bag , marinated with a splash of good dark soy, five spice herbs and some salt etc…, then, he sous vide (sealed pack and simmered in low heat) them for a day in 65 degree water and just let the marinade consume the meat and gently heat reduce it to a fork-tender piece of Sunday morning breakfast wonder, eaten with yu tiao (dough cruellers). None of the meat's flavour was lost to the stew which was separately done with bones and spices. It will stop you in your tracks for a while and make you look up in wonder.
It may happen – if this current cohort of culinary students in our midst assume the role of new soldiers that defend our culinary heritage. Or anyone interested for that matter.
We are in the midst of presenting the comfort food culture story and its attendant opportunities of skills, entrepreneurship and jobs to culinary schools as part of the build up to our World Street Food Congress in June. We need their buy-in. Many of them are armed with an arsenal of Asian and Western kitchen skills that are just waiting to be unleashed into our makan society. We spoke to students at ITE (institute of Technical Education) and CIA (Culinary Institute of America) and the interest ranks high. Some spoke of monetary opportunities – check. Some on street food skills acquisition – check. Entrepreneurial opportunities – check. All those possibilities and more, are up for grabs in this largely untapped big green field in the world of street food industry.
One student, who had heard a lot about how many trained chefs and cooks, are ditching their crème brulee skills aside and embracing their own Asian or local culinary heritage, asked "but how do I get into this line, I really want to apply all that I've learnt to our local cuisines." Another lamented "I want to but paiseh (shy) to ask the hawker if I can intern at their stall." I had to reassure them to just tell me what they want to learn and I'll put them through to good hawkers that are a bit more generous in the teaching department. And we will make it happen. After all, many hawkers and chefs have manpower needs and these basic-skilled students are a gem in their kitchens, plus they need to hand over quite a bit of operation skills in order to deliver consistency to their customers.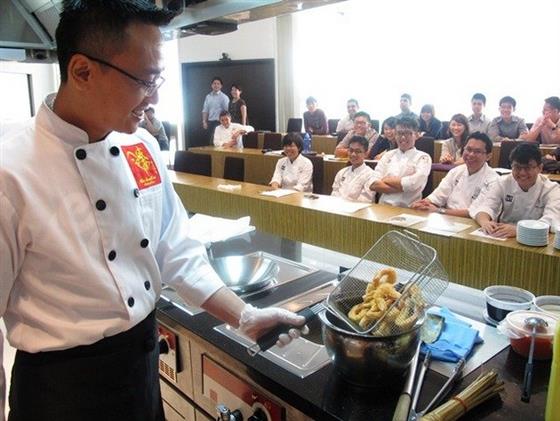 Another student from the CIA, told me after our show and tell, "I now know this is a big opportunity for us. I can actually be a hawker or street food chain owner with international outlets or work in top Michelin star restaurants to power their Asian menu." A Taiwanese student came up and asked "what about Hakka food in Taiwan" (they make up a big slice of the Taiwan culinary scene and heritage), to which I replied "Just do it and make things happen", quoting from taglines of sport shoes and home appliance brands. Both Ms Eve Felder (MD at CIA) and Ms Denise Tan (Director, School of Hospitality , ITE College West) agree that skilling the students with Asian heritage food skills and creating new opportunities for them, is the right way ahead in this age.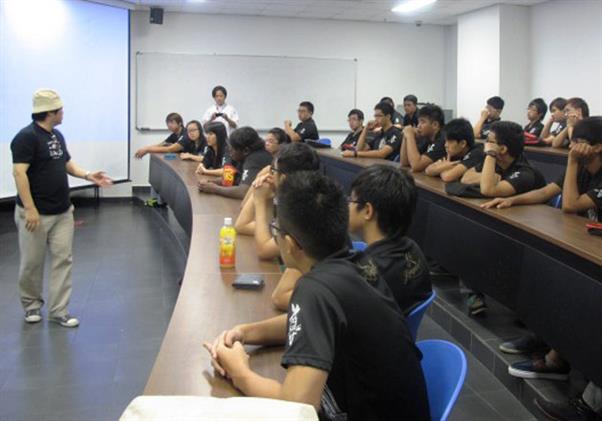 Now, some of them may just be entrepreneurial and offer you a glass of chardonnay with that ter ka at a hawker centre or kopitiam, one fine day. It is not so far fetched as you think, there are already kopitiams masquerading as street food gastrobars around. Ever seen Ah Peks tear into meats and stews with a crate of beer beside them at hawker centres? Wines and shojus could be next for a newer generation.
I look forward to visiting and hearing students out from even more schools like the grand dame of makan institutes here – Shatec – and the other locally based At-Sunrice Global Chef Academy.