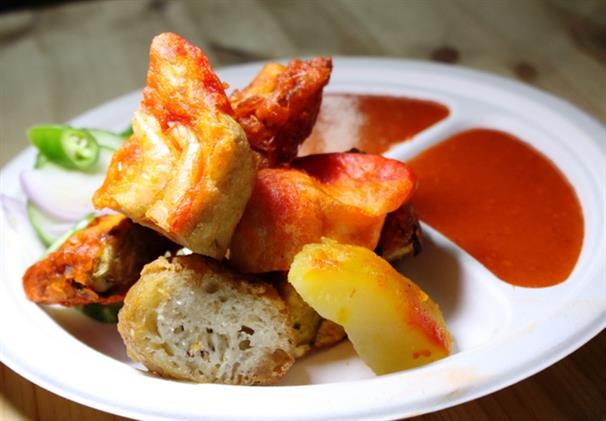 True Singapore Food Moments
By KF Seetoh - Monday, Aug 12, 2013
It's not just about the food that warms the cockles of our hearts, or that comfort us as Singaporeans. This is what I mean – imagine having chicken rice on a custom made Waterford Wedgewood crystal plate with compartments for the ginger, chilli and thick soy sauce. The chicken is boneless, and so as to keep an appealing colour, breast meat is used. The idea is right but all the touch-points are wrong. It just doesn't feel right. The plate is too shiny, as is the cutlery, it's too well plated and just does not cajole the Singapore makan spirit in us to come out and party.
My idea of a comforting Singapore food moment is when I am served true blue, made in this little red dot kid of authentic chow. Yes, we do have them and you probably had a plate or bowl of it for lunch recently, or perhaps planning to have one later today. That plate of chicken rice, if not served in simple porcelain or polished melamine plate, won't cut it for me. The rice is served by inverting a bowl of rice over, pressed gently on with a slab of juicy shiny poached chicken (and I love the upper thigh cut) with some skin intact. A few slices of cucumbers are placed on the side and a little sauce plate is loaded with the signature tangy garlic chilli sauce. Another plate of thick dark soy sauce is used, the kind that won't spill when you invert the bottle. The rice, is dry yet has just enough moisture, and is redolent of chicken stock, ginger, hints of pandan leaves and garlic. It must not be lumpy and should come loose and warm. Some start with dipping a little chunk of the juicy fowl into the chilli to gear the mind for what exactly is in store, some tear into to rice, for they feel it's what makes or break the joy quotient. You take all that in, literally unconsciously, while talking about COVs with your mate at lunch.
But you probably know all that already. You are a Singaporean who knows this land and her culinary heritage. You are a child of this land and you own this place, and celebrate her unique flavours – like these following few true blue makan citizens of this land…
Give these dishes a Singapore passport
If these dishes were to be caricaturised, in some animated food cartoon show, they should be singing "We are Singapore, we are Singapore, we shall stand together, see the line lor", as a long line of customers bark orders at the hawkers and cooks making them. Then, Katong laksa, satay bee hoon, bak chor mee, roti john and gang, in one chorus line, high kicks to the left, right, left and smile, bow and exit stage left. An immigration officer from the Food Ministry will happily give them a makan passport that says "proud citizen of Singapore" as they step out to please the thousands of "anak Singapura" or sons of this land.
The following are just some dishes that are more Singaporean than many here who carry that red passport. They bring people together, give them pleasure, reminds them of home, has an identity, does not complain and to those who know how to master them – make them a lot of money too.
Spend this week trawling the island for your favourite rendition of these dishes. Go online and then to far flung corners of Singapore for it and rediscover your home and her taste. May you have more glorious years, Singapore.
1/ Satay Beehoon – to the locals, it's a Teochew dish, but this version is totally alien in Chaozhou in China, home of our Teochew immigrants. They adapted the Indonesian satay sauce, blessed it with seafood stock and five spice powder, blends it into a smooth sweet, savoury, spicy and nutty sauce and slathers it over bee hoon with slices of pork, shrimps, cockles, cuttlefish and kangkong vegetables.
2/ Bak Chor Mee – again, it's the imaginative migrant Teochews that came up with this "must eat each time I come home from a trip overseas" dish. It's almost impossible to get this , or a decent version of this overseas. They once looked at and tasted sambal, and decided to add a spoon of lard, soy sauce and a handsome dash of black vinegar with the mee pok or mee kia. Some sliced meat, mushrooms, minced meat and meat balls are laid over and voila… a true blue red IC makan citizen was born here decades ago.
3/ Roti John – it was Pak Shukor, while attending to the flood of expatriates staying at Bukit Timah and Cluny Road, at his now defunct Botanic Garden hawker centre, that inspired this egg sandwich. He needed to please them with something familiar to their palate, so onions was mixed with eggs and some minced beef or lamb, poured over half a loaf of roti peranci (French loaf) and pan seared. A rempah accented bbq sauce accompanies it. Today, there are versions done with cheese and mayonnaise, among other styles.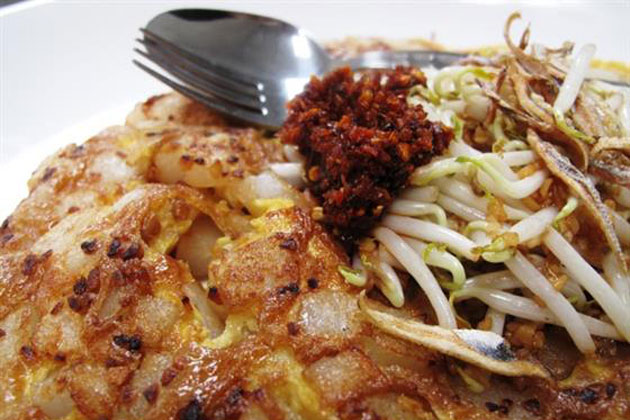 4/ Chye Tow Kueh – (white fried carrot cake pancake style) – it's not a version you will find in any city that has Teochew ancestral lineage, where fried carrot cake originated. This born in Singapore version is done sans the ubiquitous sweet sauce and they fry it with a dash of pizzaz. The steamed and chopped radish or daikon cakes are fried till soft with pickled radish and garlic, then allowed to sizzle and sear in pancake form, with some eggs poured over. Fish sauce and white pepper flavours it. It comes in crispy chunks that are soft inside and very eggy. Just add sambal and a Singapore flag.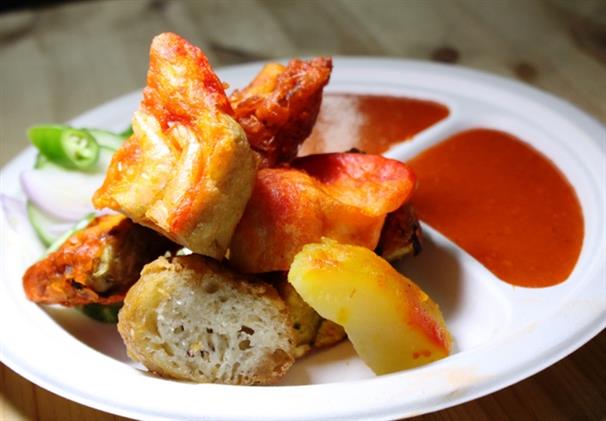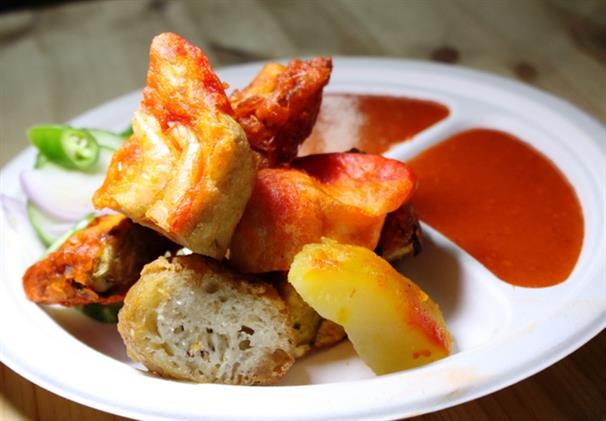 5/ Indian Rojak– When I asked an 80 year old Indian rojak master whom I once ago patronised as a kid at the then Waterloo Street sarabat stalls, he said "Maidin created this dish." He made fritters with tempeh, tofu, prawns, coconut, fish cakes, eggs etc… And created a killer sweet potato, fruit puree and chilli sauce. He knew the majority Chinese folks would love them too.Absolutely a treat for those on diet parole.