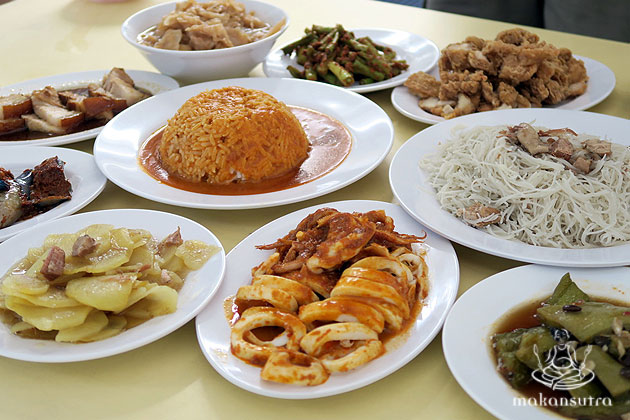 Truly Curry Rice: Truly a Labour of Love
By Catherine Ling - Thursday, May 07, 2015
These days we worry about our hawker heritage disappearing with fewer people taking up the baton. The few youngsters who start a stall so often quit, sometimes within a few months, when the going gets tough. All of us want to eat, but few of us are willing to serve.
Then we hear of Joel Chia, 29, and Deniece Tan, 25, who are still toiling after two years at their Truly Curry Rice stall at 79 Telok Blangah Drive #01-29. They didn't have to do this; both were graduates with well-paying jobs in forex trading. But they saw an opportunity to follow their dreams when Deniece's father was retiring and had no one to take over his Hainanese curry rice stall.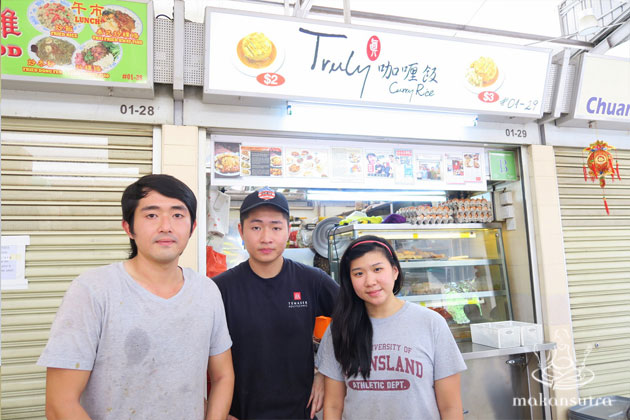 It's very much homestyle fare at Truly Curry Rice. The spread includes about 17 rotating dishes such as crispy breaded pork chop, sambal eggplant, chap chye, sambal squid, bittergourd with black beans, braised pork belly, and a very savoury concoction of sliced potatoes with pork. The signature curry rice is generously doused with not one but two curries – a robust chicken one topped by tangy assam.
"We cook the way we would like to eat at home – using minimal oil, healthy oil, and very little msg," says Deniece.
They wake up daily at 1am to prepare food. Breakfast fare is all ready by 6am, and they carry on through lunch. The day ends at 5 or 6pm with plenty of washing up. Joel still goes for a 6km run at night, citing fitness as critical. They only get 3-4 hours sleep a day.
For Joel, it's passion and pride. He jumps out of bed each morning, eager to get started (now don't we all want work that inspires us like that?). He does most of the cooking and together with Deniece has fine-tuned her father's recipes, and included some from his mother.
"When I was stationed in Hong Kong for three years, I really missed Singapore food. I think our food is special; it's different even from Malaysia's food. I also grew up eating Tiong Bahru's Hainanese curry rice. So I've always felt there was a good business and nostalgic sense to preserving our culinary heritage.
"The money is not as comparable, but it's important to do what you love and are passionate about. It's more meaningful, and we believe eventually the money part will work itself out," says Joel.
"In fact, being a hawker is the best place to start. The hawker centre is a cherry picked location; rentals are comfortable, locations are convenient and there's plenty of parking lots,"
Joel also strongly believes in the social function of hawker food. "Everyone has a right to cheap and good food." The rich have plenty of options, but the poor often rely on hawker fare to get by. Truly Curry Rice keeps prices low and portions hearty, so that even blue collar workers can enjoy a good meal.
"To see the happiness on an auntie's face as she buys a breakfast of stewed pork beehoon at just S$1…" Joel describes the satisfaction of seeing the joy that his food enables.
However, it isn't without challenges. For example, the tiny stall doesn't allow them to cook many dishes at one go. So they have to cook dishes sequentially, thus using time to make up for the lack of space. Everything is done from scratch, from the curry spices to the sambal.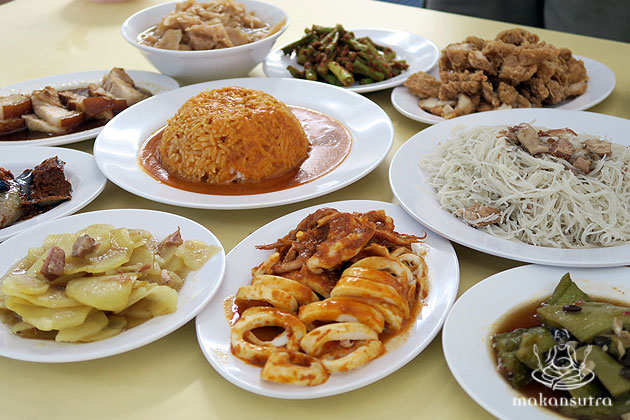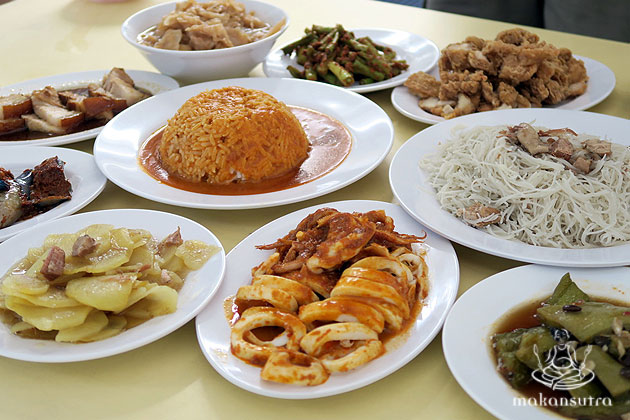 "The daily grind is painful," Joel admits. "It is easy to give up. But the harder it gets, the more we enjoy it!"
Fortunately their families are very supportive. They remain unfazed by any stigma attached to being hawkers, and their lifestyle choices have become more austere but there is that unmistakable joy in their determination. It truly takes a certain breed to succeed at being a hawker.
TRULY CURRY RICE
79 Telok Blangah Drive #01-29
Singapore 100079
Open daily 6am to 3pm