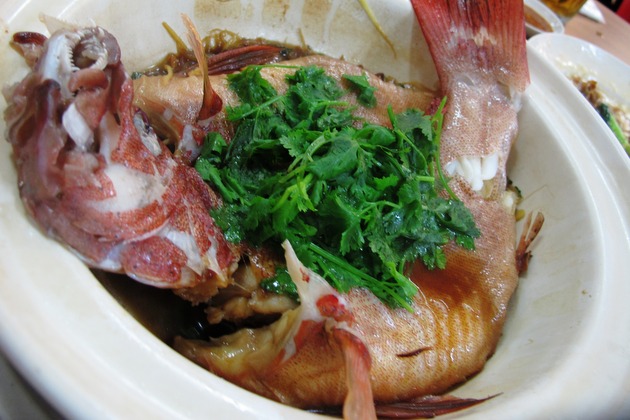 Two Chefs, More Dishes
By KF Seetoh - Monday, Oct 14, 2013
The idea of a family meal here for the majority average class is out at the "family" cze cha (cook-and-fry) hawker or kopitiam stalls. They are ubiquitous, convenient, relatively fast and usually of a high standard and good value for money. Typically, a family meal for four to five can congregate at such places over champagne pork, roast chicken, sambal prawns, steamed fish, hot plate tofu with seafood, greens and soup.
The fact that they cater to the masses, and are found at many corners in this island, also equal another very dynamic reality – they have to be very competitive and responsive to trends and expectations. This is the most unforgiving sector of our street food culture. Take mum or dad along for such meals and if there's only a hint of disdain of the food from them, it's bye-bye to this family as regulars, and their friends too. All their self-proclaimed signature dishes have to be spot on and the specials must make foodies want to specially go there for it. Unlike the one or two dish hawker stall specialist, who can tweak the recipe on the fly and get immediate responses, the cze cha meal is a bigger meal ticket hence, the eagle eye and sharp nose yardsticks of measure used.
Customers of such cze cha places typically eat there out of habit, and while very often they tear into the same comforting dishes, they want to be tempted with new stuff – to ease the boredom and familiarity. So the fittest survive and oh my, are they imaginative. Over the decades we've seen the humble steamed ginger and bbq crabs evolved to chilli, pepper, butter milk, fried and soup beehoon, steamed with glutinous rice and even tossed in salted egg yolk and curry. Chicken has been turned and tossed inside out to yield renditions like – fried in marmite sauce, poached sliced and wrapped in lettuce with ginger sauce, stewed in red wine lees, deep fried and tossed in savoury spicy fruity marmalade .
This evolution will always be a work in progress, so as long as we continue this affinity we have for makan.
Cze Char Updated
When I first checked out and wrote about Ipoh born childhood pals Lee Kao Shung and Lam Chan Wah about six years back, they were operating in a humble little old HDB corner kopitiam outlet in Commonwealth. Their Two Chef Eating Place at Commonwealth Crescent had a very charming zinc rooftop where the majority of diners sat under. I could not get by without their signatures there – the Golden Mushroom Tofu, Honey Glazed Chicken with garlic chips, Milk Pork Ribs and Nonya Assam Fish Head Curry.
These two chefs, who have made Singapore their home for over 20 years, have come a long way since toiling at famous restaurants, learning the ropes and experiencing their first venture at that Commonwealth outlet. "People still come back for the same dishes that you and other media recommended. It's that same old stuff and it's hard to move out of that creative space," Ah Wah laments to me. "We want to try new stuff but not many one dare to order as they are not prepared to be guinea pigs," he adds. But business was good, as is their food. On most nights, and especially on weekends, you'll probably have to take number for your seat. So, to allay those two problems of seats and creative license, they opened up another outlet two years back off Upper Thomson, to reach a new crowd and tempt new taste buds. There are new creations I've never seen in cze cha menus before.
Only after three separate sessions at this second outlet did I manage to get an idea of just how many new stuff they came up with. First up, the Kung Fu Pork Ribs – which looks and tastes like the usual but above average caramelised soy and wine ribs, and tastes much like champagne pork. But it was the accompanying onion salad that did me in. The slices came lifted with lime which brought out the crunchy sweetness. But, they also introduced tiny speckles of rojak flowers (torch blue ginger flower) and the mouth woke up with delight. I love their XO Claypot Garoupa – the whole fish with lightly spices soy sauce, ginger and coriander is baked in claypot. Just before serving, a quarter cup of chinese wine is released through the edge of the closed lid, right before you. The heady aroma released as the wine fused with the fish and sauce was captivating. Note: ensure that the fish is unforgivingly fresh before you order, or it can mar the whole experience.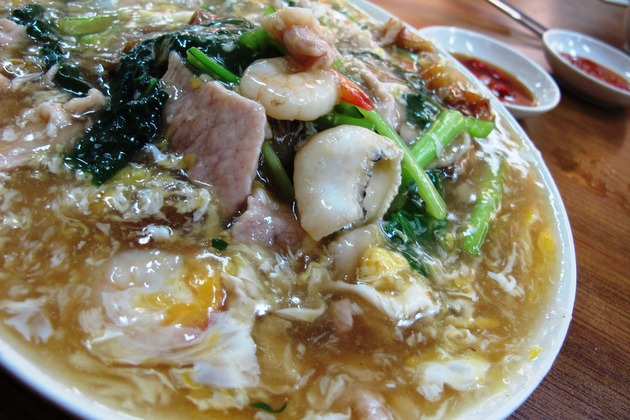 There are not many places that do a good Wat Tan Hor (eggy smooth hor fun). Theirs came out as good as it should be. The seafood egg sauce was thick, rich and smooth. Below was a bed of high heat wok seared hor fun, albeit done with a splash of soy sauce, a short cut trick many chefs employ today. But it did not matter much here as the flavour was spot on. Ask for more eggs for a richer experience. If you are just peckish and need beer food, order also their salted egg prawns and the honey glazed chicken, kick back, enjoy and stare out into the open sky this elevated kopitiam faces.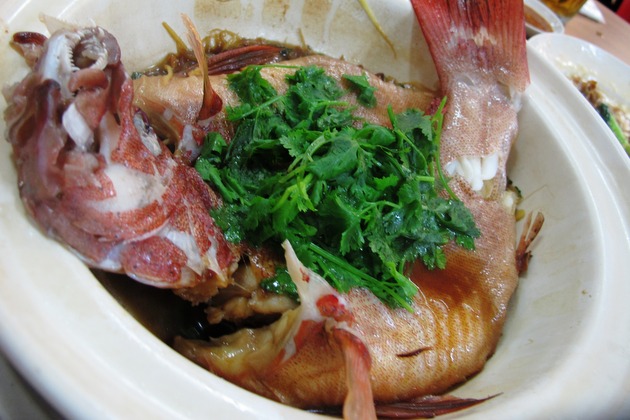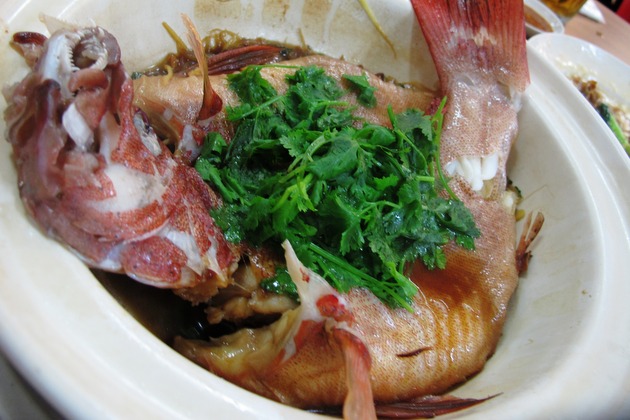 And oh yes, seats are aplenty at this place, for now at least. Another tip – go on Mondays to Thursdays as the two main chefs are usually on duty there, but they split up duties too.
Two Chefs Eating Place
Blk 409, Sin Ming Ave, #02-01
11am-10.30pm daily
Tel: 6451 3821