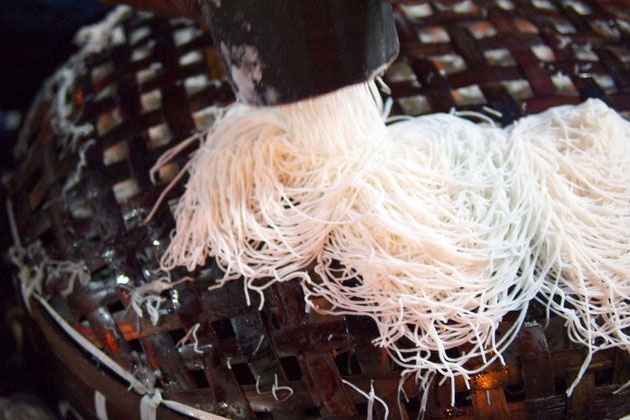 Up North for Putu Mayam
By Lee Khang Yi - Tuesday, Aug 20, 2013
To the uninitiated, putu mayam with its fine white strands looks more like bee hoon or rice vermicelli shaped into a pancake-like patty. Once you get your stomach filled with this south Indian delicacy, you may think otherwise. Eaten piping hot, the strands have a soft fluffy-like texture that pairs well with freshly grated coconut sprinkled with brown sugar. It is simple fare, usually eaten for a light breakfast or even to stave off hunger pangs at teatime. The Sri Lankans call it string-hoppers and prefer pairing it with sothi, a light coconut milk curry tinged yellow with turmeric.
In Malaysia, most cooks shy away from making it at home since it is tedious and often back breaking. It is made from rice flour, water and salt, kneaded to form smooth white dough. The dough is filled into a wooden press with holes on the end. Using extreme force, it is pressed down for the thin strands to form. The putu mayam is placed on greased rattan trays and steamed. A healthier variety using ragi or red millet flour with a coarser texture is also available.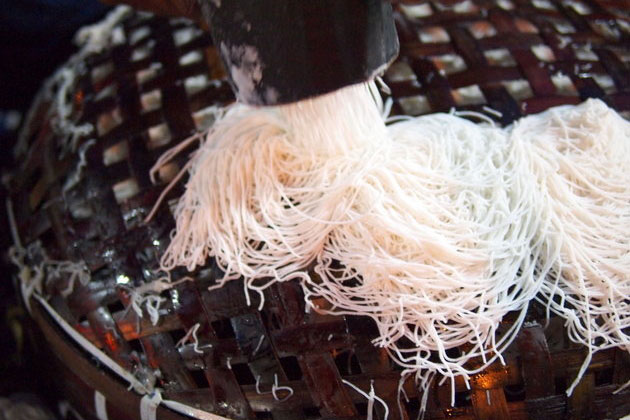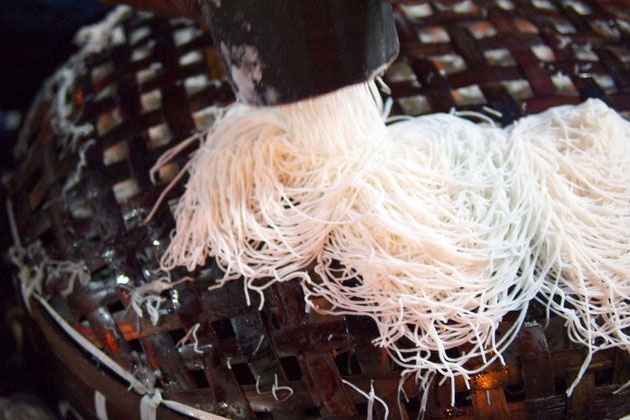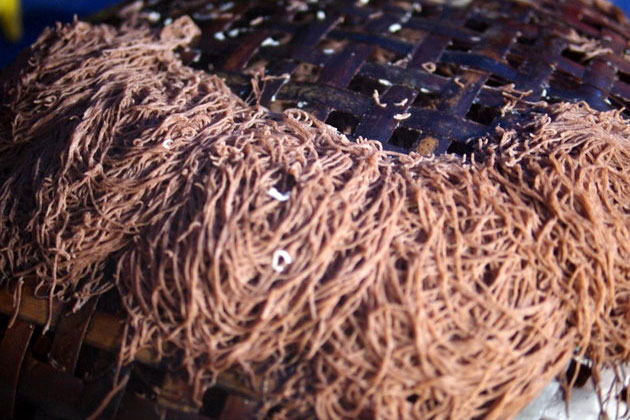 During the afternoon, traders on a bicycle or motorbike sell the snack door by door. Regulars know it is time for the snack, as they hear the distinctive horn or spot the distinct aluminium boxes emblazoned with the words putu mayam.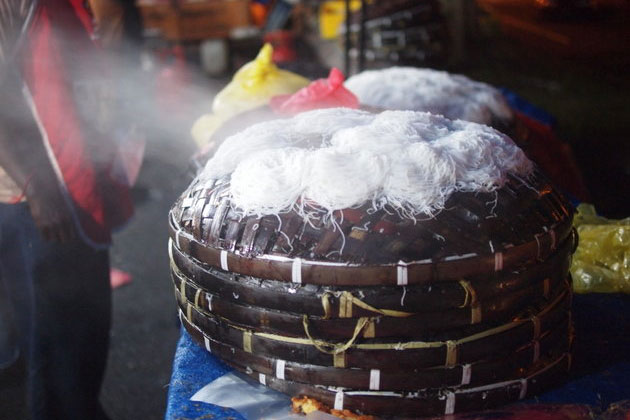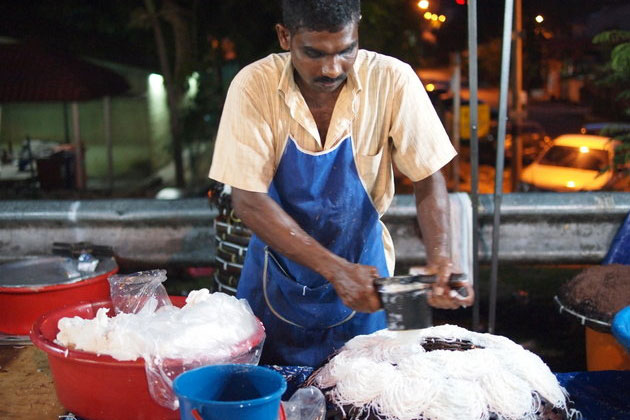 Up north in Penang, it is known as putu mayong. The Indian Muslims enjoy it with curry for breakfast to celebrate the first day of Hari Raya. One traditional preparation unique to the Penang Indian Muslims is Briyani Putu Mayong where the putu mayong is steamed with briyani spices and meat. The aromatic dish is usually served with dalca (vegetable curry usually pairs with briyani). You can only get this delicacy during the month of Ramadan at Penang's Queen Street Ramadan Bazaar.
If you are visiting Petaling Jaya or its surrounding, check out James Matrix (23 Jalan Puteri 7/11, Bandar Puteri Puchong, Selangor, Tel:+6 016-2507400). This night market or pasar malam trader sells freshly made putu mayam for 60 Malaysian sen (about 25 Singapore cents) on the spot. It also sells the brown ragi version for 70 sen. The family business started in 1970 with humble beginnings from bicycle and now, to a food truck. The stall also sells all kinds of Indian snacks such as vadai, kolkatai, kesari, curry puffs prepped on the spot. Find them at Jalan Air Panas, Setapak on Monday; SS3/29 Petaling Jaya on Tuesday; Jalan Wira, Kampung Pandan on Wednesday; Jalan Ikan Emas, Cheras on Thursday; Jalan Ang Seng, Brickfileds on Friday; SS5A/9 Kelana Jaya on Saturday.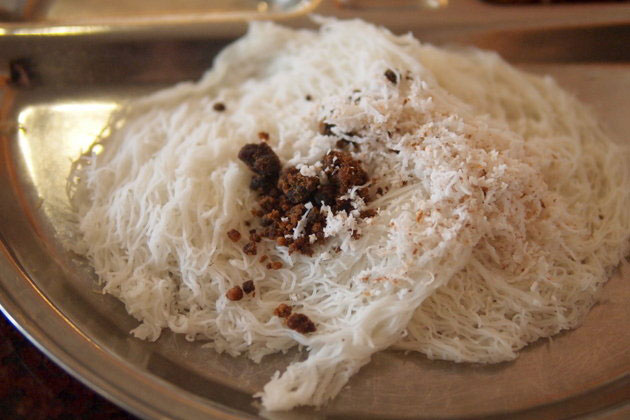 If you prefer to enjoy putu mayam in a more comfortable setting, head down to Grand City Restaurant (49 Jalan Datu Mahmud 11/4, Petaling Jaya, Selangor, Tel:+6 03-78758332). The delicate snack is available from 1pm to 6pm daily for 80 Malaysian sen per piece. Enjoy it with a sprinkle of freshly grated coconut and pieces of gula Melaka or palm sugar. At Kanna Curry House (109 Jalan Gasing, Section 10, Petaling Jaya, Selangor, Tel:+6 03-79584345). This is available all day for 90 sen per piece. Upon order, it is re-steamed for you to enjoy with curry or dhal.