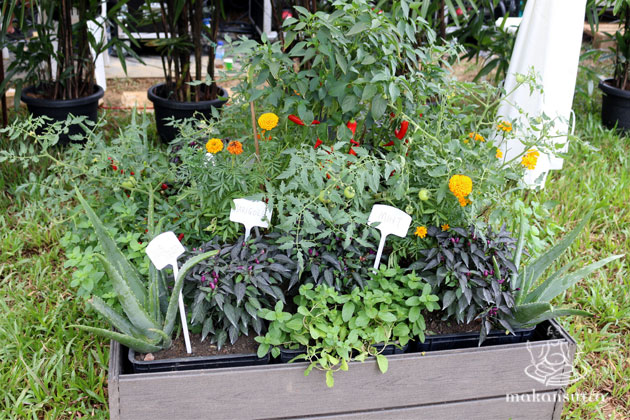 Urban Farming: It's now GYO, not BYO
By Catherine Ling - Tuesday, Jun 16, 2015
Singapore's reputation as a food haven and garden city is starting to intertwine. In the past few years, we have seen more "edible gardens" taking root in housing estates, malls, schools and offices. Even as traditional farms are being phased out in the outlying areas, urban farming is mushrooming in the city, especially in underutilised spaces like rooftops and sidewalks.
Chefs and home cooks increasingly want fresh local produce they can trust for punchy flavours and better nutrients. Plus the satisfaction of plucking fresh herbs to toss into your dish trumps buying expensive yet limp versions from the supermarket.
While most people start out as hobbyists and not all of us have green thumbs, some have made the news with entire HDB corridors filled with styrofoam boxes of lush, pesticide-free crops.
But it isn't just about food. Schools see gardens as useful tools for teaching teamwork and sustainability, while residential communities and offices value them for bonding.
The Singapore Management University (SMU) started an environmental project GROW – a food garden the size of a basketball court along Queen Street – where students and lecturers alike dig in to learn green and sustainable efforts.
Some community gardens have flourished even before urban farming became trendy. There is a spot near Marine Crescent where residents have had a thriving garden since 2002. They started with herbs but now prefer edible greens like cai xin, xiao bai cai, spinach, okra, kang kong, lettuce, brinjal, bitter gourd and pennywort leaves.
Fairmont and Swissotel The Stamford were one of the first to start their own herb gardens back in 2008. Now the 600 ft garden on the 5th floor of the hotel complex provides over 50 varieties of herbs, microgreens, edible flowers for their restaurants like JAAN, Equinox, Mikuni, Prego, and Anti:dote.
Various urban farming consultancies and social enterprises have also sprung up to help commercial entities grow their own plot of fresh produce, and reconnect urbanites to nature.
One such enterprise Comcrop kicked off Singapore's first commercial urban rooftop farm in 2013. They converted 6,000 sq ft of rooftop space at youth hub *Scape in Orchard Link into an aquaponics farm. It produces basil, tomatoes and mint that it supplies to about 30 restaurants and hotels nearby.
Edible Garden City (
http://www.ediblegardencity.com/
 ) believes in foodscaping – combining food production with landscaping. It helps restaurants, schools and homes build pretty yet productive gardens. Even property developers are growing herb gardens for F&B tenants. Founders Bjorn Low and Robert Pearce have developed a 30,000 sq ft garden on the roof of People's Park Complex carpark. They are in talks with Bugis Village to start a 10,000 sq ft commercial farm on the rooftop of the multi-storey carpark.
Edible Garden City also holds urban farming classes at Rowell Road, and has given free workshops at events like the DBS Marina Regatta. Their retail arm Nong (http://www.nong.com.sg) supplies hobbyists with gardening supplies, seeds, planters and crates.
Nearby at Bugis Cube mall is a 5,800 sq ft commercial rooftop farm called G.R.E.E.N.S. or Grow. Reap, Eat, Educate, Nurture, Share (
http://www.greens.sg/ 
) started by two moms who believe in eating right, minimising food miles and reducing environmental harm.
Urban Farm & Barn (
http://www.pocketgreens.com.sg
) located at Bukit Panjang Hill Community Farm holds farm tours and workshops on how to grow own herb and vegetable gardens. If you don't have space at home, you can adopt a "vertical farm" where they will grow the plants for you in a chemical free manner. Just sow and harvest the vegetables of your choice.
We often think of Singapore as being too small for farms and growing our own food. Yes, we are land scarce and space is at a premium. But the truth is, you can grow your own herb garden in spaces as small as a balcony, window sill or even your office desk.
A small microgreen growing kit goes for as low as S$6 and an edible plot can be S$10 for three to four styrofoam boxes for chye sim or xiao bai cai, inclusive of soil and seeds. Vertical or wall planters can be S$120 or more.
It's easy to grow where you are, and eat what you grow. There's much more help available today than before. The trend is slowly catching on, but it remains to be seen if enough Singaporeans will put in the effort to keep edible home gardens in the long run.