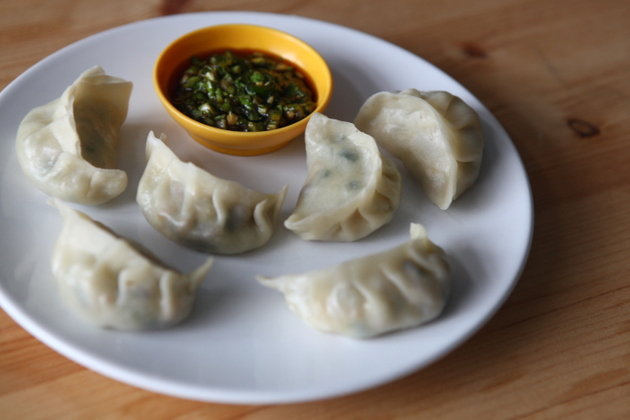 Vegetarian Dumplings with Chinese Salsa Verde
By Vivian Pei - Tuesday, Apr 09, 2013
One of the reasons why I live in Singapore is for the street food. I mean c'mon, not many other places in the world where I can eat a belly pleasing meal for $3?
And the variety is mind blowing. These days you can get just about anything in a hawker centre, from Western fare to Japanese, Korean, even a specialised tuna sushi vendor. Since I have roots in North China, dumplings are a comfort food of sorts and we don't have to go to a restaurant to get xiao long bao, la mian or others. The quality of dumplings in our market has risen quite a bit, and in particular jiao zi, my personal fave. These little morsels are quick palate and soul pleasers after a tired day. I like the ones at People's Park, Fong Kee, as their pork and chive jiaozi are available frozen- at $10 for 20 that you can stash for future emergencies. But when the going gets tough, I just tuck into a plate there and then.
Recently, in an attempt to share some home cooked food I love, I inadvertently invited a vegetarian… One who does not eat eggs even. But was I worried? No! I had a few tricks up my sleeve thanks to my Aunt Judy. She makes a steamed veggie dumpling that makes me almost want to skip the meat ones… (I did say almost). Of course she has no recipe and any attempts to extract one usually fail. "It's just a little of this and a little of that", the usual agak agak story. Luckily my taste memory is pretty good and after a bit of trial and error, I came up with a version that I think even Aunt Judy would approve of. Here is it…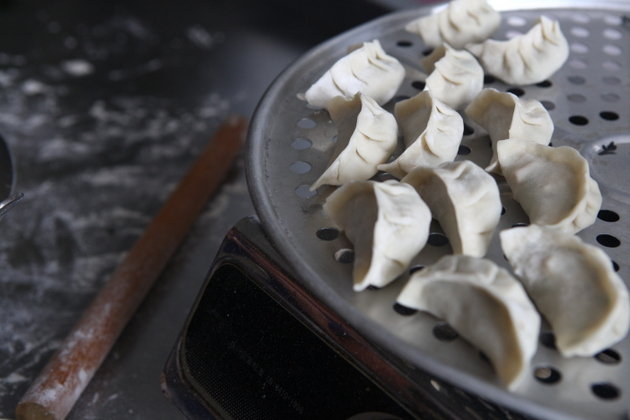 Steamed Vegetable Dumplings with Chinese Salsa Verde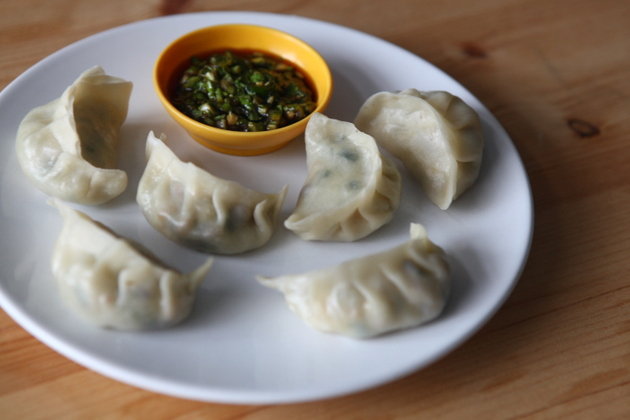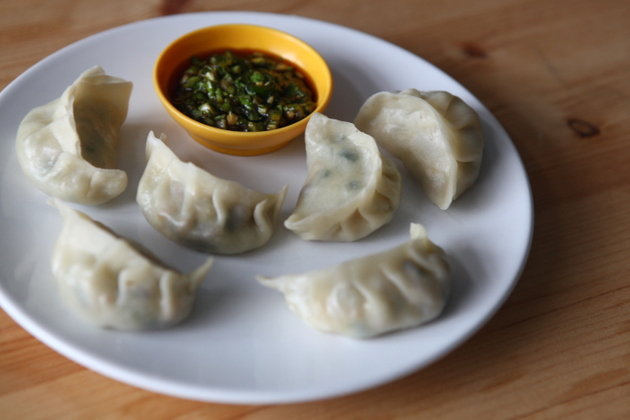 For the wrappers:
300g plain flour
200ml hot water (just boiled)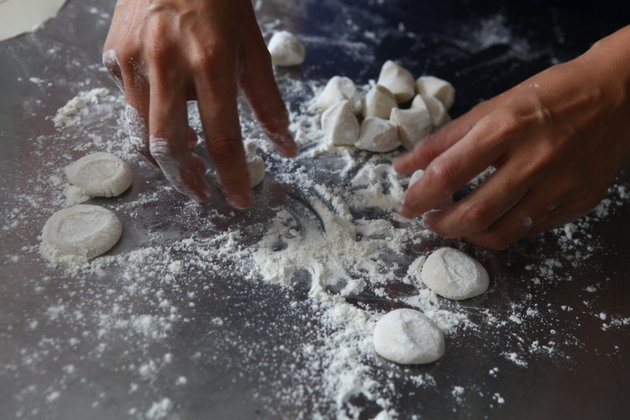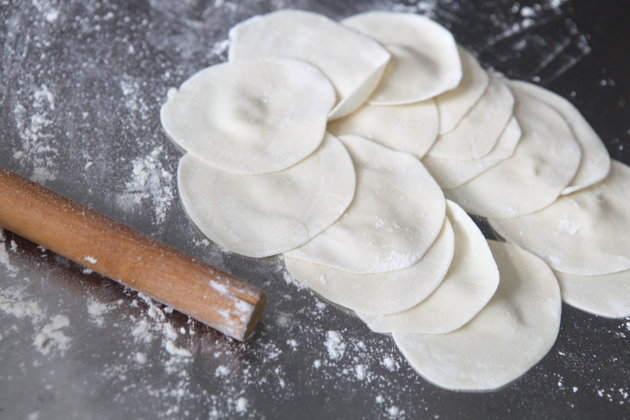 For the filling:
500g wong bok (Napa cabbage), finely chopped
1 tsp salt
25g dried shiitake mushrooms, soaked and finely chopped
50g koo chye (Chinese chives) finely chopped
50g bean thread/glass noodles, soaked, softened and cut short
100g spiced pressed tofu, diced small
25g dried shrimp (optional), soaked and finely chopped
4 cloves garlic, minced
2 tsp salt
1 tsp ground white pepper
1 tbsp sesame oil, more to taste if desired
Method
1. Put the chopped cabbage in a colander, sprinkle about a teaspoon of salt over it, massage the salt into the cabbage and leave to drain. After 15 mins, squeeze the water out of the cabbage. It may be easier to put the cabbage into a clean kitchen cloth and twist.
2. Put flour into a large mixing bowl. Drizzle the hot water evenly into the flour in a circular motion. Use chopsticks to quickly mix well, the dough will be quite crumbly at this stage.
3. When cool enough to handle, knead into a smooth dough. Put it into a plastic bag or wrap well in plastic film. Let it rest for at least 30 minutes.
4. To make the filling: Mix all the ingredients for the filling in a large bowl. Taste for seasoning and adjust as necessary. Set aside.
5. Cut the dough into about 4 segments. Roll out each piece into a long tube shape. Cut into about 14 equal portions.
6. Roll each portion into a small disc with a rolling pin, each about 8cm in size.
7. Fill with a tablespoon of filling and pinch the edge closed. Repeat step 6 and 7 with the remaining pastry and fillings.
8. Steam the dumplings over medium heat for about 12 minutes, or until cooked through. Serve immediately with the salsa verde.
Notes: The leftover dumplings can be kept in a covered container in fridge up for 3 to 4 days. Frozen ones can be kept for up to 3 months.
Chinese Salsa Verde
I think the best way to eat these dumplings is to take a small bite and heap a teaspoon of this salsa into it for the second bite.
4 spring onions, finely chopped
1 bunch of coriander (about 50g), finely chopped
2 large green chillies, finely chopped
4 tbsp light soy sauce
2 tsp rice vinegar
2 tsp sesame oil
Water to taste
Mix all the ingredients in a bowl. Taste and adjust if necessary. Enjoy!