Veggies Never Tasted Better…
By Jade Hu - Friday, Feb 28, 2014
People embrace a vegetarian diet for various reasons – to protect animals, religious beliefs, health etc… amongst others. Vegetarians are often maligned as being an inconvenience within their social circles, especially if their friends are open to eating meat, because eating out means a veto on all non-vegetarian places. The herbivores too want good food within their dietary perimeters, and with variety too. If only their carnivore friends can be persuaded to appreciate and even learn to love vegetarian food…
LingZhi Vegetarian Restaurant is one place where meat-eating weaklings may just be tempted to convert. Collaborating with Zenxin Organic, the restaurant features a farm-to-table menu to showcase the fresh produce straight from the farms of Zenxin Organic Food in Malaysia. Available from 1 to 31 March, the Spring Feast set menu ($68++ per person) delivers seven courses (including one soup and one dessert), all created using ingredients that are fresh and natural, with no artificial colourings or additives, plated in innovative and refreshing ways.
First in a trio of amuse-bouches, the Turnip Roll marinated with Japanese Rice Vinegar and Pickled Chilli serves as a crunchy, refreshing appetizer with a distinct sweet and tangy touch… Next up, the Seasonal Vegetable Roll topped with Spicy Yuzu Sauce is a great way to lift your palate and set it up for the next course – the Deep-fried Potato Croquette with Wild Mushroom, Black Pepper, and Mango and Apple salsa, which mimicks a meaty flavour so the meat lovers won't feel like some tortured soul.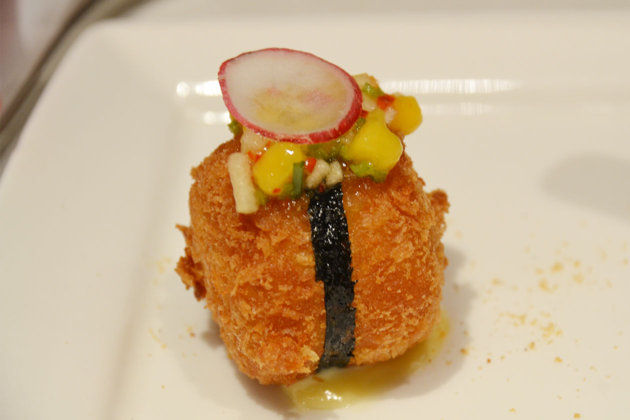 The hearty and wholesome Double-boiled Soup is simmered using mineral water, Wong Bok cabbage (大白菜) and mushrooms, plus a couple of herbs such as wolfberries and Cordyceps flowers. The slight bitter taste comes from the nourishing Chinese herb dong quai (当归). It warms up the stomach.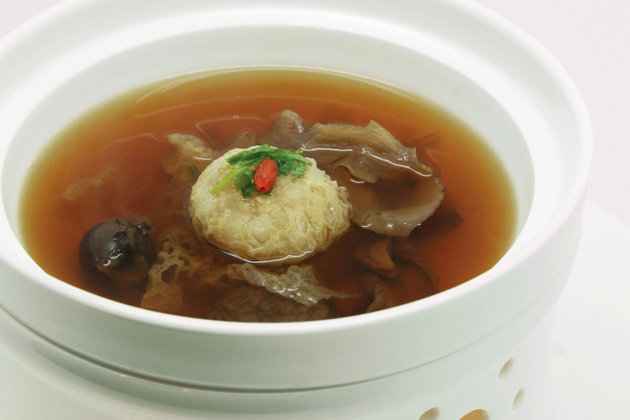 The Stir-fried Zucchini with Truffle Sauce is served in an organic tomato with the top sliced off. The way it's put together is more complex than it looks – thinly sliced raw zucchini rubbed with sea salt and Italian black vinegar sets the base, the tomato is oven-baked, then diced zucchini is tossed in the wok with truffle oil, and topped with deep fried ginger.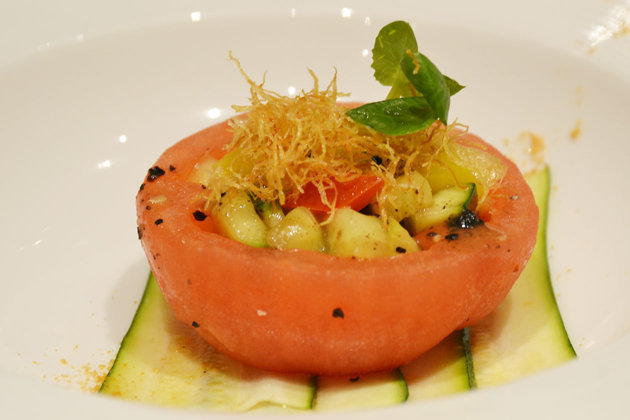 The Braised Assorted Wild Mushrooms and Eggplant with Basil in Premium Black Bean Sauce looks like a shiny Christmas package. It is wrapped in a special cooking film in a sous-vide oven with baking temperatures staying below 230°C.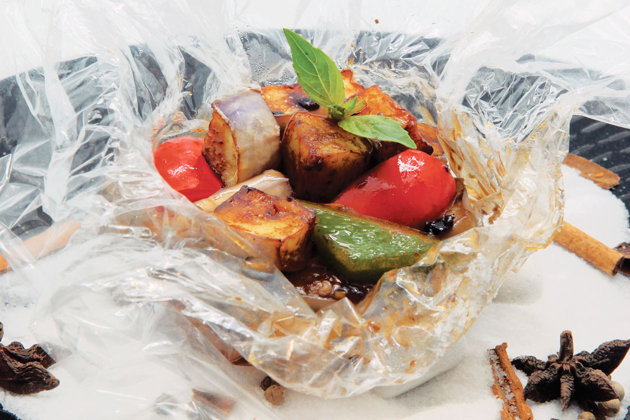 The Chef's Homemade 'Mapo' Tofu accompanied with a cone-shaped side of Sweet Corn and Wild Black Grain is delightful but not particularly memorable. The dessert, a Pumpkin Paste with Gingko Nuts topped with Coconut Ice-cream, is pumpkin mashed to a buttery consistency similar to Orh Nee (yam paste), mixed with coconut ice cream with a dash of deep-fried gingko nuts to give every generous spoonful a bite to it. Normally, a dessert so cloying would drive you off the edge of fullness, but since the whole menu is rather light, the dense pumpkin and coconut mixture punctuates the meal with a resounding full-stop.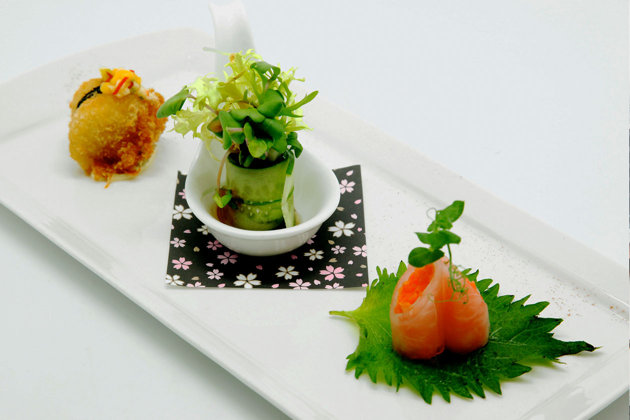 Chef Martin Foo, 47, shows off his expertise by gently teasing out the earthy, natural sweetness, crispness and freshness of the ingredients without adding powerful flavours. He said that in creating dishes in the purist vegetarian sense, chilli, garlic and onions cannot be used, even though they are all plant-based, because these pungent additions evoke strong emotions and over-excite the taste buds. With his skillful combination of vegetarian and organic elements, Chef Martin delivers quality dishes that are way more than the sum of its parts. Iris Lee, a vegetarian since birth, said she particularly likes the food at LingZhi because it's "unique and flavourful" with no mock meat.
While some vegetarians focus as much on healthy eating as organic food eaters, they may still not go for organic. That's because organic produce tends to be more expensive, according to Angela Wang, a vegetarian and blogger of Vegeasian.com who converted 18 months ago. Mr Tai, executive director of Zenxin Organic, said that organic produce is not necessary more expensive than regular ones, just perhaps more difficult to find. He discussed the challenges in organic farming, such as having to deal with unpredictable weather changes, eroding top soil, and pests and weeds manually, all of which racks up operating costs, but on the consumer's end is only marginally pricier than commercially-farmed goods.
Some people find vegetarian food expensive as well, perhaps because there is a notion that meat is worth paying more for. Angela finds that LingZhi Vegetarian's high tea buffet at $15 per head is value for money and a great opportunity to sample vegetarian versions of typical dim sum dishes such as har gow and siew mai.
There are of course vegetarians who support the organic movement the whole way, such as Christina Hardie, co-founder of Food Rebels, a company that creates natural, healthy foods with no additives and designs meals for people with dietary restrictions. A vegetarian who is strongly supportive of organic food, Christina believes that organic produce is far more superior than those commercially farmed, and people should take small steps to eat organic as much as possible.
The LingZhi Vegetarian's exclusive menu may be a great opportunity for you to dip your chopsticks into the best of both worlds before you make your verdict. Or just do your own blind test at home with some organic versus commercially-farmed produce and taste the difference yourself.
LingZhi Vegetarian Restaurant,  Liat Towers #05-01, 541 Orchard Road
Hours: 11.30am-3pm (last order 2.30pm), 6pm-10pm (last order 9.30pm)
*The Spring Feast menu is available only at the LingZhi Vegetarian Restaurant at Liat Towers.
*Please note the Hi-Tea Buffet ($14.80++ for adults; $9.80++ for children) is only available at the branch at Velocity@Novena Square.